As a market-cap-weighted index, the largest stocks in the S&P 500 have a bigger impact on the movement of the index than the smallest stocks. This has hurt the S&P 500 quite significantly recently due to the big fall in Apple (NASDAQ:AAPL), which is not only the biggest stock in the index, but the biggest stock in the world (as of now). The S&P 500 is still a few percentage points below its all-time high, but if you look at the index on an equal-weighted basis, where all stocks have the same weighting, it just recently made a new all-time high.
Below is a chart showing the performance of the normal cap-weighted S&P 500 vs. the S&P 500 equal-weighted index since 1990. As shown, the equal-weight S&P 500 has lapped the normal cap-weighted S&P 500, and it has surged recently as smaller-cap stocks have outperformed large caps.
When the stock market peaked in 2000, large caps were outperforming small caps, as a large portion of the gains were coming from a small percentage of large-cap tech firms. When the market peaked in 2007, it was a different story, as smaller caps drove performance throughout the entire bull market run from 2003-07. The current rally is more like the 2003-07 period.
For those interested, there is an ETF that tracks the S&P 500 equalweighted index. It trades under the ticker RSP.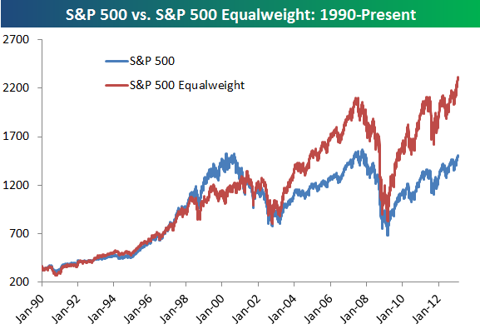 Click to enlarge