By: Brendan Gilmartin
Amazon.com (NASDAQ:AMZN) is scheduled to report 4Q 2012 earnings after the closing bell on Tuesday, January 29. Results are typically released between 4:01 and 4:10 p.m. EST. A conference call will follow at 5:00 p.m. EST.

Outliers & Strategy
Amazon provided the following guidance for the 4Q 2012 period back in its October (3Q) earnings release:
Net sales are expected to be between $20.25 bln and $22.75 bln, or to grow between 16% and 31% compared with fourth quarter 2011. The current consensus is toward the high end of this range at $22.27 bln. (Source: Yahoo! Finance!). Revenue is a critical measure for Amazon and often dictates the after-hours trading action, given the wide breadth of analyst and company estimates.
Operating income (loss) is expected to be between a loss of -$(490) mln and $310 mln, compared with $260 mln in the prior-year period.

Amazon is expected to post earnings of $0.28 per share (range is -$0.38 to $0.82), down from $0.38 in the prior year. (Source: Yahoo! Finance)
Forward guidance is a critical measure for Amazon and usually impacts the ensuing trading activity. Current estimates (1Q 2013):
Revenues: $16.84 bln. If the low end of revenue forecast exceeds this estimate, shares could rally to new all-time highs.

While much of the attention centers on Amazon's retail operations, an overlooked part of its business are the hosted web services & cloud-computing segments that are contributing meaningful revenue.
Recent News
01/18: Pacific Crest upgraded Amazon from Sector Perform to Outperform with a price target of $346, according to a report on Barron's Online. The firm cited a growing lead in retail commerce, increased market share, and increased prevalence of online purchasing. The firm also noted that Amazon is a dominant player in mobile commerce.
01/09: Goldman Sachs assumed coverage on Amazon with a Buy rating and a price target of $315, according to StreetInsider.com. The firm cited strong growth in ecommerce and consumer demographics.
01/07: Morgan Stanley's upgraded Amazon from Equal Weight to Overweight with a $325 price target, according to Barron's Online. The firm cited the expected share of the global e-commerce market Amazon will likely obtain in coming years.
01/02: Amazon said 2012 was a record-breaking holiday season for businesses selling on its platform.

Technical Review
Amazon shares recently broke out to an all-time high of $284.72, pushing through previous resistance at $275. Today's (1/28) pullback in the wake of last Friday's advance is a bearish candlestick signal ahead of earnings, while the Relative Strength Index is coming off the overbought 70-level. Should earnings fail to impress, look for soft support at $275, with downside risk to $260, followed by the 50-Day SMA near $255. The recent high near $285 would be the first point of resistance on an upside surprise. (Chart courtesy of StockCharts.com).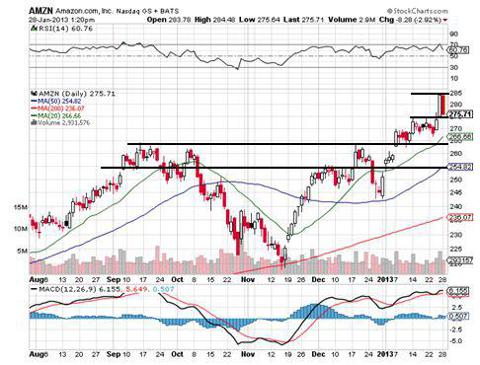 Summary
Amazon shares recently broke out to all-time highs on evidence of a strong holiday shopping season, an increasingly dominant position in e-commerce, a pickup in the global economy, and a strategic push into mobile. Against this positive backdrop, Amazon is vulnerable to any missteps. Note that in past releases, the tendency has been to sell-off sharply on the initial report, only to rally in the ensuing session.
DISCLAIMER: By using this report, you acknowledge that Selerity, Inc. is in no way liable for losses or gains arising out of commentary, analysis, and or data in this report. Your investment decisions and recommendations are made entirely at your discretion. Selerity does not own securities in companies that they write about, is not an investment adviser, and the content contained herein is not an endorsement to buy or sell any securities. No content published as part of this report constitutes a recommendation that any particular investment, security, portfolio of securities, transaction or investment strategy is suitable for any specific person.
Disclosure: I have no positions in any stocks mentioned, and no plans to initiate any positions within the next 72 hours. I wrote this article myself, and it expresses my own opinions. I am not receiving compensation for it (other than from Seeking Alpha). I have no business relationship with any company whose stock is mentioned in this article.