By Siraj Sarwar
AT&T (NYSE:T) is one of the most popular stocks among income-oriented investors. Unfortunately, the company reported negative earnings for fiscal 2012. However, this telecom giant maintained its dividend payments. It even offered a penny raise this year. In this article, I look at the company's dividend profile and its financial reports to see where it stands among the industry.
Dividend profile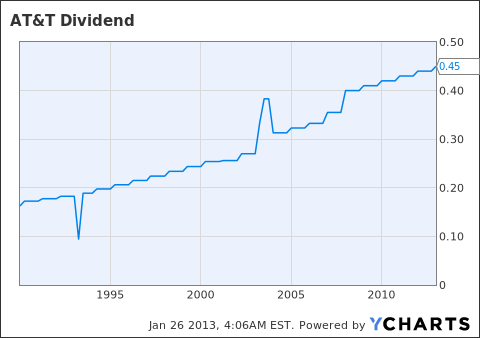 T Dividend data by YCharts
Currently, AT&T offers a dividend of $0.45 per share, yielding at 5.24%. The company has a long history of dividend payments. According to NASDAQ, the company is paying dividends since 1984. The company raised its dividends from $0.12 in 1984 to $0.45 in 2012. As the above chart shows, AT&T is a perfect choice for income-seekers. Recently, the company raised its dividends from 44 cents to 45 cents. This is the 29th consecutive dividend raise offered by AT&T. Let's look at the company's financial situation and other related metrics to analyze its dividend profile.
Financial Analysis
The telecom giant booked a loss for the fourth quarter due to pension liabilities. The company reported a loss of $3.86 billion or 68 cents per share in the last quarter. However, AT&T managed to decrease its losses over the previous year. AT&T reduced its loss by $2.82 billion compared to the same quarter in the previous year.
The company is under a massive burden of pension obligation. AT&T provides benefits to 36000 retirees. Excluding certain items, the company's fiscal 2012 net income stands at $7.3 billion. Moreover, the company's revenue also rose by 2.2% over the previous year. On the other hand, AT&T has retained substantial cash resources. In the table below, we can observe the cash trend followed by the company.
| | | | |
| --- | --- | --- | --- |
| Figures in billion | 2012 | 2011 | 2010 |
| Operating Cash Flows | $39.2 | $34.7 | $34.9 |
| Capital Expenditure | $19.7 | $20.3 | $20 |
| Free cash Flows | $19.4 | $14.5 | $14.6 |
Source; Q4 results
The company's cash flows stand an attractive position. AT&T produces huge amounts in cash flows from operations. For the fiscal 2012, the company has produced over $39 billion in operating cash flows. AT&T is also investing heavily on network development. Over the same period, the company has invested $19.7 billion on capital expenditures. At the same time, free cash flows for the company grew by almost $4.5 billion compared to the past year. The growth in free cash flows demonstrates healthy financial position of the company.
Along with strong earnings and record cash flows, the company returned $23 billion to share holders during last year. In 2012, AT&T repurchased 371 million shares, or about 6 percent of outstanding shares for $12.8 billion. Furthermore, the company returned $10.3 billion to shareholders in the form of dividends.
The company's payout ratio based on free cash flows stands at 60%. This payout ratio suggests that the company has considerable potential to raise its dividends.
Outlook
AT&T is well positioned to book strong revenue and earnings per share expansion in fiscal 2013. The company is anticipating to produce healthy results while returning substantial value to shareholders in 2013. At the same time, the company is also investing in growth opportunities with projects such as Velocity IP (Project VIP).
AT&T projects to grow its consolidated revenue by 2% by the end of 2013. The company estimates EPS growth to be in upper-single digits or higher. AT&T is looking to keep its capital expenditure within the range of $21 billion, including investments in project VIP. In addition, the company is looking to keep $14 billion in free cash flows by the end of 2013.
Competition
AT&T's main industry peers are Verizon (NYSE:VZ) and Sprint Nextel (NYSE:S). The table below lists key valuation metrics.
| | | | |
| --- | --- | --- | --- |
| | T | VZ | S |
| P/E | 44.8 | 39.7 | -3.9 |
| P/B | 1.9 | 3.2 | 2.0 |
| P/S | 1.6 | 1.1 | 0.5 |
| REV Growth | 0.7% | 4.4% | -1.9% |
| Operating Margin | 7.8% | 13.3% | -4.4% |
| Net Margin | 3.5% | 2.7% | -12.3% |
Source: Morningstar.com
The communication sector is experiencing real challenges at present. The sector is suffering from operational losses due to the high cost operational structure. However, all the companies listed above are surviving with attractive multiples.
Summary
AT&T beautifully fits the bill as it has solid cash reserves. This telecommunication giant is on the right track, generating healthy free cash flows quarter after quarter. This ensures that it will continue huge dividend payments along with healthy capital gains on the stock exchange.
The company looks to continue its nice dividend payments with steady increases. AT&T also offers healthy dividend payout and capital appreciations. Moreover, the company's initiative of repurchasing 300 million shares signals its strong financial position.
Disclosure: I have no positions in any stocks mentioned, and no plans to initiate any positions within the next 72 hours.
Business relationship disclosure: EfsInvestment is a team of analysts. This article was written by Siraj Sarwar, one of our equity researchers. We did not receive compensation for this article (other than from Seeking Alpha), and we have no business relationship with any company whose stock is mentioned in this article.