The Gist
"Whenever you find yourself on the side of the majority, it's time to pause and reflect." - Mark Twain
What a great quote from Twain. Let's reflect. A contrarian is one who attempts to profit by investing against the grain, to go against the crowd, because the crowd is usually wrong and always late. A contrarian believes that certain crowd behavior among investors can lead to exploitable opportunities. Pervasive cynicism about a stock or sector can drive the price so low that it exaggerates the investment's perils and belittles its future prospects. Conversely, pervasive optimism about a stock or sector can drive the price so high that it exaggerates the investment's well-being and overstates its future prospects. Identifying and seizing on these opportunities is a well-known investing tactic utilized by legendary investing experts. One of Warren Buffett's most famous quotes is,
"Be Fearful When Others Are Greedy and Greedy When Others Are Fearful."
I believe Apple Inc. (AAPL) and Research In Motion Limited (RIMM) both present contrarian investing opportunities and make for an epic pair trade. In the following sections I will lay out my bull case for Apple followed by my bear case for RIM.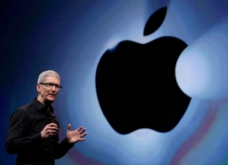 Apple: The Big Picture
Apple is currently completely out of favor. You don't hear hardly anyone stating it's time to step up and buy stock. Even so, bargain hunters are buying the stock and it appears to be consolidating at the $450 mark. Apple was up almost 3% Monday trading at approximately $451.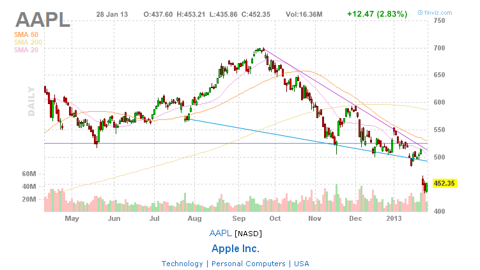 Apple has lost 30% of its market value in the last quarter, falling from a high of over $700. Even so, the stock has bounced off long-term support and remains in an uptrend.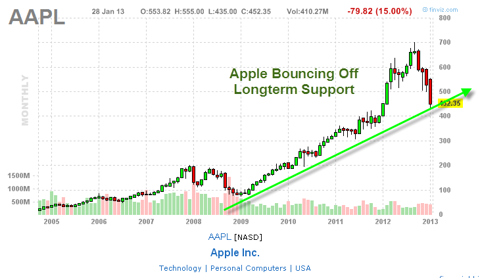 Apple recently announced financial results for its fiscal 2013 first quarter. The company posted record quarterly revenue of $54.5 billion and record quarterly net profit of $13.1 billion. These results compare to revenue of $46.3 billion and net profit of $13.1 billion in the year-ago quarter.
Apple's CEO Tim Cook said,
"We're thrilled with record revenue of over $54 billion and sales of over 75 million iOS devices in a single quarter. We're very confident in our product pipeline as we continue to focus on innovation and making the best products in the world."
Tim Cook may have been thrilled, but the investing world was not. The stock took a significant nose dive after these earnings were announced. Nevertheless, the stock is bouncing off long-term support and appears to be bottoming technically.
Apple Is Fundamentally Sound
Apple has a forward P/E ratio of 8.61, a PEG ratio of .72 and trades for approximately 10 times free cash flow. The company has no debt and $130 billion in cash. The company pays a dividend with a 2.41% yield. Margins took a hit yet the company still achieved a 25.35% net profit margin.
Apple's Growth Story May Not Be Over
Tim Cook stated it on the conference call. China will be the catalyst for growth going forward. Apple sold over two million iPhone5 devices in China, just three days after its launch on December 14, 2012. "Customer response to iPhone 5 in China has been incredible, setting a new record with the best first weekend sales ever in China," said Cook. The iPhone 5 was made available in more than 100 countries by the end of December, making it the fastest iPhone rollout ever.
Apple's Cash Hoard Is A Major Plus
Apple now has over $139 billion in cash. I posit the company will announce additional share buyback plans along with increasing the dividend at the next annual shareholder meeting on February 27, 2013. The current buyback program and dividend were announced during the annual shareholder meeting. It seems almost certain to me something along these lines will be announced based on the size of the cash hoard. This should be a significant catalyst for the stock.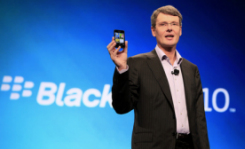 RIM: The Big Picture
Speculation regarding the release of the BlackBerry 10, better than expected results last quarter and positive feedback regarding the first glimpses of the BB10 have driven the stock to nosebleed heights. The stock has gapped up several times and gone parabolic as of late.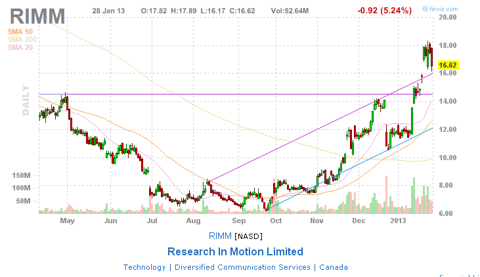 I posit investors should fade this rally and short the stock now. The stock was down 7% on Wednesday after failing to break through long-term resistance at the $17 mark.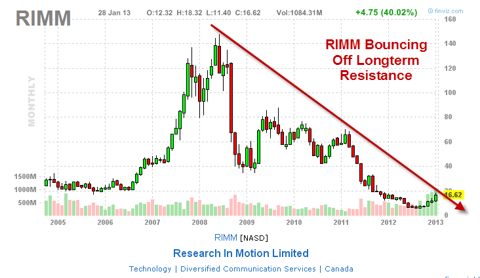 The Stock Is Running Out Of Steam
RIM has ascended 90% in three months. The price action over the last three months is parabolic, which often marks the end of a stock's upward momentum. All parabolic moves are inevitably proven unsustainable and break down at some point.
BlackBerry 10 is too little too late, the competition is fiercer than ever, and the stock is bumping up against a major resistance level. Combine these facts with the buy the rumor, sell the news phenomenon and the risk/reward for staying long here is unfavorable. The stock looks like an excellent short.
BlackBerry 10 Has Missed The Boat
The BlackBerry 10 is too little too late. We just went through the holiday buying season where many potential buyers purchased a new phone. The potential for signing up new subscribers has been severely diminished by not getting the product out in time for the holiday buying season. RIM lost one million subscribers last quarter alone. This is not a good trend. The competition is eating RIMM alive.
Google's (NASDAQ:GOOG) Android smartphones have the lion's share of the market thanks to a myriad of phone makers but primarily Samsung Electronics Co. Ltd. (OTC:SSNLF). The Apple iPhone is the next largest competitor. Additionally, Microsoft (NASDAQ:MSFT) and Nokia's (NYSE:NOK) Lumia shipments were above expectations and significantly higher quarter-over-quarter. The competition is steep and fierce. I don't see RIM regaining market share. They will have some sales to current subscribers, but that will be short lived.
The Bottom Line
I posit both these stocks are at inflection points. Most likely, each stock is about to perform a trend reversal. The following is a famous quote from Benjamin Graham, a famous value investor who has made millions in the market:
"Most of the time common stocks are subject to irrational and excessive price fluctuations in both directions as the consequence of the ingrained tendency of most people to speculate or gamble... to give way to hope, fear and greed."
I believe it is quite apropos regarding RIM's recent ascension and Apple's collapse. The majority of investors seem to be selling out of Apple and piling in to RIM at exactly the wrong times. I say go against the grain - buy Apple and sell RIM.
Use this information as a starting point for your own due diligence and research methods. If you choose to start a position in any stock, I suggest layering in on a weekly basis at a minimum to reduce risk. Set a stop loss order to minimize losses even further if you wish.
Disclosure: I have no positions in any stocks mentioned, but may initiate a long position in AAPL, NOK over the next 72 hours. I wrote this article myself, and it expresses my own opinions. I am not receiving compensation for it (other than from Seeking Alpha). I have no business relationship with any company whose stock is mentioned in this article.
Additional disclosure: This is not an endorsement to buy or sell securities. Investing in securities carries with it very high risks. The information contained within this article for informational purposes only and is subject to change at any time. Do your own due diligence and consult with a licensed professional before making any investment.