It's no secret that Facebook (NASDAQ:FB) had a rough 2012.
Although insiders benefitted from Facebook's IPO, most investors did not. In fact, the shares lost half their value when they reached $17.55 several months ago. Even now, the stock trades roughly 20% below its $38 IPO price.
Many investors have been screaming "manipulation" because of the botched IPO. An overabundance of stock orders caused computer systems to freeze, making many investors uneasy about owning the stock. However, many people ignored the possibility that Facebook was simply overvalued because manipulation was a much juicier storyline.

It's likely the company was grossly overvalued at its IPO. In the past, Facebook relied heavily on PC advertising. But PC ad revenue slowed. Facebook needed to compensate for that decline by increasing its mobile business.

And this is a big challenge for many businesses - Facebook among them. Mobile is a huge opportunity. Though it may take years for mobile devices to outnumber PCs in terms of units, usage trends clearly favor mobile going forward. Analyst Joe Bonner of Argus Research, who rates FB shares, noted that "Monetizing mobile has been an issue. If you can't sell ads to those people, you've got a problem."

Facebook has a big problem. And it will need to fix it soon, because mega bucks are at stake ahead of this week's earnings report. Mobile advertising is a huge market. However, Facebook has struggled to connect with the rapidly growing base of mobile users. Facebook claims that 600 million of its users check their accounts on a mobile device -- that's up from 376 million a year ago.

More people are shifting from their PCs to their smartphones, creating a giant problem for advertisers. For example, Google (NASDAQ:GOOG) noted during its recent earnings conference call that the price advertisers pay per click decreased 6% from a year ago. That's because more advertisers are using mobile, which typically costs less. Also, advertisements that are popular on the PC haven't performed as well on mobile devices because the screen is smaller.

Though Facebook has been the face of this mobile advertising challenge, it isn't alone. Mobile users are too large an audience for marketing departments to ignore. Data from eMarketer shows that mobile ad spending is poised to increase substantially over the next four years.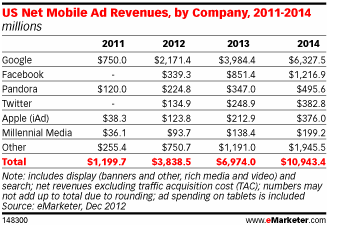 Data from eMarketer.
Facebook CEO Mark Zuckerberg understands better than anyone how important mobile is to his business. Though mobile represented only 6% of Facebook's $3.5 billion in revenue (nine months ended Sept. 30), Zuckerberg believes it will overtake desktop ads in the future. This prophecy could happen quicker than many people believe. eMarketer expects Facebook to report $851 million in mobile ad revenue -- an estimated 150% annual increase -- in 2013.

Mobile ads will be an integral part of Facebook's future success. In fact, strong mobile revenue guidance could bring FB back above $100 billion market capitalization. I'm a big believer in FB, which is why I advised readers to buy the stock at $19 last year. I still own my shares and may add more after this week's earnings announcement.