By Sumit Roy
The recovery in the Chinese economy is a positive for all commodities.
China GDP Growth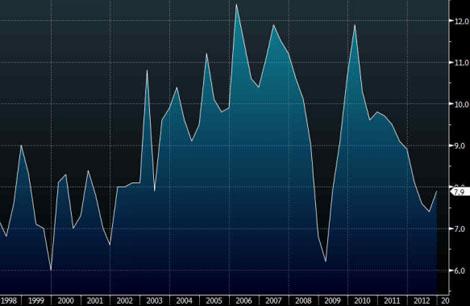 China's economy grew by 7.9% year over year in the fourth quarter, up from 7.4% in the third quarter. The news provided relief to commodity bulls, who feared that the world's second-largest economy may have continued to slow after growing at the weakest pace in three years in Q3. Instead, it seems as if China's growth may have stabilized above the official government target of 7.5% -- a positive outcome.
Current growth rates are a far cry from the double-digit percentages seen during much of the last decade, but that is a natural progression for a maturing economy. China's demand for commodities will remain strong for the foreseeable future; the demographic story of 1 billion-plus people becoming wealthier hasn't changed.
China's crude oil imports grew a respectable 6.8% last year, while copper consumption rose a whopping 19%. Even gold will benefit from a stabilization in Chinese economic growth. After all, the country may have been the largest market for the yellow metal in 2012 once the final numbers come in.