Last weekend, I sat down with my cousin for some wine and Thai food after our family event disbanded. He's an accomplished Gynecological Oncologist who advocates innovative, often aggressive treatments, and always has strong views on medicine, life, and the industry of healthcare (especially since working on his MBA part-time). As we talked, we debated the effects of the Affordable Care Act (or "ObamaCare"), his frustration with fitting into a large hospital system, the demographic quake from aging Baby Boomers, and the paradox of the "wellness" movement against an increasingly obese and sedentary populace. Letting the energy of that discussion sink in, I happily share some broader thoughts with you.
Universal Health Coverage is Here, Plus We're Getting Older and Fatter (Capitalists Should Rejoice)
With the passage of the Affordable Care Act, the U.S. finally joined the rest of the developed world in having a national healthcare regime, although unclear as to its final form or how we will pay the bill. Clearly, this is a watershed moment and our society benefits as a whole, although there are relative winners and losers: favorable outcomes exist for the previously uninsured, the self-unemployed, those with pre-existing conditions, and certain pockets of the healthcare industry; others may feel more negative, including employers facing higher benefits costs, wealthy "investor class" taxpayers, and doctors working ever harder on patient treatment and administration for less pay. In the end, we should probably expect the quality of care to decline, access and affordability to improve, and a certain segment of the population to pay for premium treatment off the grid.
Although many parts of the sector have had strong recent performance, it seems the markets are still digesting ObamaCare's implications, some of which are counterintuitive. For one, the Act presents a sweeping vision with few specifics, leaving much to the states, individuals, hospitals and health-related companies to develop. There is an emphasis on accountability and efficiency (witness the "Accountable Care Organization" model and the push for modernization of medical records). There are also price controls, penalties intended to mandate coverage and other curbs on earlier profiteering, although most companies can continue doing business much as they had before. We will see how this all plays out in the next several years.
The Act's passage comes on top of an already growing healthcare pie from multiple constituents. While many Baby Boomers enjoy an active lifestyle, the next decade will bring about the inevitable unpleasantries of our human condition, placing additional demand for drugs, devices, rehabilitation centers, care facilities, hospice, etc. Additionally, unlike Japan and Europe, the U.S. has relatively good forward demographics due to immigration and a growing Latino population. Throw in our increasingly sedentary lifestyle, and you can see there will be no shortage of care seeking customers.
So, now, for the best parts: (1) there has just been an unparalleled uptick in demand for health products and services, most which cannot be outsourced; (2) the pressure for efficiency and affordability should drive innovation; and (3) the big will get bigger (which will lead to an M&A boom at some point), but will always have gaps that leave room for new entrants. Wall Street may have initially been overwhelmed by fears of ObamaCare and the tail end of a financial crisis, but will see the tremendous opportunities over time. This is not your father's Oldsmobuick -- investing here should not slotted as a low volatility, defensive play as in the past, or necessarily one that relies on blockbuster drug pipelines (though those help) or growing health consumption in emerging economies.
A few words of caution: the market has had a nice run in January, so it may not be the best time to build out this portfolio. Use limit orders, buy the dips, and consider dollar cost averaging over the next 6-12 months, as 2013 may prove to be another volatile year. Also, there remains substantial political and regulatory risks to the healthcare sector, so this should be part of a well-diversified portfolio.
ETFs and Stocks to Capture this Growth
I am a firm believer in finding good sectors in which to invest, further finding the best products and managers, and then layering on selected sub-themes for optimal construction. Exchange-Traded Funds, with their liquidity, diversification over single stocks, and generally low expenses are wonderful building blocks. Where needed, if an ETF does not exist, a basket of 6-10 of the stocks related to a sub-group can be used.
My model portfolio for this allocation would be as follows:
50% - First Trust Health Care AlphaDEX ETF (NYSEARCA:FXH)
10% - PowerShares Dynamic Pharmaceuticals ETF (NYSEARCA:PJP)
10% - SPDR S&P Health Care Services ETF (NYSEARCA:XHS)
10% - PowerShares S&P SmallCap Health Care ETF (NASDAQ:PSCH)
20% - Basket of healthcare information service and home health care companies (see below)
FXH is the core holding. This fund is comprised of 70 positions selected using the firm's AlphaDex methodology, which seeks to generate alpha over traditional cap-weighted benchmarks by owning a more concentrated and equally-weighted group of companies based on fundamental measures "such as price to book value, price to cash flow, price to sales and return on assets."
The index and fund is reconstituted and rebalanced quarterly, which theoretically locks in outsized gains and removes companies with deteriorating comparables. This approach also results in greater representation of all industry subsectors (including nearly 1/3 in Biotech and Life Sciences) and more mid- and small-cap exposure. The current industry breakdown as of 1/25/13 is approximately: 41% Health Care Providers & Services, 21% Health Care Equipment & Supplies, 14% Life Sciences, 13% Biotechnology, 9% Pharmaceuticals, and 2% Health Care Technology and Other.
The fund has a Morningstar Rating of 5 Stars for the 5 years ended 12/31/2012, and has outperformed the relevant Health Care indices and the general market. It has an annual expense ratio of 70bps. Below is a 5-year chart of FXH compared to the more passively managed Vanguard Health Care ETF (NYSEARCA:VHT) and S&P 500.
The other recommended ETFs seek to overweight the most likely beneficiaries of the new paradigm discussed above (PJP, XHS, and PSCH).
Pharmaceuticals will see increasing demand from expanded coverage under ObamaCare and efforts toward preventive care. More comforting is the fact that these companies seemed to have repaired some of their excesses from the prior decade. PJP holds 30 of these names with a skew toward larger-cap companies, but with 29% still in small-cap growth Pharma. The fund uses the Intellidex Index which, among various factors, looks at price and earnings momentum, and continues to outperform as seen through its 2-year chart compared to FXH and the S&P 500.
(Source: Yahoo Finance)
The largest Health Care providers for managed care, hospitals, and other services will be inextricably linked to the increased demand for care, servicing of Medicaid, and the private or national exchanges. These are the heavy weights that can meet the demands for greater efficiency and cost containment. XHS holds 53 of these names and sports a reasonable expense ratio of 35bps. This is a newer, smaller ETF, so watch the trading volume before purchasing. Below is a 2-year chart compared to FXH and the S&P 500.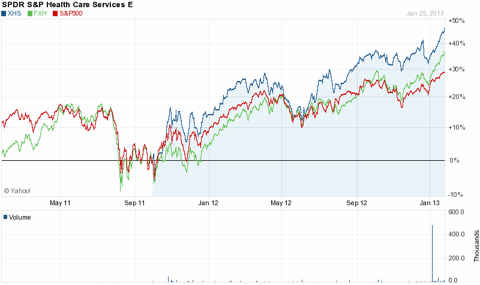 (Source: Yahoo Finance)
No portfolio is complete without some adventure (i.e., volatility), which can be found in the more dynamic small capitalization group of companies. While the biggest and baddest players may thrive, they will look to acquire the intellectual horsepower (drug and technology patents and know how) bubbling up from Junior Pharma, which could drive up valuations. Additional market participants looking to capture growth in our otherwise cyclical (or secular) slowdown should follow suit. PSCH is the only ETF focusing exclusively on this space and holds 67 of these names with an expense ratio of 29bps. Below is a 2-year chart compared to FXH and the S&P 500.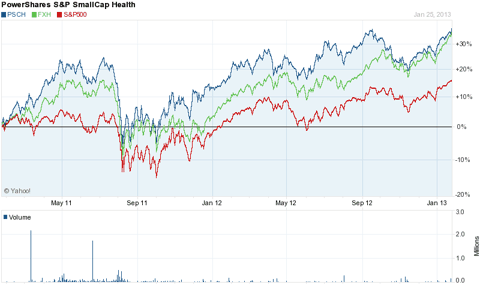 (Source: Yahoo Finance)
Two additional currents from ObamaCare include: (1) the need to streamline medical records and health data; and (2) the eventual push toward more home-care and outpatient treatments to reduce expensive stays, even for some severe conditions. I am recommending generally a 20% allocation to these two themes, but want you to do the work in building a basket with 6-10 related names. An in-depth analysis of a single stock recommendation could occupy an entire posting on Seeking Alpha, so below is preliminary screen to ponder without any specific buy recommendations from me. There are many more companies with exposure to these themes, including some of the holdings in the ETFs recommended above.
Health Care Information Services Companies (as of 1/25/2013)
Ticker
Company
Market Cap
Perf YTD
ADAT
Authentidate Holding Corp.
19.47M
-23.41%
CERN
Cerner Corporation
14.30B
7.57%
CPSI
Computer Programs & Systems Inc.
600.65M
7.69%
MDAS
MedAssets, Inc.
1.17B
17.89%
MDRX
Allscripts Healthcare Solutions, Inc.
1.86B
14.97%
MDSO
Medidata Solutions, Inc.
1.19B
17.02%
MRGE
Merge Healthcare Incorporated
258.85M
12.55%
QSII
Quality Systems Inc.
1.12B
8.87%
STRM
Streamline Health Solutions, Inc.
69.27M
-3.69%
WBMD
WebMD Health Corp.
834.00M
16.11%
(Source: FINVIZ.com)
Home Health Care Companies (as of 1/25/2013)
Ticker
Company
Market Cap
Perf YTD
ADUS
Addus HomeCare Corp.
89.81M
16.08%
AFAM
Almost Family Inc.
183.52M
-2.91%
AMED
Amedisys Inc.
358.90M
2.56%
CHE
Chemed Corp.
1.45B
9.32%
ELMD
Electromed, Inc.
11.27M
2.96%
GTIV
Gentiva Health Services Inc.
313.96M
1.99%
LHCG
LHC Group, Inc.
379.46M
1.22%
(Source: FINVIZ.com)
Disclosure: I have no positions in any stocks mentioned, and no plans to initiate any positions within the next 72 hours. I wrote this article myself, and it expresses my own opinions. I am not receiving compensation for it. I have no business relationship with any company whose stock is mentioned in this article.