This morning, Royal Dutch Shell (RDS.A, RDS.B) and Southern Liquefaction Company, a Kinder Morgan (NYSE:KMI) affiliate and unit of El Paso Pipeline Partners (NYSE:EPB), announced that they will jointly develop a natural gas liquefaction plant at El Paso's existing Elba Island LNG Terminal near Savannah, Georgia.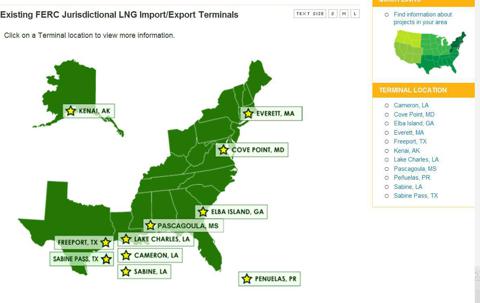 (Source: FERC)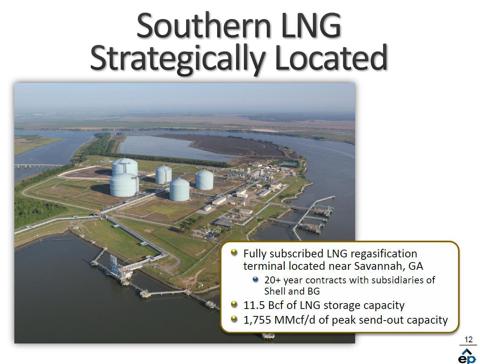 (Source: El Paso Pipeline Partners Investor Presentation)
The announcement is particularly notable as it features Shell's small-scale liquefaction unit design that should enable "rapid construction" compared to traditional large-scale facilities (which may take four to six years to construct and commission, which is in addition to a lengthy permitting process). The project is expected to have liquefaction capacity of approximately 2.5 million tonnes per year of LNG (equivalent of 350 MMcf/d of natural gas), which is modest relative to many other proposed LNG export facilities. The liquefaction unit will be integrated with the existing Elba Island plant and developed in two phases. Phase I of the project is expected to have approximately 1.5 mtpa capacity (210 MMcf/d).
In addition to the new liquefaction capacity, the existing Elba Express Pipeline will be modified to allow reverse natural gas flow to the terminal, and the Elba Island LNG Terminal will be equipped for loading of the LNG onto ships for export.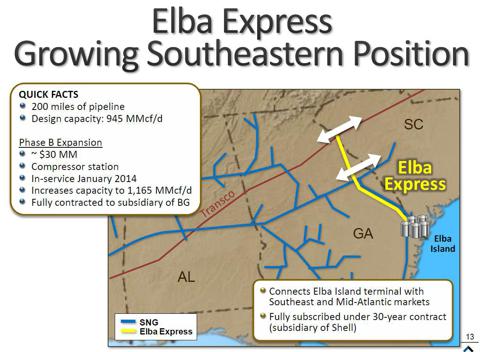 (Source: El Paso Pipeline Partners Investor Presentation)
El Paso Pipeline Partners will own 51 percent of the entity and operate the facility. Shell will own the remaining 49 percent and subscribe to 100 percent of the liquefaction capacity. El Paso Pipeline Partners is a publicly traded pipeline limited partnership which operates more than 13,000 miles of interstate natural gas transportation pipelines in the Rockies and the Southeast, natural gas storage facilities with a capacity of nearly 100 Bcf and the Elba Island facility in Georgia. The general partner of EPB is owned by Kinder Morgan, the largest midstream company in North America with a combined enterprise value of approximately $100 billion.
Shell's participation in the project is not surprising - Shell is one of two primary capacity subscribers at the existing 1.8 Bcf/d (peak capacity) Elba Island LNG import facility, alongside with BG Group (OTCQX:BRGYY), and has a long-term (20+ year) contract with El Paso Pipeline Partners. Understandably, the import terminal is currently severely underutilized.
The brownfield nature of the proposed export expansion should achieve substantial time and cost savings relative to a new construction (and is a big advantage from the permitting perspective). The project will benefit from the substantial existing infrastructure at the terminal and existing pipeline connection to several major intrastate and interstate pipelines which service the Gulf Coast, Midwest and Northeast. The combined facility will have the capability to import and export LNG.
Shell joins Kinder Morgan's LNG export project that has been announced earlier and in June 2012 received approval from the U.S. Department of Energy to export up to 4 mtpa (500 MMcf/d) of LNG to Free Trade Agreement countries (the non-FTA export application was submitted to the DOE in August 2012 and is pending). Shell's participation certainly gives the project credibility, given the Oil Major's deep pockets, liquefaction technology expertise, vast global LNG portfolio, access to strategic markets around the world and massive shale gas reserves in the U.S. (including strong positions in the Marcellus, Utica, Haynesville, Permian and other prolific areas).
While the project is far along in its application process, it may still take a long time before all approvals are in place. LNG export projects go through a rigorous and tedious application and permitting process with federal and state authorities before receiving approval. For non-FTA applications, the U.S. DOE evaluates projects using several criteria (such as energy security and price implications) in order to determine whether a particular project would be in the public interest. The FERC reviews proposed LNG projects for safety and reliability of operation and takes applicants through a rigorous application and permitting process. Projects also have to receive local and state approvals.
Economic feasibility of natural gas exports from the U.S. often comes in question. So far, only one new LNG export project in North America - Cheniere Energy's (NYSEMKT:LNG) 2.6 Bcf/d Sabine Pass LNG - has been fully approved and entered the construction phase (expected in service date at the end of 2015 -- although delays are not uncommon in projects of this scale and complexity). The remaining twenty or so proposed export facilities are still in the "potential" category.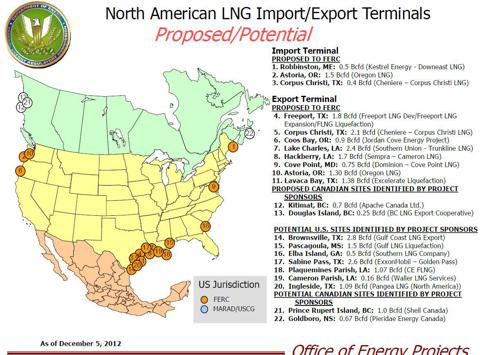 (Source: FERC)
LNG export projects face several major challenges:
Increasing competition for long-term off-take agreements (two recent examples: the Kitimat Project in Canada has been unsuccessful so far in securing off-take agreements on acceptable terms; and Cheniere had to depart from the higher margin oil-indexed contract framework and accept a less profitable Henry Hub-based formula - Korea Gas, the world's biggest LNG-buying company, the project's anchor customer, commented last April that it had agreed to buy LNG from Sabine Pass based on Henry Hub prices, which may help the utility pay 30% less relative to supply traditionally indexed to oil).
Credit quality and size of the balance sheet needed to support multi-decade contractual obligations.
Very long lead times to cash flow breakeven point.
As a result, very few companies have the risk tolerance and cash flow surplus sufficient to shoulder an LNG export development. Oil Majors are certainly in that rare category. Therefore, sponsorship by Oil Majors of LNG export projects seems very logical (if not a prerequisite for a project's operational and economic success).
The Elba Island terminal is Shell's second LNG export project in North America and the fourth recently announced LNG export facility sponsored by an Oil Major.
Shell Prince Rupert Island Project
Last year, Shell announced its preliminary decision to proceed with a proposed 1.0 Bcf/d LNG export project on Canada's West Coast, which it will own in a joint venture with three Asian partners (Petrochina (NYSE:PTR), Mitsubishi, and Korea Gas). No specific timeline has been announced yet. Shell will be using an industrial site it had acquired from Cenovus (NYSE:CVE) on Prince Rupert Island. The facility is sited on the northern British Columbia coast approximately 400 miles north of Vancouver and will have pipeline access to Canada's most prolific natural gas shales in Northwestern Canada, including the Montney, Horn River, Liard and Duvernay, for export, via LNG, to Southeast Asian markets.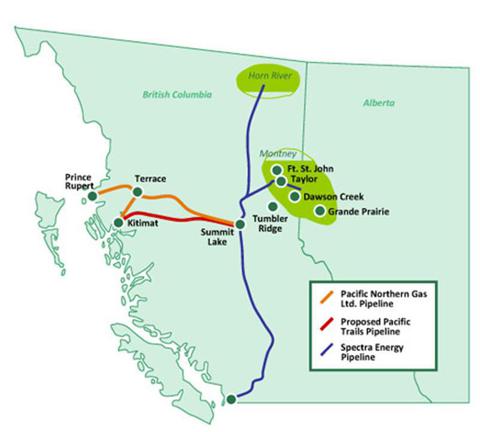 (Source: Kitimat LNG)
Chevron Kitimat Project
In December, Chevron (NYSE:CVX) joined a competing LNG export project on Canada's West Coast, the Kitimat LNG, in a joint venture with Apache Corporation (NYSE:APA) (also shown on the picture above). The project is supported with natural gas resource base Shell and Apache own in the Horn River and Liard Basins. The project had been nurtured for several years by a consortium of three large E&P companies, Apache, Encana (NYSE:ECA) and EOG Resources (NYSE:EOG) but has faced difficulties in securing off-take contracts. In a series of transactions, Chevron agreed to buy a 50% operated interest in the yet-to-be-constructed liquefaction facility and Pacific Trail Pipeline ((NYSE:PTP)), and a 50% interest in approximately 644,000 net acres in the Horn River and Liard Basins in British Columbia. Apache will stay on in the Joint Venture as Chevron's 50% partner while EOG and Encana exited the consortium. Chevron Canada will operate the LNG plant and the pipeline; Apache Canada will operate the upstream assets. The Kitimat LNG is perhaps Canada's most advanced natural gas export project. The project is currently completing front-end engineering and design, and early site work is under way. Current plans call for two liquefaction trains, each with expected capacity of 5 million tons of LNG per annum (about 750 MMcf/d of natural gas). Kitimat has received all significant environmental approvals and a 20-year export license from the Canadian federal government. The 290-mile (463-km) Pacific Trail Pipeline will provide a direct connection between the Spectra Energy (NYSE:SE) Transmission pipeline system and the Kitimat LNG terminal.
Exxon Mobil Golden Pass Project
Last year, Exxon Mobil (NYSE:XOM) announced plans to build a $10 billion, 2 Bcf/d natural gas export facility adjacent to the existing Golden Pass LNG receiving terminal, Exxon's joint venture with Qatar Petroleum International. The site is located between Port Arthur and Sabine Pass, Texas, neighboring Cheniere Energy's development. The project will benefit from substantial existing infrastructure which includes two berths for LNG tankers (including the world's largest double-hulled Q-Flex and Q-Max ships), five storage tanks, and a 69-mile Golden Pass Pipeline providing access to key natural gas markets.
Implications for Natural Gas Market
While the four projects discussed above provide a strong vote of confidence by several global Oil Majors - who are also among top ten U.S. natural gas producers - in the long-term viability of natural gas exports from the U.S., they offer no immediate relief to the over-supplied gas market. While Shell's small-scale multi-phase design may offer a solution to the problem of the very long lead time to first exports, the project is still unlikely to see its in-service date for at least another three to four years and its size in the context of total North American demand is inconsequential. Other projects, with the exception of Cheniere's, face significant uncertainties and are many years away from their in service dates.
It's also important to note that all the twenty or so proposed LNG export projects face significant economic, execution and permitting challenges. For example, in the case of Exxon's existing Golden Pass re-gasification project, it took over six years to permit and construct the facility (the first formal application was filed with the FERC in August 2004 and the plant was commissioned in October 2010). The project came online well behind its initially announced schedule and above its original $1 billion budget. Exxon's currently proposed LNG export expansion may cost almost ten times the amount that was originally budgeted for the existing re-gas terminal. Under the most optimistic scenario, the new plant will be commissioned in 2018, although a 2019-2020 time frame looks more realistic.
From an economic perspective, any project's economic rationale is based on several significant assumptions. First, that the cost of supply for U.S. natural gas will remain low in the long term and will stay competitive versus major LNG exporting regions (the Middle East, Australia, Africa and Russia). Second, that long term off-take agreements will come through and their structure will mitigate a substantial portion of the future LNG pricing risk. Finally, that the construction will be executed flawlessly and major time delays and cost overruns - the biggest return-destroying factors - can be avoided. None of these conditions can be taken for granted.
Disclaimer: This article is not an investment recommendation. Any analysis presented in this article is illustrative in nature, is based on an incomplete set of information and has limitations to its accuracy, and is not meant to be relied upon for investment decisions. Please consult a qualified investment advisor.
Disclosure: I have no positions in any stocks mentioned, and no plans to initiate any positions within the next 72 hours. I wrote this article myself, and it expresses my own opinions. I am not receiving compensation for it (other than from Seeking Alpha). I have no business relationship with any company whose stock is mentioned in this article.