Apple (NASDAQ:AAPL) is a large enough allocation in the technology sector, and its near-term performance is sufficiently in question, that some scenario analysis could be helpful in setting a range of expectations for the S&P 500 and the technology sector for the next 12-months.
We did a bottom up projection of the price change for the S&P 500 (proxy: SPY), the S&P 500 Technology Sector (proxy: XLK) (which includes telecom), and the MSCI Information Technology 25/50 index (proxy: VGT).
Right now Apple is 3.86% of the SPY, 14.48% of XLK and 20.5% of VGT, according to the weights currently published on the websites for each ETF.
To do the scenario projections we calculated the percent difference between the Street consensus 12-month price target and the current market price for each constituent company, then multiplied those differences per company by the allocation weight of each company in each index. From the sum of those products, the bottom-up Street price change expectation is revealed.
We used that measure as the top of a scenario range, and then created two more data points, one assuming that Apple remains at its current price, and another that Apple declines by 10%.
This is a simpler view than reality, because the indexes are rebalanced periodically based on investable weights and occasional reconstitution. The S&P 500 and therefore its sectors are rebalanced quarterly, and reconstituted as needed. We believe the MSCI information technology index is managed similarly.

Given that the rebalancing effects are unknown in advance, these calculations are merely broadly indicative, and would be more precise if an investor purchased the constituents in the current proportions and held them for 12 months.
With Apple rising 44%, which is the average Street consensus, and all of the other constituents with price changes as expected, the indexes would change over the next 12 months as follows:
S&P 500: +8.26%
S&P 500 Tech Sector: +12.92%
MSCI Info Tech 25/50: +15.69%
If Apple's price were not to change, the index prices would be substantially less, as follows:
S&P 500: +6.57%
S&P 500 Tech Sector: +6.58%
MSCI Info Tech 25/50: +6.70%
If Apple's price were to decline by 10%, the index prices would be substantially less, as follows:
S&P 500: +6.17%
S&P 500 Tech Sector: +5.14%
MSCI Info Tech 25/50: +4.64%
For the S&P 500, the indicated price levels would be 1629, 1599, and 1593 based on the three scenarios for the Apple price.
The broad 1600 level talked about by many for 2013 seems approximately reachable in each scenario, but for those investing in XLK or VGT, the price return for the year goes from significantly superior to the S&P 500 to about the same, or a point or two less if Apple does not rebound to meet the average Street expectation.
So far the Q4 reports for technology for 35 reporting companies are running 87% above expectations and 13% below. For the S&P 500, the reports are running 72.6% above, 8.3% on target, and 19.0% below for 141 reported. Still many to go, so far so good. This may tend to cause analysts to raise expectations for 2013, since they tend to be trend followers more than trend leaders.
Here is the data as published by Thomson One: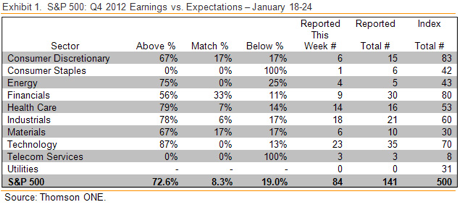 Disclosure: QVM has positions in AAPL and SPY as of the creation date of this article (January 28, 2013). We certify that except as cited herein, this is our work product. We received no compensation or other inducement from any party to produce this article, but are compensated retroactively by Seeking Alpha based on readership of this specific article.
General Disclaimer: This article provides opinions and information, but does not contain recommendations or personal investment advice to any specific person for any particular purpose. Do your own research or obtain suitable personal advice. You are responsible for your own investment decisions. This article is presented subject to our full disclaimer found on the QVM site available here.