Two Harbors Investment (NYSE:TWO) offers two unique ways to make money on the housing recovery. Two Harbors is a hybrid mortgage real estate investment trust (mREIT). The company benefits by owning agency mortgage backed securities (MBS) and non agency MBS. The company is currently yielding over 15% via quarterly dividends. The second strategy is Two Harbors will receive 17.8 million Silver Bay Realty Trust (NYSE:SBY) shares in a completed spinoff. I believe Two Harbors investors will continue to benefit as U.S. housing prices recover.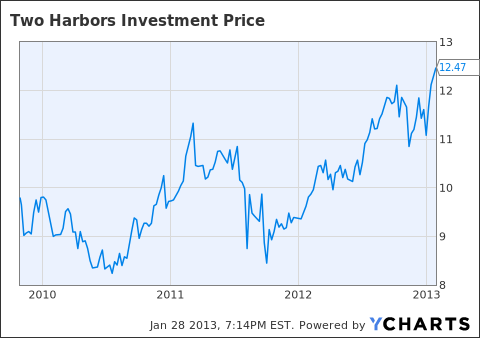 Silver Bay Realty: REIT Status
Silver Bay Realty Trust was formed in June 2012 as a qualified REIT. The company focuses on acquiring, renovating, leasing and managing single family properties in the U.S. Its revenue comes from rents collected on houses it owns; this rental revenue is used to finance operating expenses and generate profits and cash flow for distribution to shareholders. As of September 2012, the company had over 2,500 single family properties, primarily in seven states. These states include Florida, Texas, California, Georgia, Nevada, North Carolina and Arizona.
The company is based in Minnetonka, Minnesota. As a REIT, the company plans to pay a substantial portion of its profits to shareholders as dividends.
The company's primary business goals are to establish a solid reputation as a good landlord, profitably operate its properties over the long run and generate attractive risk-adjusted returns for its shareholders through dividends primarily and capital appreciation secondarily. It also expects to achieve economies of scale and develop itself as a valuable consumer brand in the single family rental sector.
Corporate Structure
As the chart below shows, Silver Bay Realty Trust is owned by Two Harbors (47.7%), public stockholders (35.1%) and prior Provident investors (17.2%). The company owns a 98.9% limited partner interest in its operating entity, Silver Bay Operating Partnership LP, and a 100% interest in Silver Bay Management LLC. Silver Bay Operating Partnership, in turn, has 100% ownership of the company's single family homes portfolio.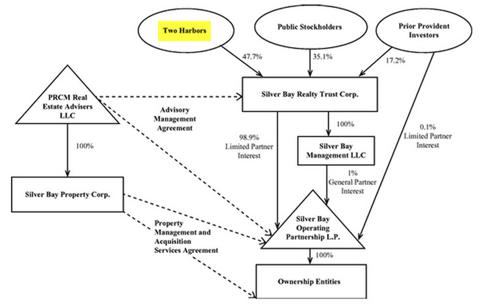 Click to enlarge
Silver Bay does not have any employees, and is externally managed by PRCM Real Estate Advisors LLC. PRCM has substantial experience with the acquisition and management of single family homes, and a strong network of vendors, service providers and third party property managers to help with its core business. PRCM is a joint venture between Provident and Pine River. Provident is a private capital management firm focused on single family real estate. Pine River is a global asset manager with over $10 billion under management -- Pine River had earlier launched Two Harbors, a successful publicly traded mortgage REIT.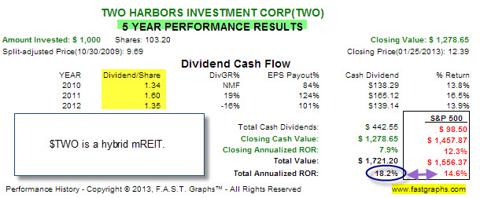 Click to enlarge
PRCM will design and implement business strategy, administer daily operations, source and execute acquisitions and manage accounting and taxes. PRCM will be reimbursed for expenses and be paid a 1.5% annual fee based on the company's fully diluted market capitalization.
IPO
On December 14, 2012, Silver Bay completed its initial public offering and raised $263.4 million by selling 15.2 million shares at $18.50 each. Proceeds from the IPO will be used to acquire and renovate new properties, for general working capital and to finance cash distributions to shareholders.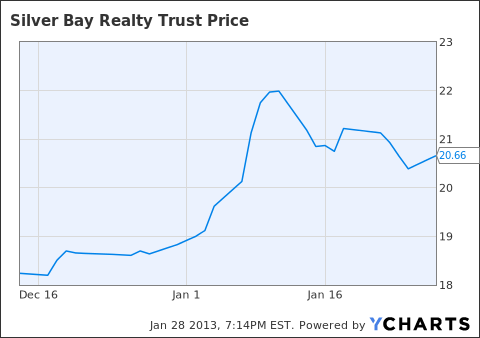 Market Opportunity
Estimates suggest that the U.S. residential rental market will grow by about 8.2 million households between 2010 and 2015, partly from foreclosure-displaced homeowners becoming renters of homes. Household formation demographics will also drive single-family home rentals as household formations outpace single-unit housing starts.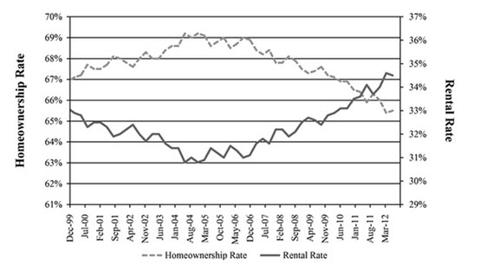 Click to enlarge
The company believes that the recent downturn in real estate prices, high inventories of distressed single family homes and strong rental demand creates a unique, large-scale opportunity that is sustainable through economic cycles and capable of delivering capital appreciation as the housing market recovers. Single family home rentals account for a third of all renter occupied units in the U.S.
Strategically, the company plans to hold its investment properties over the long run and expand its portfolio of single family homes in neighborhoods with strong demographics that support regular rental payment with minimal default.
Silver Bay employs a top-down investment process that identifies attractive target markets for single family homes and conducts extensive due diligence to understand regional housing dynamics before making investments. It aims to differentiate itself from other rental managers by focusing on quality and consistency with hands-on management and integrated infrastructure.
While the company has no debt, it may use leverage to finance future purchases if the economics makes sense.
Properties Portfolio
As the table below shows, the company owns 2,548 properties at an average cost of $120,400. On average, its properties are slightly over 20 years old, are each roughly 1,700 square feet in area and deliver monthly rents of $1,100.
Click to enlarge
The company made substantial property acquisitions in 2012, with a significant pickup in the middle of 2012.
The company typically spends 10% to 15% of a property's cost on renovation expenses, and generates income from its properties three to six months after acquiring them. Its rental revenue is a function of occupancy and rental rates, and is impacted by macroeconomic and local factors.
Recent Financials
Silver Bay has not had a full quarter as a public company. On a pro forma basis, the company generated $8.4 million in revenue for the nine months ended September 30, 2012, most of which came from rental income. Its expenses were primarily for tied to property operations, maintenance, management fees, advisory management fees, depreciation and amortization, and general expenses.
Total expenses were $24.6 million, and the company reported a net loss of $16.2 million. This net loss is due to the significant pace of acquisitions in 2012 and associated costs not balanced out by rental revenue. However, as these acquisitions stabilize, the company should see revenues rise in 2013.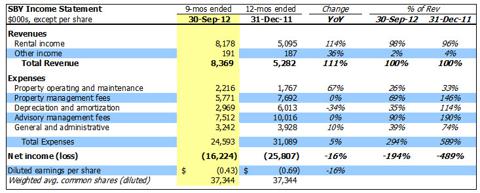 Click to enlarge
As of September 2012, the company's real estate portfolio had a fair market value of $306.7 million. It held $226.1 million in cash and assets totaling $667.4 million. Stockholders equity stood at $661.5 million (18% below its market capitalization).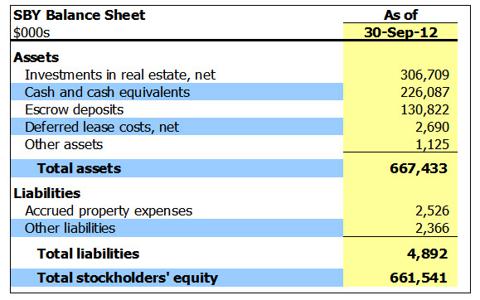 Click to enlarge
Summary
Silver Bay is backed by a solid and experienced team with significant past successes. The company's real estate acquisition binge in 2012 should produce steady profits in the coming years with significant dividend income for shareholders. This stock also allows shareholders to participate, as proxy landlords, in the U.S. housing market.
The company has zero debt, and is a new asset class with an excellent management team. This security is a proxy for the U.S. housing market, which is in a strong recovery mode. I believe Silver Bay is a buy up to $22 per share. This is in great part due to the Pine River housing market expertise. I believe Two Harbors is a buy up to $12.75. I have been buying Silver Bay since $18.50. I will continue to buy up to $22 per share.
Disclosure: I am long SBY, TWO. I wrote this article myself, and it expresses my own opinions. I am not receiving compensation for it (other than from Seeking Alpha). I have no business relationship with any company whose stock is mentioned in this article.