I recently investigated some of the biggest oil companies (by sales) to see if there still is an opportunity to identify an investment that might offer a suitable margin of safety for a value investor. Another criteria for my investigation is a solid dividend yield. My analysis is based on the financial statements of the company for the last 5 years. The focus is on identifying a trend.
Market:
Background information on Royal Dutch Shell (NYSE:RDS.A) can be found on the company website. Shell trades on 3 different stock exchanges and thus in 3 different currencies. As you can see in the table below there is a difference in United States and Europe market price if we convert everything into USD. This factor 2 difference has to do with the amount of shares outstanding per market. On the US market you are trading an ADR (American Depositary Receipt). This represents a specified number of shares in a foreign corporation. In the case of Shell the ADR represents 2 shares. Because I'm doing an evaluation against all outstanding shares I will therefore use a market price of $35.40 where required.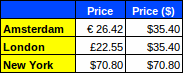 Note: Market price of 25/01/2012.
Since 2009 Shell's market price has increased from its low of about €16 to the current price of about €26.42 per share, as is shown in the graph below. That is an increase of 65% in market price in 4 years time. Also it is interesting to see that it is back around its pre-crisis high.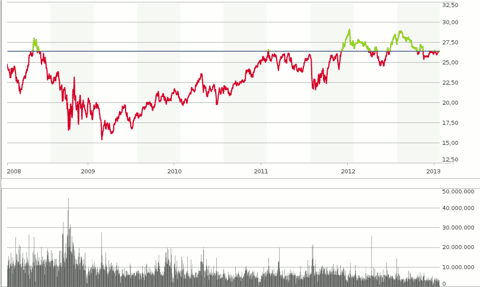 Note: Market price in graph is in Euros
Income Statement:
Looking at the income statements from the last 5 years, as shown in the tables below, we can conclude that as of 2009 the company's sales revenue is growing steady on a year to year basis. In 2011 it exceeded its pre-crisis sales revenue of $458 Billion by about 2.6%. However, in the last couple of quarters we see sales declining, which is a worry. If we expect the quarterly trend to continue, 2012 sales revenue will end up below that of 2011. According to the analyst consensus it will end up around $462 Billion, or a decrease of about 1.7%.
For the net income and the EPS (Earnings Per Share) it is the same story. However, here the decrease is much bigger because of the weak second quarter, due to higher operating expenses. If net income is about similar to that of Q3 there will be a decrease of more than 12% in income and more than 8% for EPS. It is expected that full year 2012 will still end up above the 2008 pre-crisis figures.


Note: All values in the tables are in Millions of USD (except for per share items)
Balance Sheet:
Shell has a very solid balance sheet, as is shown in the table below. For the last reported quarter it has about $18.8 Billion in cash and cash equivalents, or about $3 per share, on its books. It has been growing significantly for the last couple of quarters.
Equity is growing at a steady pace, on average about 6% per year. This is solid but it is less impressive than the 10% of its rival Chevron (NYSE:CVX) for instance, also see "Chevron: What The Numbers Say".
The shares issued have been relatively steady for the last couple of years. Only a 0.28% increase compared to 2008. The intangible assets are decreasing and are about 2.4% of equity. Very positive signs for a value investor.

Note: All values in the table are in Millions
Cash Flow:
The cash flow statement helps investors to see if a company is having trouble with cash. Operating cash indicates if the company is able to generate its own cash, instead of funds coming from outside financing activities. As shown in the tables below operating cash is growing year on year as of 2009. With the fourth quarter still to be reported, to date 2012 is already at the level of 2011. With operating cash the company is able to fund its investing and financing requirements. Prime necessity for investing is to ensure the proper maintenance of, and additions to, a company's physical assets. Financing includes continuously borrowing and repaying debt. For income investors it also contains the all so important "dividend payments" item. As we look at the increase/decrease in net cash in the tables, we see that Shell has significantly been adding to its cash reserves in the last quarters.


Note: All values in tables are in Millions of USD
Dividend:
Currently Shell is paying a dividend of about 4.86% per year. It is therefore one of the biggest dividend payers between the oil giants. Be aware that net dividend may vary based on your and the company's local tax regulations. As is shown in the tables below, dividend is increasing but not every year. Looking at the growth trend it is not expected that dividend will grow in 2013, however the analyst consensus think it will.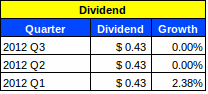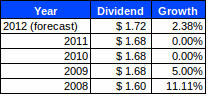 Price Ratios:
All ratios in this analysis have been compared to the share price of $35.40. The price ratio I prefer is book value. With net book value we don't include the intangible assets in the calculation. As can be seen in the table there is not a big difference in this case. Based on the current share price we pay a premium on net book value of about 24%, or a net Price to Book (P/B) of 1.24, below the industry average of 1.5. Compared to for instance Exxon Mobil's (NYSE:XOM) with a P/B of about 2.5 this is significantly lower and therefore could offer a suitable margin of safety for a value investor, also see article. What is also interesting is the trend in book value. Here we see that it has been growing about 7.4% year on year. This is very impressive, considering that the stock currently is trading around the same market price level as 2008.

The Price to Earnings (P/E) ratio is a "multiple" of year earnings, so for a P/E of 10 an investor is willing to pay $10 per $1 of earnings. P/E is calculated by dividing the share price by the EPS (earnings per share) for a particular year. Therefore the quarters, as shown in the table, should be viewed as an indication for 2012. For the last couple of years, with exception of Q2 2012, the P/E has reduced significantly. The average P/E for 2012 is around 9, about the same as the forecast for full year 2012. It's fairly similar compared to the analyzed rivals (XOM, CVX, BP and E).
Efficiency ratios:
To look at the financial efficiency of the company we will look at the ratios as shown in the table below. If possible these will be compared to industry average:
P/B= 1.5

P/E = 10.3

Profit Margin = 8.1%

ROE = 19.0%
Profit margin is an indicator of a company's pricing strategies and how well it controls costs. The average profit margin for the Oil & Gas Integrated industry is 8.1%. As can be seen in the table this is Shell's biggest weakness. There is some slight improvement over the last couple of years, but it needs to do much better. One of its rivals Chevron for instance is well above this industry average, also see "Chevron: What The Numbers Say". It will be interesting to see if Shell is able to improve on this the coming quarters.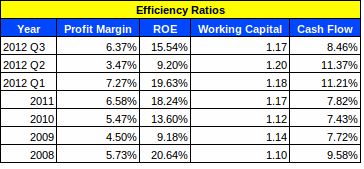 Return on Equity (ROE) is calculated by dividing net income by equity for a full year. Therefore the quarters, as shown in the table, should be viewed as an indication for 2012. Looking at the trend allows an investor to determine the change in profitability over a given period. I consider companies with a ROE between 10% and 20% to be good. After a dip in 2009 we can see that Shell has increased ROE, reaching the industry average of 19% in 2011. But in 2012 it started slipping again.
If we calculated the working capital ratio, by dividing current assets by current liabilities, we get 1.17 for the last quarter. Working capital ratio measures both a company's efficiency and its short-term financial health. If it is higher than 1 it's an indication that the company is able to pay off its short-term debt. If it is lower than 1 it is an indication that it cannot, with a possible worst-case scenario of bankruptcy. If working capital ratio is high, in most cases above 2, or growing it is an indication of inefficiency. It shows that money is tied up in inventory or with creditors and cannot be used to pay off the company's obligations. All in all no problems for Shell here.
The final indicator used is operational cash flow/sales ratio. Here we want to see the company's ability to turn sales into cash. The higher the number the better. We see that this ratio is growing the last couple of quarters. A very good sign. All in all a well managed company with solid efficiency ratios, however not as efficient as some of its main rivals.
Conclusion:
Shell's current market price is about similar to that of 2008. It has however added to its underlying value, as was shown with the growth of its net book value. The company also has a significant amount of cash and cash equivalents on its books. So it may be able to acquire one of its smaller competitors to grow its sales in the near future. The company is able to fund its investing and financing requirements with its operating cash and have some cash left for its cash reserves, which have grown to $18.8 Billion at the end of Q3 2012.
Looking at the efficiency ratios we have to conclude that this is a well managed business. Its biggest weakness is its profit margin. Compared to its rivals it has more difficulty controlling its operational cost. Profit margin currently is about 1.7 percentage points below the industry average of 8.1%. ROE is good but should stay at the 2011 level of 19%. The amount of sales it is able to turn into cash has improved very well.
Considering the below industry average net Price to Book of 1.24, it can be concluded that Royal Dutch Shell could offer a suitable margin of safety. Together with an annual dividend of about 4.86% it is looking very attractive. I therefore believe that this stock could create an opportunity for a value investor.
Disclosure: I have no positions in any stocks mentioned, but may initiate a long position in RDS.A over the next 72 hours. I wrote this article myself, and it expresses my own opinions. I am not receiving compensation for it (other than from Seeking Alpha). I have no business relationship with any company whose stock is mentioned in this article.