As 2012 home price data is released to the public, it appears we will look back on the year as the turning point in the housing market. Many analysts are already suggesting 2012 was the year the housing market recovered (see the Cleveland Fed's research on this topic). While time will prove if this theory is correct, the data certainly points towards an upward trend. Throughout this article, I will provide a brief overview of the housing market and why I believe Toll Brothers (NYSE:TOL) may be a strong candidate to capture outsized returns during this recovery.
The Data
I will begin by looking at three graphs calculated by various sources and compiled by J.P. Morgan Asset Management. The first graph on the left shows the S&P Case-Shiller 20 city home price index. Since falling dramatically in 2007, the index has not seen stability until recently. 2012 was a significant upward move in the index. I believe this occurred for a few reasons. The first and easiest to understand is supply and demand. The graph on the bottom right shows inventory levels which had fallen significantly since the market peaked. You can see we are now sitting well within historical average inventory levels. Couple less inventory with extremely low interest rates (see second chart below) and home affordability at historical levels (J.P. Morgan Asset Management chart top right), and you can understand why demand is beginning to pick up. Additionally, as many potential homeowners put off purchasing due to economic uncertainty, the pent up demand is beginning to surface.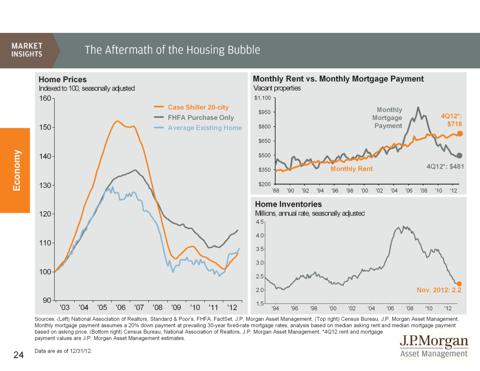 Click to enlarge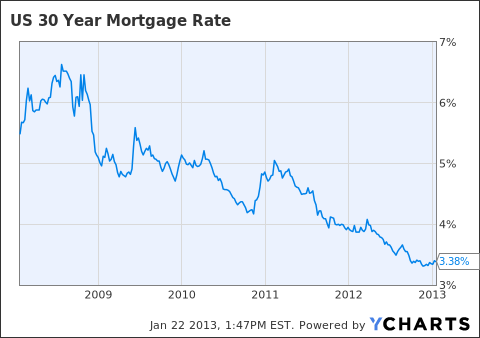 data by YCharts
As Ben Bernanke stated during the most recent FOMC announcement, maintaining low interest rates will be a priority of the Federal Reserve until at least 2015 (based upon their projections for unemployment and inflation). For individuals who have enough capital to make higher down payments, home ownership is extremely attractive (remember this point when I discuss Toll Brothers later on). Given the extremely low interest rate environment which is anticipated for the next few years, home ownership is likely to remain an attractive option.
Given the low inventory levels in our marketplace, the next place to turn is new construction. The chart below is compiled by the US Census Bureau and measures new residential construction housing starts. Due to seasonality adjustments (homes sales tend to be lumpy from quarter to quarter), the graph may appear somewhat volatile. However, look at the general trend rather than monthly gyrations. Following the market collapse in late 2005, this metric has fallen and then stabilized. As of January 2012, we appear to be moving off of this bottom as new home building begins.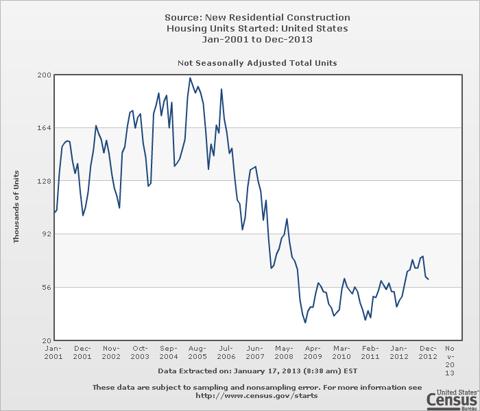 Click to enlarge
New home construction is impressive, but is anyone actually buying new homes or is it purely speculation? To answer that question we turn to the United States Census Bureau again. The chart below shows new home sales and a similar story appears to be developing. Following the past three years of no change in sales, 2012 appears to be the transition year where we began moving higher. As further proof, Toll Brothers' current 10-k filing states "As demand in the housing market has strengthened, we have been reducing the amount of sales incentives offered to our home buyers." Many companies have offered similar hints regarding the strength of their business.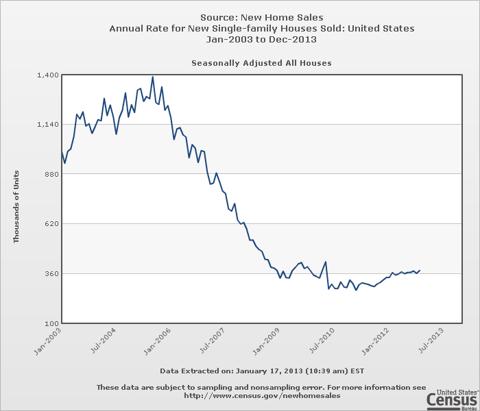 Click to enlarge
There is a tremendous amount of data available regarding the housing market from numerous sources. My list above is by no means exhaustive of the evidence which suggests 2012 was a turnaround year in housing. Keep in mind, the US economy is very similar to the weather; it is different in every city. Just because your home market is not recovering, does not mean the entire country is following suit. I recommend you further investigate specific geographic regions to determine which companies are taking advantage of growing marketplaces.
Why Toll Brothers?
Toll Brothers was founded in 1967 and currently operates in 20 states and 50 markets. They focus specifically on high quality homes and market to upscale home buyers who have previously owned a principal residence or are looking to upgrade their current home. This specific demographic has weathered the economic downturn fairly well and is financially healthy. Given the increased requirements to qualify for a loan, these individuals typically don't run into problems when applying (average FICO scores of 763 on conforming and jumbo loans).
The company appears to have learned from its mistakes during the housing boom and currently takes a fairly conservative position when selling homes. Before a home is even built, the customer must sign a contract and place a deposit. Next a mortgage can be taken out through TBI Mortgage (owned by Toll Brothers and utilized by 69% of buyers). TBI Mortgage pre-sells these loans in the secondary market individually to minimize risk. Then home construction begins, Toll Brothers owns three manufacturing plants which supply wall panels, floor and roof trusses, lumber, windows, and doors to the home site. Construction takes roughly one year and revenue is not realized until each home is delivered and title and possession transferred to the buyer.
The table below shows the impressive 2012 results Toll Brothers delivered. From 2009-2011, you can see home closings rather stagnant and then a 26% jump in 2012. Contracts signed have been steadily increasing but saw a 49% jump last year. The average contract value has increased at a compound annual growth rate of just under 5% since 2009. For fiscal year 2013, management is expecting to deliver between 3,600 and 4,400 homes and estimate the average delivered price per home will be between $595,000 and $630,000.
| | | | | |
| --- | --- | --- | --- | --- |
| Year ended October 31st | 2009 | 2010 | 2011 | 2012 |
| Number of Home Closings | 2,965 | 2,642 | 2,611 | 3,286 |
| Value | $1,755,310,000 | $1,494,771,000 | $1,475,881,000 | $1,882,781,000 |
| Average Closing Value | $592,010 | $565,773 | $565,255 | $572,970 |
| | | | | |
| Net Number of Contracts Signed | 2,450 | 2,605 | 2,784 | 4,159 |
| Value | $1,304,656,000 | $1,472,030,000 | $1,604,827,000 | $2,557,917,000 |
| Average Contract Value | $532,513 | $565,079 | $576,446 | $615,032 |
Source: Toll Brothers 10-k filing
I believe future orders of homes also look promising for Toll Brothers. The table below shows the company's backlog which exploded 54% year-over-year. The pipeline is expected to remain robust for the next few years and management has estimated to be selling from 225-255 communities at October 31, 2013.
| | | | | |
| --- | --- | --- | --- | --- |
| Year ended October 31st | 2009 | 2010 | 2011 | 2012 |
| Backlog Number of Homes | 1,531 | 1,494 | 1,667 | 2,569 |
| Backlog Value | $874,837,000 | $852,106,000 | $981,052,000 | $1,669,857,000 |
| Number of Selling Communities | 200 | 195 | 215 | 224 |
Source: Toll Brothers 10-k filing
Brief Overview of Financial Statements
Buried in the company's financial statements are a few important metrics worth discussing. Toll Brothers has realized massive inventory impairment charges over the past few years due to a combination of overexpansion and declining home values. These writedowns have slowed from $115 million in 2010, to $52 million in 2011, and just under $15 million in 2012 (larger amounts were realized in prior years). Although inventory impairment charges do not affect cash flow, net income will hopefully begin moving in the right direction as impairments dwindle down.
For investors holding shares of TOL during the financial crisis, these impairment charges have caused large losses. However, investors looking to invest today receive some very lucrative tax benefits as a result of the economic collapse. This can be seen by the reversal of the valuation allowance for deferred tax assets. US GAAP has specific criteria that must be met in order to reverse a valuation allowance. Toll Brothers has listed specific evidence on page 29-30 of the 2012 10-k filing. To highlight a few points the company cited:
An indication that events and conditions that gave rise to significant reported losses in recent years were unlikely to recur in the foreseeable future.
A return to profitability in 2012.
Strong backlog evidencing that profitability will likely increase in 2013.
In fiscal 2012, the company utilized a $374 million deferred tax asset which boosted net income to $487 million. Additionally, as of October 31, 2012, Toll Brothers has $358 million of deferred tax assets on its balance sheet, net of the valuation allowance. Tax loss carryforwards vary by state, but most allow for up to 20 years before expiration (similar to federal tax law).
Potential Risks
As of October 31st, 2012, the company reported approximately $1.2 billion of cash and marketable securities, $814.9 million of potential borrowing available under its twelve bank credit facility, and a net debt-to-capital ratio of 23.6%. However there are many off-balance sheet items which may warrant extra attention:
Operating leases: future minimum rent payments totaled $37.44 million.
Various unconsolidated entities: $106.8 million in required funding if called upon to do so.
Joint Venture in metro-New York: committed to make an additional $37.5 million in contributions.
Joint Venture in Orange County California: committed to contribute $10 million, if needed.
Joint venture in metro-New York: expected to make additional investments of approximately $47.7 million for development and $9.8 million for the ground lease.
The company has strict debt covenants with its lenders and it appears unlikely it will compromise those with risky bets. That being said, it is still worth factoring in the off balance sheet arrangements when you perform further analysis. Toll Brothers also utilizes options contracts on land/development purchases; however, these are not obligations to purchase and costs have already been expensed.
Toll Brothers' debt is rated by all three of the nationally recognized rating agencies (Fitch BBB-, S&P BB+, and Moody's BA1) with stable outlooks. The company has spaced out its debt maturity (see graph below) and does not appear to be financially strained in any particular year. They did recently issue debt exchangeable for common stock which bumped up the diluted share count from 168 million to 170 million. Given the large change in Net Income during 2012 ($40 million to $487 million), this did not appear to have a major effect. However, moving forward, when earnings become more normalized, this should be reviewed in greater detail.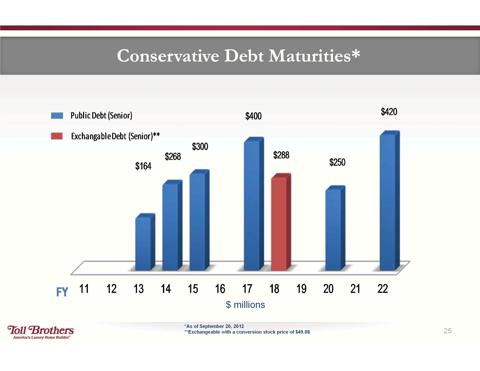 Click to enlarge
Why Not XHB?
Many investors do not take the time to research individual companies and simply opt for the exchange traded fund. The SPDR S&P 500 Homebuilders ETF (NYSEARCA:XHB) is the easiest way to play the homebuilder sector; however, make sure you understand what you are buying. Homebuilding stocks make up just 32% of this portfolio, building products 25%, and retail home furnishings 16%. Toll Brothers is the fifth largest holding in this portfolio (3.4%). Standard Pacific (SPF), Hovnanian (NYSE:HOV), Tempur-Pedic (NYSE:TPX), and Mohawk Industries (NYSE:MHK) all have higher weightings. Investors looking for homebuilding stocks may not want a bedding or flooring company in their portfolio.
Conclusion
Although some may argue that homebuilder stocks have already appreciated too much in 2012, I disagree. Stocks in this industry have not caught the radar of investors due to the lingering pessimistic view point regarding housing. When earnings begin to normalize and housing data shows another year of improvements, the media will take attention and a wave of new capital may very well fill this space. Taking a close look at the economic data and company specific data today points to a rebound in housing.
Consider your investment goals and objectives before initiating a position in Toll Brothers and remember that the value of investments in equity securities, like TOL, will fluctuate in response to general economic conditions and to changes in the prospects of particular companies and/or sectors in the economy. If you see a fit in your portfolio, I think being a long-term shareholder has the potential to provide attractive returns.
Note: All data reported and graphed is pulled directly from Toll Brothers SEC Filings, Investor Presentations, and Press Releases.
Disclosure: I have no positions in any stocks mentioned, and no plans to initiate any positions within the next 72 hours.
Disclosure: I have no positions in any stocks mentioned, and no plans to initiate any positions within the next 72 hours. I wrote this article myself, and it expresses my own opinions. I am not receiving compensation for it (other than from Seeking Alpha). I have no business relationship with any company whose stock is mentioned in this article.