Church & Dwight Company Inc. (NYSE:CHD) is one of those rare companies whose corporate name is probably unfamiliar to most but whose products are used by millions of people every day. While most people may have never heard of the company itself, they have most likely heard of 'Arm and Hammer' and 'OxiClean,' two of the company's more popular brands.
The New Jersey-based company develops, manufactures and markets many popular household and personal goods that people use in their daily lives, including items from brands like the aforementioned 'Arm and Hammer' and 'Oxiclean' as well as 'Orajel,' 'Nair,' 'First Response' and 'Trojan.' In total, the company has 26 unique brands that reach consumers in 115 countries worldwide. The company operates primarily under three major divisions: Domestic Consumer Products, International Consumer Products, and Specialty Products.
Church & Dwight's strong lineup of popular brand name consumer goods makes the company something of a hidden gem in the world of investing: most people are familiar with the company's products but few know the company behind the great products. I am always on the lookout for stocks that slip under most investors' radars and I believe CHD is one of them.
CHD is also something of a 'best of both worlds' scenario for investors: the stock offers very consistent growth as well as an extremely solid history of increasing dividend payouts, as other contributors have noted in the past. When combined, these two aspects make Church & Dwight a compelling investment for the future. Let's first take a look at the company's outperformance.
The Chart:
The company has proven to be a very rewarding investment over the last decade, providing a ten-year total return of over 500%, delivering an annual total shareholder return of over 19% (with dividends reinvested). Over the last five years, CHD managed a total return of over 120%, delivering a total shareholder annual return of over 17% (with dividends reinvested).
The following is a Yahoo! Finance chart of CHD over the past five years (included are 50-day, 100-day and 200-day moving averages):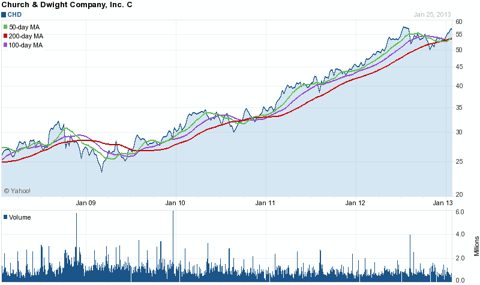 Click to enlarge
The five-year chart is quite impressive. Since bottoming out in early 2009 after the financial crisis, Church & Dwight has been a very dependable growth stock. CHD has obeyed its moving averages very well, breaching its 200-day significantly only twice in five years (both times were amidst greater market turmoil). Most important, is that the long-term chart is trending upward, which is what any growth investor needs to see: an upward-trending chart is indicative of growth.
Let's take a look at the past and future-projected growth of Church & Dwight and compare it to three companies that operate in similar consumer segments. For comparison, I have included Colgate-Palmolive Co. (NYSE:CL), The Clorox Company (NYSE:CLX) and Procter & Gamble Co. (NYSE:PG).
Growth:
| | | | | |
| --- | --- | --- | --- | --- |
| Company | CHD | CL | CLX | PG |
| Revenue Growth (2011) | 6.18% | 7.52% | 4.59% | 3.18% |
| Revenue Growth (2012)* | 6.2% | 2.3% | 3% | 0.9% |
| Revenue Growth (2013)* | 10.7% | 4.9% | 3% | 3.9% |
| Revenue Growth (5-year Avg.) | 4.65% | 5.27% | 2.44% | 2.86% |
| EPS Growth (2011) | 13.37% | 14.62% | 99% | -18.96% |
| EPS Growth (2012)* | 10.4% | 6.6% | 5.1% | 3.6% |
| EPS Growth (2013)* | 13.9% | 9.9% | 7.9% | 8.5% |
| EPS Growth (5-year Avg.) | 14% | 11.6% | 5.8%** | -2%** |
* Numbers derived from average analyst estimate in listed fiscal year.
** 4-year avg. growth rate, derived without abnormally large 2011 EPS numbers to avoid major distortions.
When compared to similar, albeit mostly much larger companies, Colgate-Palmolive Co., The Clorox Company and Procter & Gamble Co., Church & Dwight fares very well. CHD has the second highest five-year average revenue growth rate at 4.65%, behind only CL. CHD also has the highest five-year average earnings per share growth rate, at 14%.
Looking forward, CHD appears to have the best growth as well as analysts project the company to grow revenue at 10.7% and EPS at 13.9% in 2013, which easily bests all other listed companies. Particularly encouraging is that 2013's projected 10.7% revenue growth is the highest the company has seen since 2004.
Fundamentals:
| | | | | |
| --- | --- | --- | --- | --- |
| Company | CHD | CL | CLX | PG |
| Market Cap | 7.99B | 52B | 10.12B | 200.28B |
| Total Debt | 903.8M | 5.25B | 3.02B | 31.88B |
| Total Cash | 241.2M | 995M | 667M | 5.3B |
| 2013 Projected Revenue* | 3.23B | 17.96B | 5.8B | 87.72B |
| ROIC | 11.2% | 29.2% | 18.7% | 10.65 |
| P/E (TTM) | 24.67 | 21.6 | 18.84 | 20.4 |
| P/E (forward) | 20.48 | 18.7 | 16.68 | 16.92 |
| Profit Margin | 11.71% | 14.52% | 9.89% | 12.72% |
| Dividend/Yield | .96/1.7% | 2.48/2.3% | 2.56/3.30% | 2.25/3.1% |
*Based on average analyst estimate
First and foremost, this table illustrates just how small CHD is compared to many of its peers. With a market capitalization just under $8 billion, CHD is about 20% smaller than The Clorox Company. Both Colgate-Palmolive and Procter & Gamble downright dwarf Church & Dwight in terms of market cap. I view this as a positive as smaller companies, as judged by market capitalization, tend to have more room to grow long term. The larger companies become, the more difficult it is to consistently increase revenues at high rates (click on the corresponding names to see how difficult it has been for Procter & Gamble and Colgate-Palmolive to significantly grow revenues annually over the last decade).
CHD has manageable debt levels, currently only 11.26% of the company's market cap, and a healthy net profit margin, at 11.7%. The company also has a nice ROIC, return on invested capital, although it pales in comparison to that of both CL and PG. As a growth investor, I like to see 'return on invested capital' at no less than 10% because I demand clear proof that a company is able to invest in its operations successfully and efficiently. A quick look at the five-year average ROIC for CHD shows it to be at a healthy 10%, which proves that Church & Dwight has successfully invested its capital in the past and should continue to do so going forward.
As a growth investor, I am usually not concerned too much with dividends but in the case of CHD, it is important to mention. Although CHD has the lowest yield of all companies listed above, the company has done a fantastic job of consistently raising its dividend. In the last five years, Church & Dwight has raised its dividend five times. The company boasts an impressive five-year annual dividend growth rate of 39.22%. More importantly is that the company has not stopped paying dividends at any time since first distributing payment to shareholders in 1992. And perhaps most important of all is that the company has never once lowered its dividend.
Finally, the price-to-earnings ratios show that CHD is the most expensive on both a trailing twelve-month P/E basis and a forward P/E basis. However, this is to be expected as the company is projected to offer the best revenue and EPS growth for 2013 by far out of all listed companies.
Growth Catalysts:
Church & Dwight released many new products and spinoffs in 2012, most of which were successfully received by consumers. CEO James Craigie explained in the company's Q3 earnings call, "Our strong organic growth in the first nine months of 2012 of 5.5% has been largely driven by innovative new products," including new items from the company's more popular brands like 'Arm and Hammer,' 'OxiClean' and 'Trojan.' The CEO went on to explain how Church & Dwight is building upon these successful 2012 product launches with "increased marketing spending to continue to deliver strong organic sales growth on both our value-oriented and premium priced products." In the last conference call, management remained committed to providing shareholders with 13%-15% earnings growth in 2013 and stressed the importance of maintaining 10%-12% growth past 2013 and long into the future.
CEO James Craigie also was very optimistic on the company's most recent acquisition of Avid Health and its impact on 2013 earnings, stating that Avid could account for 4% to 5% of total EPS for 2013. Avid Health, a leader in gummy-form vitamins and supplements, has an impressive portfolio of brand name vitamin lines, most notably 'Vitafusion' and 'LilCritters' (the #1 adult gummy-form vitamin brand and the #1 child gummy-form vitamin brand respectively). Management sees the Avid Health portfolio bringing Church & Dwight a vast, new growth platform in 2013 'in one of the fastest-growing segments of the attractive vitamin/mineral/supplement category."
Negatives:
One negative is the stock's above-mentioned lofty P/E ratios (ttm and forward). A look at CHD's historical P/E ratios reveals that the stock is currently valued at a premium in relation to where it has traded in the past, as the 5-year average P/E for the stock is 18.58. Although the company is poised to see impressive growth going forward, its highest revenue growth in nearly a decade, the stock is still trading at elevated levels and this presents a modest risk for investors.
Another negative for CHD is that the company has dramatically increased its level of debt in 2012. At the end of 2011, the company's total debt stood at $249.7 million. By the end of 2012, the company's total debt more than tripled to over $900 million. This rise was mostly due to Church & Dwight's partially debt-financed acquisition of Avid Health, worth an approximate $650 million. Although the long-term prospects of the deal are expected to be beneficial for the company and the debt is currently manageable, the rising debt level presents another modest risk to investors.
Conclusion:
Church & Dwight is a rare stock these days, in that it can be seen as both a growth play and a dividend play. The company has proven that it is able to grow revenue and earnings per share consistently in the past and 2013 projections call for even more robust growth going forward. CHD also trades very well and has a healthy, upward trending chart that is indicative of growth. At the same time, the company has been very consistent with raising its dividend, as it has done so once a year for the past five years, averaging almost a 40% increase in dividends annually. I believe investors can continue to expect rising dividends going forward.
I recommend investors wait for the company to announce earnings on 2/7/2013. If projections for 2013 remain the same, or are raised, then I believe investors can purchase shares of Church & Dwight for the long-term on any pullback to the $55 area. With an uninterrupted history of dividends and consistent revenue and EPS growth, Church & Dwight should continue to offer market-beating returns going forward.
Disclosure: I have no positions in any stocks mentioned, but may initiate a long position in CHD over the next 72 hours. I wrote this article myself, and it expresses my own opinions. I am not receiving compensation for it (other than from Seeking Alpha). I have no business relationship with any company whose stock is mentioned in this article.