Delta Air Lines Inc. (NYSE:DAL) reported earnings for the December 2012 quarter on January 22nd of 28 cents per share down from 45 cents in the same period a year ago. However earnings for all of 2012 where still up almost 30% to $1.83 per share. Revenue in the quarter increased 2% in the quarter, driven by passenger revenue increasing 3% more than offsetting the 5.9% in cargo revenue and the $75 million in lost revenue related to Hurricane Sandy.
One potential negative facing Delta is the prospects of an AMR Corp (AAMRQ.PK), US Airways Group Inc. (LCC) merger, which some sources say could be imminent. The merger would create the largest airline by revenue, and allow the newly formed airline to better compete with Delta and United Continental Holding, Inc. (NYSE:UAL). Some benefit would be seen across the board as competition is reduced, but I believe this will create another option for many travelers. Furthermore Delta's decision to make it much harder for many travelers to achieve elite status by adding a spending component to its SkyMiles program could leave many customers to look for alternatives.

From looking at the valuation of Delta and its peers you can see the lack of faith Wall Street has in the airline sector. The average forward P/E of this group is about 6.4 and the average PEG ratio is about .3. Compared with the group Delta appears to be a fair value, for example it has the lowest EV/EBITDA and EV/Revenue ratios in the group. Delta also has the second lowest PEG ratio and forward P/E after US Airways. When you look at Delta's fleet they are making adjustments to modernize the fleet especially with the short-haul fleet and are currently in negations with Airbus and Boeing Co. (NYSE:BA) for an order of as many as 30 A320's or 737's. They are looking to get older models of those planes at heavily discounted prices. I think the biggest concern facing the US airlines in the future will be with their aging long-haul fleet.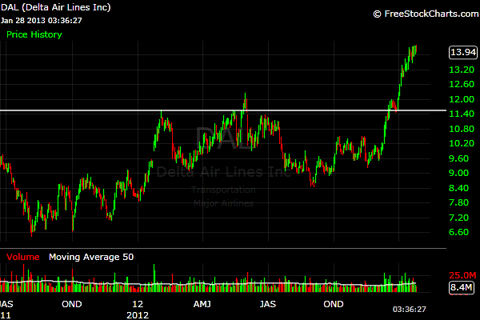 Over the past two years resistance has come in around the $11.50 to $12 per share level with the stock recently breaking out above that level. The next place to look for resistance is around the $15 which the stock is approaching. Delta is up about 47% since the start of December and I do not see a compelling reason to enter here. I believe the stock will likely pullback as it reaches $15 per share possibility down to $12 to test support there. Another thing to watch is that Delta's move up over the past two months has come as oil has increased about 10% in that same time. Both those trends are not sustainable longer term, if oil continues to move up it will start to dampen expectations for Delta. There is just no reason to buy a stock that has come so far so quickly without waiting for a bit of a pullback.
Data sourced from: Company filings, and Yahoo!Finance. Chart from: Freestockcharts.com
Disclosure: I have no positions in any stocks mentioned, and no plans to initiate any positions within the next 72 hours. I wrote this article myself, and it expresses my own opinions. I am not receiving compensation for it (other than from Seeking Alpha). I have no business relationship with any company whose stock is mentioned in this article.