Whiting Petroleum Corp. (NYSE:WLL) is the #2 oil producer in North Dakota. It has 714,567 net acres in the Williston Basin (Bakken/Three Forks). It also has a huge enhanced oil recovery project (EOR) in the Permian Basin with a long life. The chart below gives the approximate distribution of WLL's production.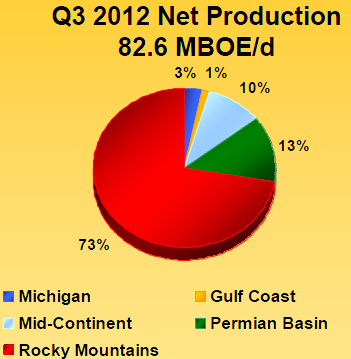 The chart clearly shows that a large proportion of WLL's production comes from the Rocky Mountains (mostly the Williston Basin). The proved reserves were 345.2 million BOE as of December 31, 2011. The Q4 2012 report will contain the new figure. It is sure to be substantially higher. Approximately 86% of reserves and 83% of production are crude oil and NGLs. This is far better than the industry average of 43%. The average production during Q3 2012 was 82.6 Mboe/d. WLL's average 3-year F&D costs are also exemplary at $19.00 per barrel versus an industry average of $25.88 per barrel. The debt to market capitalization ratio of 29% is also significantly lower than the industry average of 105%.
The above are great statistics; but they only begin to paint the picture of what the Williston Basin wells may ultimately yield. A recent Michael Filloon article modeled WLL's Sanish wells to much higher EUR's with a headline EUR (Expected Ultimate Recovery) of 2 million BOE. He contends that use of larger amounts of water and proppants will add significantly to the EUR's. With many of the predictions in the 500+ Mboe per well, a lift to 1,000 Mboe to 2 Mboe per well will mean a substantial increase in both production and in reserves.
In addition to the proppant and water completion procedure enhancement, Continental Resources (NYSE:CLR) recently upgraded its estimate of total recoverable reserves in the Bakken. CLR has proved out the first through third benches of the Three Forks. The fourth bench is also expected to be productive. After this CLR raised its estimate for oil in place in the Bakken from 577 billion barrels to 903 billion barrels. This is a 57% increase in the amount of total oil in place. WLL has substantial properties with play in the Three Forks. This means CLR's proving of these deeper benches has also increased the expectations for recovery from WLL's Three Forks acreage. Time will tell exactly how much. However, the amount will be substantial.
The larger amount of oil in place and the increased EUR's from increases in water and proppant use are not the only reasons to expect increases in both reserves and production from WLL. Secondary and tertiary recovery techniques are expected to be applied to the Bakken eventually too. In the case of a standard vertical well about 10% of the oil in place can be recovered using standard techniques. Using secondary recovery techniques of injecting water or gas to displace oil increase the ultimate recovery to 20%-40% of oil in place. Tertiary recovery techniques can up this percentage to 30% - 60%%. Tertiary recovery uses techniques such as gas injection (CO2, nitrogen, and natural gas), thermal recovery, and chemical injection. WLL has a lot of expertise in tertiary recovery. It performs this task for its Permian Basin properties.
The Bakken has very low recovery estimates in the range of 3% - 5% of oil in place. It is unclear exactly how high this number will eventually climb with the addition of technological drilling and completion advances, use of secondary recovery techniques, and use of tertiary recovery techniques. However, the number may eventually be three times or more than the current estimates.
Jim Volker, WLL's CEO, believes the tertiary recovery process WLL is currently using in its Permian fields will work well in the Sanish field in the Williston, after that field is fully developed within the next 2 years. The idea of some that WLL's production will start falling after initial development is complete is likely a misconception on the part of analysts. Plus this in itself is far off.
The tables below list WLL's identified undrilled locations as of December 31, 2011.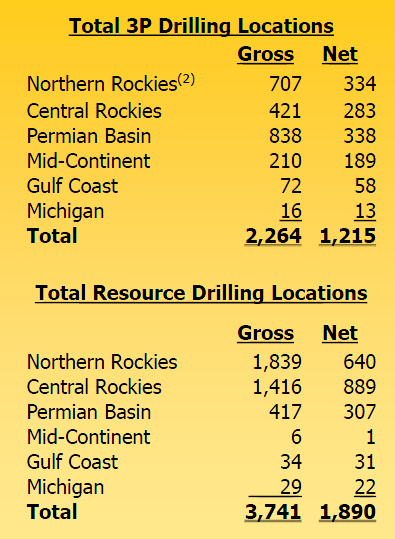 There were 1,890 net locations identified at the end of 2011. These figures probably do not include all of the possible deep Three Forks benches that CLR has recently proved out. When you add these in, the new prospective locations are likely much more productive. When you add in better drilling and completion techniques, this number goes up even more. When you add in secondary and tertiary development techniques, the amount of reserves in WLL's Williston acreage are indeed great. The final EUR's of WLL's Williston (Bakken) holdings seem likely to be several times the current estimates. This makes WLL a much better buy for the long term.
WLL bought the original acreage for an average of $505 per acre. This same acreage has recently gone for as much as $15,000-$20,000 per acre. WLL has been well managed, and it will likely continue to be so. It is a long term buy.
The two year chart of WLL gives some technical direction to this trade.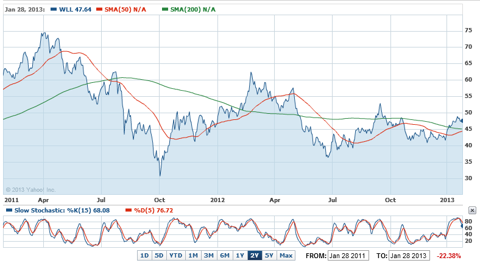 The slow stochastic sub chart shows that WLL is near overbought levels. The main chart shows that WLL's price line has recently passed upward through its 200-day SMA (a buy signal). The 50-day SMA appears to be about to cross WLL's 200-day SMA headed upward. If the 50-day SMA does cross the 200-day SMA, that will be a still stronger buy signal. OPEC recently said it expects the price of oil to remain high. Chinese oil import data from December 2012 tend to support OPEC's statement. Oil demand climbed 7.7% year over year in December to 10.58 million barrels a day -- the highest on record. The Chinese HSBC January 2013 Flash PMI of 51.9 (the highest level since January 2011) further substantiates this claim. WLL is a buy.
WLL trades at a PE of 14.34 and FPE of 13.20. This is quite reasonable for a company that is expected to grow earnings by 11.80% in 2013. When WLL has a five year EPS growth estimate per annum of 14.50%, the PE and FPE numbers are even more reasonable. Analysts have likely not taken into account many of the bullish factors I pointed out above. When you consider their estimates of actual resources are likely huge underestimates, you have to conclude WLL is a fantastic buy. As it is the average analyst recommendation for WLL is 1.9 (a buy); and CAPS gives it five stars.
Still WLL will likely go up and down with the overall market. With the worrisome consideration of $1T+ in sequestration cuts coming up soon in March 2013 for the US, many are starting to think the US markets could be in for a downturn soon. If you average in to this stock over the next year, you may largely avoid any near term downturn that may come. You may also avoid any near term downturn from a currently nearly over bought condition. On the other hand, WLL may continue its rise at any time. More people are starting to talk about CLR's estimate upgrade for the total Bakken oil in place. This alone should give WLL the impetus to go higher. A nibble at the current time is probably warranted.
NOTE: Some of the fundamental financial data above is from Yahoo Finance.
Good Luck Trading.
Disclosure: I have no positions in any stocks mentioned, but may initiate a long position in WLL over the next 72 hours. I wrote this article myself, and it expresses my own opinions. I am not receiving compensation for it (other than from Seeking Alpha). I have no business relationship with any company whose stock is mentioned in this article.