It has been some time since we have seen so much interest in the oil and natural gas sector as a whole and certain of our niche commodities. It is obvious to us that risk-on is back, and back in a big way but not yet recognized by the market as a whole. We recognize that the previous statement may seem out of place or just not right, but as it pertains to the commodity complex it is a 'Goldilocks' statement, that is just right. Whereas the small caps as a whole are rallying to new highs and we have hundreds of new 52-week highs daily that has not carried over into the commodities sector, even though it is the commodity production and industries pushing such industries as the transports and chemicals sectors to new highs. We get that it is a zero sum game, so when chemicals do well natural gas cannot but that fails to recognize the fact that there are a lot of speculative plays among the junior sector which are just now starting to get capital inflows and begin their uptrends. Our focus is shifting towards the junior sector over the next few weeks and months, however we are not going to do it blindly. Rather, we plan on focusing on those juniors in sectors which will have underlying bullish stories playing out through this year and next.
The Toronto Stock Exchange's Venture Market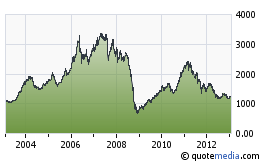 Chart courtesy of the Toronto Stock Exchange's website.
The Venture Market is where Canada's junior resource companies mine for investor capital. As one can see, the juniors have fallen as the rest of the market has rallied, which makes one wonder about the value proposition of juniors as a whole.
Commodity prices this morning are as follows:
Gold: $1660.90/ounce up by $8.00/ounce
Silver: $31.80/ounce up by $0.30/ounce
Oil: $98.52/barrel up by $0.08/barrel
RBOB Gas: $2.9168/gallon down by $0.018/gallon
Natural Gas: $3.25/MMbtu down by $0.039/MMbtu
Oil & Natural Gas
The big news yesterday in the oil patch had to do with Hess (NYSE:HES) which saw shares rise $3.58 (6.08%) to close at $62.48/share after the company said that it would exit the storage and refining business to instead focus on the higher margin E&P portion of the business. Traditionally Hess has been a very cheap way to play the oil business and due to the current low valuation assigned to the shares billionaire Paul Singer of Elliott Management could buy up to $800 million in shares, or a 3-4% interest in the company. His firm will seek a seat or seats on the board if they do acquire the stake according to the company. We did not see Hess as a big player in any oil shale deals on the horizon, but the fact that they now must deal with an activist shareholder probably takes them out of any potential deals they may have been exploring as they now must look at fending off this attack.
Steel
We have earnings from AK Steel (NYSE:AKS) and US Steel (NYSE:X) today and thanks to Goldman Sachs both stocks got hit yesterday ahead of their earnings. AK Steel was actually downgraded to a 'Sell' from a 'Neutral' rating at the firm while they also downgraded the entire sector to 'Cautious' from 'Neutral'. The reasoning behind the move was that the steel stocks have gotten ahead of themselves and with the market in oversupply the valuations were far too high. Shares in AK Steel fell $0.33 (7.43%) yesterday to close at $4.11/share while shares in US Steel fell $0.81 (3.30%) to close at $23.72/share. For those paying attention, shares in AKS are approaching the level of their secondary and after the earnings out of Asia this morning, we would not be surprised to see it break through that level moving forward.
Precious Metals
One would be hard-pressed to find a precious metal stock which has not come under pressure in recent weeks. It would be easier to find a few names which have held up well and are not near 52-week lows, but as we discovered yesterday going through our precious metals watch list just because a company is one of the largest in the industry does not preclude them from getting punished like the rest of the names. In fact, it could get worse for these names before it gets better as institutional investors flee near the bottom and retail and/or sophisticated traders move in to take over their positions. Yesterday we noticed that Newmont Mining (NYSE:NEM) had hit a new 52-week low during the session and closed quite close to it too. The shares have been drifting lower with the rest of the industry lately but this one shall do just fine as market sentiment turns and investors are drawn back into the precious metals as the economy heats up and inflation once again becomes a major concern.
Coal
The coal complex came under further pressure yesterday and Alpha Natural Resources (ANR), one of the stocks we like to watch as a barometer for the industry, fell $0.32 (3.47%) to close at $8.89/share. Volume was respectable with 13.2 million shares traded, so the fact that this happened on good volume does not make us second guess our worries concerning the stock lately and the fact that it just broke $9/share. For those wanting to invest in the coal sector, this is not your stock but for those wanting to trade the coal sector this most certainly is. That is the reason we watch it closely, because we want to see the way traders feel about the coal sector and see if we can gain any insight from this sentiment to apply either to the company's shares or others in the industry. It shall be interesting to see how the industry reacts to the good numbers out of China recently and if that will bump up demand for imports or not. It will probably take two quarters for us to see anything substantial in that regard, but it is something we are watching at this time.
Disclosure: I have no positions in any stocks mentioned, and no plans to initiate any positions within the next 72 hours. I wrote this article myself, and it expresses my own opinions. I am not receiving compensation for it (other than from Seeking Alpha). I have no business relationship with any company whose stock is mentioned in this article.