By Todd M.
Overview
Las Vegas Sands (NYSE:LVS) is set to report fourth quarter 2012 earnings on Wednesday, January 30. Results are typically announced a few minutes after the closing bell, followed by a conference call at approximately 4:30 p.m. Eastern Time. Las Vegas Sands operates casino and hotel properties in the United States, Singapore, and Macau, China.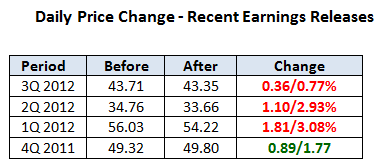 Outliers & Strategy
Adjusted Earnings Per Share: The EPS consensus estimate is $0.59, with a wide range of $0.52 - $0.70. (Source: Yahoo! Finance)
Revenues: The consensus revenue estimate is $3.01bln with a range of $2.83bln - $3.17bln.
Adjusted Property EBITDA is an important figure to watch closely that helps investors more accurately compare firms within the industry. Last quarter Las Vegas Sands reported Adjusted Property EBITDA of $876mln.
Sympathy Plays: could be seen in other names such as Wynn Resorts (NASDAQ:WYNN), Market Vector's Gaming ETF (NYSEARCA:BJK), MGM Grand Resorts International (NYSE:MGM), Ceasars Entertainment Corp. (NASDAQ:CZR), and Melco Crown Ent. (NASDAQ:MPEL)
Implied Volatility: Using the February 1 weekly options with $53 strike, traders are expecting a move of plus or minus approximately $2.86 (+-5.40%) after earnings are disseminated.
Recent News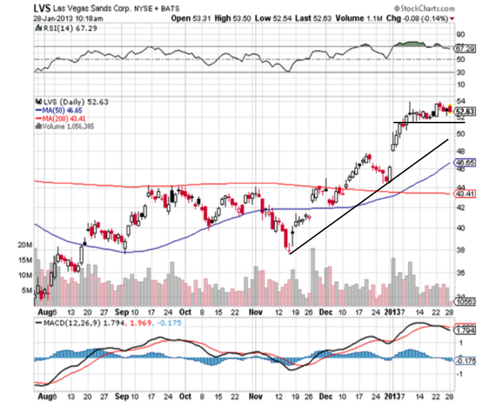 Technical Review
Las Vegas Sands shares have had an impressive quarter, climbing 25% to $52.63. Over recent weeks, the stock has traded in a tight range between $52 and $54, indicating that a large break either way could come soon. Shares have been trading on large volume on up days, and light volume on down days - a highly bullish signal. If earnings surprise to the upside, shares could approach the 52-week high of $59.34 set on April 12, 2012. Conversely, if earnings disappoint, look for support at $51.50, followed by $48 (the top of late December's gap and the 50-day SMA). (Chart courtesy of StockCharts.com)
Summary
Las Vegas Sands shares are up 14.91% YTD, basing at the $52 area. Fueling the recent rally is optimism over the global economy, solid casino data from China, and speculation that Las Vegas Sands may convert to a REIT. Given the recent run up in the stock, coupled with exuberant sell-side sentiment, a solid report may be priced in at these levels. Against this backdrop, shares could be vulnerable to any negatives in the upcoming release.
DISCLAIMER: By using this report, you acknowledge that Selerity, Inc. is in no way liable for losses or gains arising out of commentary, analysis, and or data in this report. Your investment decisions and recommendations are made entirely at your discretion. Selerity does not own securities in companies that they write about, is not an investment adviser, and the content contained herein is not an endorsement to buy or sell any securities. No content published as part of this report constitutes a recommendation that any particular investment, security, portfolio of securities, transaction or investment strategy is suitable for any specific person.
Disclosure: I have no positions in any stocks mentioned, and no plans to initiate any positions within the next 72 hours. I wrote this article myself, and it expresses my own opinions. I am not receiving compensation for it (other than from Seeking Alpha). I have no business relationship with any company whose stock is mentioned in this article.