A&P (GAP) delivered solid third quarter results,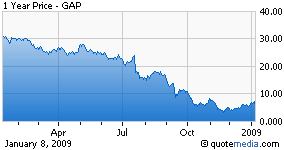 and its share price was handsomely rewarded as buyer's tacked on more than a 25% gain. A&P was expected to post a 35 cent loss on revenues of $2.17 billion, but was able to beat estimates by nine cents, reporting a smaller than expected loss of 26 cents. Sales were up 70%, matching top line estimates. EBITDA was up almost 400% from $20 million to $78 million.
Management was very pleased, as Christian Haub, A&P's Chairman of the Board, explained:
"Despite the challenging economic environment, we delivered strong results with solid sales, and year over year earnings improvement in the third quarter . We completed the integration of our Pathmark acquisition and look forward to future rewards of this strategic decision as we celebrate our momentous 150th anniversary."
Operational Improvement evident: The company has been successful in finally getting rid of all the bugs related to its Pathmark acquisition. As a result, its gross profit margin improved 60 basis points from 30.5% to 31.1% while its SG&A costs were slashed 160 basis points from 32.2 % of sales to 30.60%.
The future: Management indicated they are confident of being cash flow positive in Fiscal 2010 and intend to utilize this free cash flow to reduce debt. The company has good liquidity and no debt maturities within the next five years.
Bottom line: Jump on this huge momentum train and ride this one up to the $12 area, as the train gathers momentum, and in the process, 'squeezes' out much of A&P's 7 million share short position. Other catalysts providing fuel for an impending run-up: (1) probable broker upgrades (2) further buying by A&P's largest single shareholder, the Tengelmann Group (3) continued sector improvement.
The stock could see $12 by the end of the month and $20 by the close of 2009.
Disclosure: Long