Since 2011 mortgage REITs, regardless of whether they are Agency, Non Agency or a combination of both (Hybrid), have seen dividend yields decline in a somewhat steady fashion. See chart below: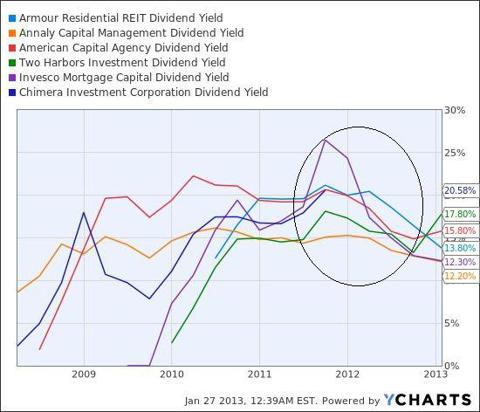 Source: Ycharts
Since 2011 there has been a conscious effort by the U.S Federal Reserve to keep long-term rates low, first through Operation Twist and then through QE3, therefore narrowing spreads and putting pressure on leveraged returns and dividends offered by U.S. mortgage REITs.
QE3, the third round of Quantitative Easing, was more disastrous for mortgage REITs than Operation Twist because the Fed announced to purchase $40 billion in mortgage backed securities a month and not just that, it said it intended to continue asset purchases unless the recovery in the economy was firmly established. In short this meant open-ended or unlimited easing.
This resulted in prices of U.S. residential mortgage REITs plunging. This drastic decline in price was warranted because purchase of Agency mortgage backed securities pushed their prices up therefore lowering yields and the spreads earned by mortgage REITs. See chart below:

Source: Google Finance
Challenges Ahead
1. Low Long-Term Rates
The U.S. Fed has tied low-interest rate policy to two goals (i) Unemployment rate of 6.5% or lower (ii) Targeting inflation to be at 2.5%. Although I believe that the pace of economic recovery has improved (unemployment rate has come down, latest jobless claims report beat expectations by a big margin, and inflation seems to flatten and may uptick from here), still there is a long way to go therefore I foresee rates to remain low and government intervention to be the biggest driver of mortgage spreads in 2013, which means that Fed's actions will keep controlling the mortgage market in 2013. Under this scenario it will be difficult for mortgage REITs to maintain their current dividend yields as spreads remain compressed, in my opinion.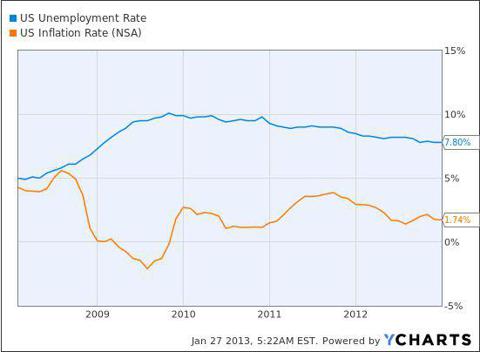 Source: Ycharts
2. Accelerating Prepayments
An increase in prepayments could be a blow to the entire mortgage REITs industry as investors do not always segregate between companies that have exposure to specified pools with managed prepayments and those which don't. Given this scenario, I believe it will be unlikely for mortgage REITs to maintain their current dividend yields.
3. Housing Policy
Another challenge Mortgage REITs might face in 2013 can be because of the HARP program. The increase in ease with which HARP financing could be accessed or even the extension of the program could have severe effects on mortgage REITs, both in terms of narrowing of spreads and surge in prepayment speed. If this happens then in my opinion current dividend yields offered by mortgage REITs will become unsustainable.
4. Lack of interest of Banks and other Financial Institutions
As a result of declining spreads banks will be wary regarding investments in MBS and will search for other high-yielding alternatives and similarly fund managers may get skeptical regarding investments in MBS as the economic recovery picks up pace and the Fed starts unwinding its position.
Who will survive?
In my opinion, mortgage REITs that have been able to manage well during the past might possibly do well to manage future uncertainty as well. My analysis suggests that REITs that have exposure to mortgage pools with inherent prepayment protection and those that will be able to diversify into relatively high-yield low credit MBS will likely be able to retain their upside potential and sustain dividends.
My Pick
Based on my analysis I believe that hybrid mortgage REITs are likely to outperform their counterparts because Non Agency MBS (high yields) have more upside left than Agency MBS due to the Fed's purchases. I also have this view that hybrid mortgage REITs will be better positioned to safeguard both dividends and book value appreciation, therefore my top pick within the group is Two Harbors Investment Corp (NYSE:TWO).
I have selected TWO because it has offered one of the highest average returns over the last three years within the group, it has the lowest volatility in dividend payments and it has been able to grow book value consistently over the last three quarters.
Within the sphere of Agency mortgage REITs I have selected American Capital Agency Corp (NASDAQ:AGNC) as my top pick because of its prepayment protected portfolio and the fact that the company has been able to grow its book value consistently with minimum volatility over last many quarters plus the variability of its dividend payments within the Agency mortgage REITs group has been the lowest.
I have arrived at my conclusions based on:
Total Return Analysis:
QOQ Book Value Change Analysis:

QOQ Change in Dividends Analysis:

Source: Company Reports & Google Finance
Disclosure: I have no positions in any stocks mentioned, and no plans to initiate any positions within the next 72 hours.
Business relationship disclosure: This article was written by analyst at Dividend Pros covering U.S. Financials.