There is no disputing that Apple (NASDAQ:AAPL) has achieved incredible growth in both global markets and stock price over the past decade. Apple single-handedly built a tech company empire and set a new standard for technology stocks. It's hard to fathom another enterprise matching or surpassing what Apple has done. But recall there was a time when market sentiment on Apple's shares was so negative that some investors saw Apple heading for bankruptcy. After being a company that was known for its flagship Mac PCs, Apple then introduced its next flagship - the iPod personal music player. It wasn't first in the MP3 line up, but it did revolutionize the trend in launching slick gadgets together with the introduction of iTunes. This shift then moved from the iPod to Apple's current money maker which has reigned for years now - the iPhone.
Throughout the years of its hyper growth, it is fast becoming a value stock as you look at its growth story. Its growth has largely slowed down. Samsung's overall growth momentum is surprisingly faster than Apple's, and analysts expect it to stay that way for much of the year due to a larger mix of products. Samsung maintained its position as the largest producer of mobile phones and smart phones from analysts' estimates. But it showed signs of regressing in the same pacing of growth in the business, as shown in the earnings results of Apple. Analysts have forecast total shipments of mobile phones at 110 million and smartphones at 60 million. Apple sold around 47.8 million iPhones globally during the same period.
Looking back, market sentiment became gradually more bullish on Apple until last year when it increased to almost a frenzied state. I'm guessing that even some institutional investors who don't include tech stocks in their portfolios are said to be long on Apple shares. Is Apple stock ideally priced by perfect valuation? That doesn't seem possible, as we're now seeing some fears in investor sentiment.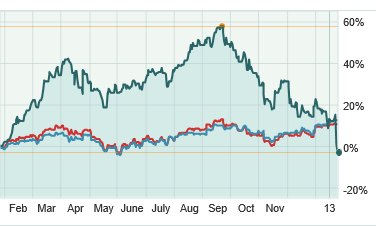 Nasdaq (sky blue); S&P 500 (red)
The tech company is entering a phase where it may more closely resemble a value stock with sluggish sales growth and unsurprising earnings while sustaining dividend levels. Apple may then gain traction from "value investors" after its latest earnings announcement. The tech giant also disclosed its earnings guidance saying second-quarter revenue is expected to be close to the $41 billion to $43 billion range, which is considered the slowest growth rate since 2009. Net profit may fall about 17%, the first ever decline since 2003.
An analyst from BTIG LLC out of New York gave the same reaction, saying that in order for Apple to become a value stock, the company may have to start distributing more of its $137.1 billion cash rich pile to investors. The company's dividend yield still lags behind other technology bellwethers. Intel (NASDAQ:INTC) pays out 4.3%, while Hewlett-Packard (NYSE:HPQ) pays 3.1% and Microsoft's (NASDAQ:MSFT) yield is 3.33%. Accordingly, the company paid out about $4.5 billion of cash in dividends and stock repurchases in the recent quarter. Apple also disclosed plans to increase both dividends and stock repurchases.
Goldman Sachs slashed its 12-month price target of Apple to $660 from $760 per share. According to Goldman Sachs, Apple's earnings guidance was fairly what they expected from the typically conservative management team. The iPhone product cycle has not been able to deliver the upside potential that investors are expecting and demand levels for the product proved to be also disappointing. The timing of new products that could excite the market is going to be critical to whether the stock continues to go down. The market reaction is mixed for new Apple products in 2013. The company has redesigned its product line up in the latter part of 2012, with the iPhone, iPad, iPod and even iMac getting significant technology updates. That said, this year may expect only modest updates, with existing designs, improving chips and software without significant physical overhauls. Until then, those products exist only in speculation at this point.
The investment bank also cut its fiscal year 2013-2015 revenue projections by 2% to 6% and EPS estimates by 6% to 14%, respectively, but kept its "buy" recommendation, on the premonition that a ray of hope still lurks on the launching of new products in the coming months. In turn, it will invigorate new user growth. Likewise, at least 20 analysts lowered their price targets after Apple reported its sluggish growth rates in years and according to these analysts, the trend will surely continue in the near future. Key risks in Apple's fundamentals include delayed product cycles, supply chain problems, product price erosion and a slower pace of product innovation.
Another broker is also positive that Apple could become a value stock. Tavis McCourt of Raymond James lowered his price target to $600 from $690. He indicated that while his current forecast "assumes no Apple TV, no new iPhone models, and no early launch of 5S, it is a possibility that all three may happen this year." However, he gave an "outperform" recommendation on the stock. The analyst added, "Management's reaction to the slowing growth, and how it addresses new markets (balancing growth vs. cannibalization) will determine if in retrospect Apple proves to be a 'value trap,' or in a slowing period before a re-acceleration catalyzed by new market entry."
Under present market conditions, it is advisable to limit your total position size of the new position in Apple to about one third of the normal position size. The normal position size is determined by desired diversification and risk control. Sentiment on Apple's performance is generally very pessimistic as determined by its current stock price, near term outlook of trading data, surveys of investors and reactions by the analysts.
Value Proposition of a Beaten Down iPhone Maker
Compared to its one close peer, Google (NASDAQ:GOOG), Apple is building both hardware and software to gain a large chunk of the consumer market, while Google (like Microsoft) chose to concentrate only on software initially. This takes Google to a more advantageous position. Google sells advertising to businesses that serve consumers. Selling advertising is a media market, and while it does not produce the same level of operating profit as pure tech companies, the life span of a media business tends to be longer.
In fairness to Apple, it has a broader position in the mobile market for consumers as compared to its PC market, so its ability to keep producing hardware profits puts it in a better position. This is why Apple's market capitalization is so high, and why it's expected to post a quarterly profit of $13.47 per share, compared with the $10.65 per share that Google achieved. Google's market cap sits at about $230 billion, or just under half of Apple's $475 billion.
Even then any slip-up could give one of the other competing technology stocks the opportunity to steal away market share from Apple. The iPhone 5 is lighter, bigger, and more powerful, and it runs on the new high-speed wireless network, but it is not leapfrogging other technology stocks anymore. Sales from its Android segment are pulling down its top-line growth which will eventually cause margin pressure. Increased competition from larger-screen smart phones cost the company at least one consumer, according to the analyst of Peter Misek of Jefferies & Co. The analyst downgraded the stock to "Hold", citing "Apple is losing the screen-size wars," with demand "moving away" from the iPhone and toward bigger screens in the smartphones of 5 inches. The liquid-crystal-display business, the smallest among Samsung's four units, followed a sharp turnaround as panel prices stabilized and Samsung produced more displays using OLED, or organic light emitting diode technology. Apple must either be more innovative to outrun Samsung and other hardware suppliers to justify higher selling costs for iPhones and iPads, or perhaps invest more on marketing initiatives. However, these options could use up a significant portion of Apple's liquidity. It's surprising though that Apple is not leading other technology stocks in any of these categories.
On top of all these, we're getting to the point where the product offerings from technology companies are so close that the phones are becoming a commodity. It seemed that Apple was going to maintain its profitable stance in the smart phone and tablet markets longer than previous manufacturers of mobile devices. Apple has to pull together great efforts to spend heavily on R&D and marketing to keep up with its competitors. Needless to say, the software segment generates high operating margins but keep in mind that the declining PC business is correlated to software markets that follow an arc trend line as consumer choices change in time.
Disclosure: I have no positions in any stocks mentioned, and no plans to initiate any positions within the next 72 hours. I wrote this article myself, and it expresses my own opinions. I am not receiving compensation for it (other than from Seeking Alpha). I have no business relationship with any company whose stock is mentioned in this article.