A few years ago, I set out to find the best investments I could to take advantage of higher oil prices. I looked at deepwater producers, international producers and oil sands producers. Eventually, I settled on investing in tight oil producers where I believed the stock market was greatly underestimating potential for massive production increases.
I think that I was correct in that most investors didn't know the production ability of these unconventional producers. I've been very satisfied with how the companies I am invested in have performed (not so much with their stock prices).
Some of the companies leading the unconventional charge are:
EOG Resources (NYSE:EOG)
Kodiak Oil and Gas (NYSE:KOG)
Novus Energy (OTC:NOVUF)
But I now have a concern. I'm worried that these unconventional oil producers are going to be so successful in ramping up production that it collapses the price of oil.
Global Oil Demand Growth
What I like to do in order to try and understand whether this tight oil growth from North America can really impact the global oil price is look at the demand side of the equation.
The International Energy Agency's most recent growth figures for 2012 are:
After posting near-zero annual growth in the fourth quarter of 2011, global oil demand growth will gradually accelerate throughout 2012, culminating in an increase of 1.2 million b/d by this year's final quarter, the International Energy Agency said in its latest monthly oil market report.

Global oil consumption is set to rise by 800,000 b/d this year to 90 million b/d, unchanged from the agency's previous report, with gains in developing countries more than offsetting declining demand within countries of the Organization for Economic Cooperation and Development.
That rise in demand of about 1 million barrels per day year-on-year is likely what we can expect going forward as China, India and the billions of people in the emerging economies consume more oil. And at a high level, that does provide some context as to how significant the tight oil ramp up in the United States will be to global oil prices.
Every year, the world needs to raise its daily global oil production by 1 million barrels per day in order to keep up with demand. EOG's Mark Papa is forecasting that by 2015 tight oil production can increase by 2 million barrels per day. That is 3 years from now, which would mean that daily global oil demand will have increased by 3 million barrels per day and outpaced the growth in tight oil production.
Marginal Cost of Production
The image below is from Exxon Mobil's (NYSE:XOM) 2013 Outlook for Energy through to 2040.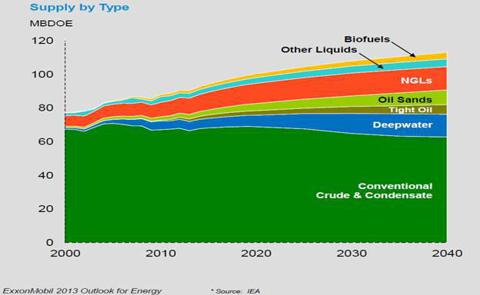 I think it is important to note that the three main sources of growth that Exxon anticipates for global oil supply are tight oil, deepwater oil and the oil sands.
The cost of producing tight oil, deepwater and oil sands barrels have become the global marginal cost of production. The marginal cost of oil production, defined as the cost of pumping the last and most expensive barrel required to satisfy demand, is fundamentally linked to long-term oil prices. If the oil price falls below the marginal cost, there is no incentive to produce that last barrel of oil, so demand will remain unsatisfied until consumers are willing to pay more.
For the oil supply growth from those three sources to be realized, the producers are going to need to be able to turn a profit when developing them. The cost of those three production sources then becomes very important, because it provides a good idea of the minimum price of oil that we are going to be looking at going forward.
According to Bernstein Research, that marginal cost of production influenced by tight, deepwater and oil sands production, is now in excess of $90 per barrel.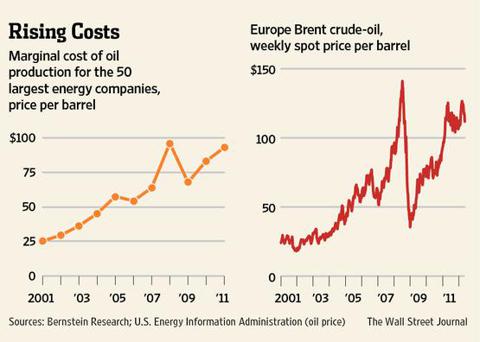 We can certainly have economic shocks that kill short-term demand for oil and periodically drive down the price of oil. But as soon as that happens, the companies operating in the Bakken and Eagle Ford are going to lay down their rigs. Because of the high decline nature of tight oil production (60% to 80% declines in the first year) that rig decrease will quickly cause a fall in oil production, resulting in prices bouncing back.
The age of cheap oil is over, in my opinion, and elevated oil prices should continue to make companies like EOG, Kodiak and Novus Energy good investments.
Disclosure: I am long OTC:NOVUF. I wrote this article myself, and it expresses my own opinions. I am not receiving compensation for it (other than from Seeking Alpha). I have no business relationship with any company whose stock is mentioned in this article.