Valero Energy (NYSE:VLO) blew past the $1.18 consensus estimate for Q4 earnings.
Adjusted EPS was $1.88 or 59% better than the average estimate. The highest analyst estimate was for $1.36, according to S&P/Capital IQ.
Valero's Q4 revenues came in at $34.7 billion, versus the $31.0 billion average analyst estimate.
The lion's share of Valero's $1.584 billion in quarterly operating income was from oil refining ($1.677 billion). The retail gasoline network provided $95 million, ethanol production $12 million, with corporate consuming $200 million.
Valero raised its quarterly dividend a few days ago, from 17.5 cents to 20 cents, which goes "ex" on February 11, so the stock yields 1.89% at current prices.
Although oil refining margins have softened since what are normally seasonally strong Q4 spreads, the earnings beat bodes well for other refiners.
The themes I have been writing about since early this month were in play - Valero switched imported light sweet crude with domestic sources. And imported sour grades with cheaper Canadian heavy oil.
Valero was trading at $42.18, up $3.37 or 8.7% at 10:15 a.m.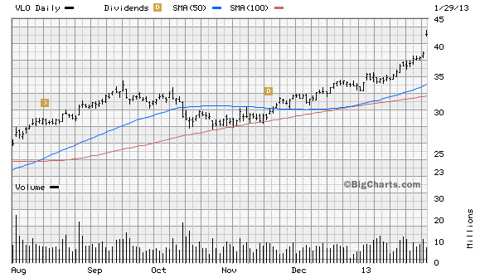 We have been recommending Marathon Petroleum Corporation (NYSE:MPC), HollyFrontier Corporation (NYSE:HFC) and Northern Tier Energy LP (NYSE:NTI). These stocks are currently trading at $70.60, up $1.95 or 2.9%; $50.01, up $2.06 up 4.3%; and $24.33 down 13 cents, respectively.
Anyone who thought Valero was primed for a correction just doesn't understand how good business has become for select US oil refineries, due to a glut of oil developing straight down the middle of the country from North Dakota along the Mississippi Valley and into the Gulf Coast.
Oil refineries situated near this "sweet spot," especially those that can handle Canadian heavy crude via the installation of delayed cokers, are making refining gross margins that were previously unheard of.
I don't see this situation changing very soon as excess refined product is funneled into export markets in Mexico, Canada and South America.
At the same time, unprofitable refineries on the East and West Coast and the Caribbean, without access to this cheap crude oil, have been shutting down.
Valero's best segment of the four areas they refine in was the U.S. Mid-Continent, which had a gross margin per barrel of $19.75 versus $12.27 company wide. Number two was the U.S. Gulf Coast at $11.08 where their throughputs are the greatest (1.57 million bbls/day).
Marathon and HollyFrontier have refineries in the U.S. Mid-Con and Rockies with refineries that can take Canadian heavy crude and locally sourced, land-locked domestic oil.
That is why I have preferred them to other refining plays such as Valero, Tesoro (NYSE:TSO) and Phillips 66 (NYSE:PSX) which have operations in the weaker refining margin areas (US West Coast and East Coast, due to the high dependence on more expensive Brent price-linked international oil supplies.
However, obviously all boats are rising as a tsunami of cheap Canadian heavy crude oil splashes down the U.S. mid continent. In addition, domestic oil production in big Texan plays such as the Eagle Ford and the Permian basin are supplanting light oil grades at the Gulf Coast.
Hess Corporation (NYSE:HES) just announced it is closing its Port Reading, NJ, refinery in February. It will sell its U.S. terminal network and deploy capital into international oil exploration.
The news of the refinery closure sent NY Harbor gasoline futures up 5% yesterday.
My target range for Marathon, my favorite pick, is $90-100 US in 2013. I have written about Marathon and its great accretive purchase of the BP Texas City oil refinery.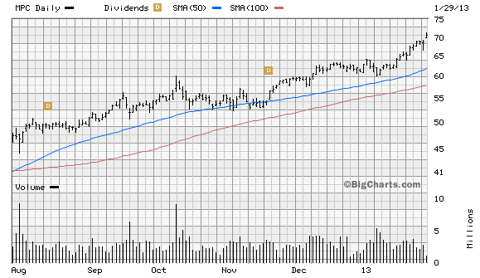 Marathon reports Q4 earnings tomorrow morning, as does Phillips 66. I think Marathon will easily beat the $2.10 average analyst estimate for Q4, on revenues of $19.07 billion. In fact, it could be a significantly better quarter than expected, as mid-continent refineries in Kentucky and Illinois do better than expected, and the Detroit heavy oil upgrade went to capacity in mid-November.

Northern Tier just closed a 10.7 million unit offering at $24.46. The underwriters have a greenshoe of 1.605 million, which could limit its upside. However, it should go higher as this is mopped up. I expect NTI to pay a $1.00 plus distribution in late February, announced February 11.
HollyFrontier should break $50 soon as analysts look at the great Mid-Con crack spreads reported by its peers, but HFC has half of its refineries down for maintenance in March, so you need to trade the stock.
Disclosure: I am long MPC. I wrote this article myself, and it expresses my own opinions. I am not receiving compensation for it (other than from Seeking Alpha). I have no business relationship with any company whose stock is mentioned in this article.