Well, looks like someone is buying Unwired Planet, Inc. (UPIP). On Monday the stock shot up 22 cents (11.06%) at 828,016 shares. The three month average is 433,597 shares daily. In the past couple of weeks it has had two other huge days. Last Thursday, it went up 19 cents (10.21%) at 756,800 shares. The Thursday before that it went up 56 cents (42.7%) at 3,723,100 shares. The catalyst for this was due to the release of Unwired Planet purchasing 2,185 of Ericsson's (NASDAQ:ERIC) patents. Below is the three month chart on Unwired Planet.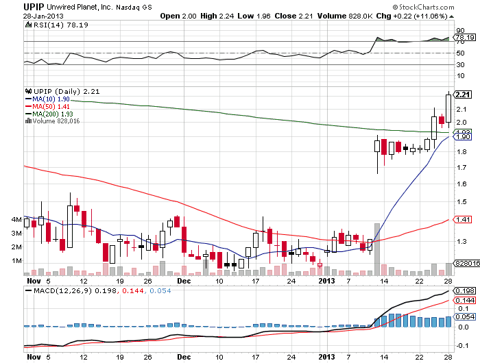 If you haven't heard about Unwired Planet, Inc.
From the company's about page:
Unwired Planet invented the mobile internet, pioneering many of the technologies that allow mobile devices to connect to the Internet.

For over 15 years, Unwired Planet technology has enabled many industry firsts, including mobile browsing, mobile photo-messaging, and the world's first Wireless Access Protocol (WAP) deployment. The company has built a patent portfolio of approximately 200 issued US and foreign patents and approximately 75 pending applications, many of which are considered foundational to mobile communications, and span smart devices, cloud technologies and unified messaging.

Operators using Unwired Planet technology include AT&T, Bell Aliant, Bell Canada, Bell Mobility, Bouygues, Charter, Comcast, Cox Communications, Deutsche Telekom, Du, Etisalat, KDDI, Qtel, Softbank Mobile, Sprint, Taiwan Mobile, Telefónica Moviles, Telstra, Telus, Time Warner Cable,
T-Mobile, Virgin Mobile, Vodacom and Vodafone.

Unwired Planet is a publicly held company headquartered in Reno, Nevada.
Unwired Planet has changed its business model in the recent months to a patent licensing company following in the footsteps of VirnetX Holding Corp (NYSEMKT:VHC) and Vringo (VRNG). Unwired Planet has over 200 patents, mostly pertaining to the backbone of the mobile phenomenon we all know and love.
Now the question is who is buying up Unwired Planet? Are we going to see James Altucher write a couple of posts on Unwired Planet? Is Mark Cuban going to pop up again? Not sure, all I know is someone is buying this stock.
Let's compare the three companies for a minute. First, VirneX and Unwired Planet, both already own their own patent portfolio. Why is this good? Well, when Vringo went after Google (NASDAQ:GOOG) the judge decided that Vringo may only sue for past damages starting when Vringo bought back their patents. This may pop up in court; it may not as the decision was made by a judge in Virginia. A judge in another district may or may not take this into consideration. VirneX seems to be the big brother of the three having taken out Microsoft (NASDAQ:MSFT) and recently winning against Apple (NASDAQ:AAPL). Vringo recently won against Google and a list of others I'm too lazy to type out. Vringo plans on expanding its patent portfolio, with the purchase of Nokia's (NYSE:NOK) patents. Unwired Planet plans on expanding as well.
Unwired Planet hasn't yet made many headlines, at least not nearly as many as VirneX or Vringo have. Truth is there really is not much out there on Unwired Planet. Unwired Plant is still flying under the radar compared to the other two, at least until recently. Their quarterly conference call is set for this Thursday. Hopefully this will shed some light on where this small company plans on going. All I know is someone is buying.
Disclosure: I am long UPIP. I wrote this article myself, and it expresses my own opinions. I am not receiving compensation for it (other than from Seeking Alpha). I have no business relationship with any company whose stock is mentioned in this article.