Echo Automotive (OTCPK:ECAU) is up from $0.75 to $3.50 in less than 3 weeks. Most of the gain has come in the past four days since being promoted by a campaign group which has ties to inflating share prices of several other stocks in the past (more on that later).
What do I mean by inflating? Take a glance at ECAU's latest financial statement filed on November 14th, 2012. With 75,000,000 shares outstanding and a current price of $3.50, ECAU now has a market cap of over $260,000,000! The listed assets on the same statement are a mere $323,356! Not to mention, liabilities are four times the assets at $1,268,671! Therefore at $3.50, ECAU's market value is clearly well beyond any reasonable investors threshold; even without looking at their supposed products which have yet to produce any revenue.
ECAU has become quite the hot stock trading several millions of shares each day. In the first link provided, if you scroll all the way to the bottom of the page and read the disclaimer you will notice the advertising group was is managing a $3.0 million budget for the promo campaign plus received one million restricted shares. This dollar amount is ten times the company's assets! Simple reason leads one to believe a large shareholder was willing to pay for the promotion to get the price higher allowing them to sell shares at the inflated price. Let's look at the large shareholders.
DBPJ Stock Holding, LLC - 52,500,000 shares (DBPJ is controlled by ECAU insiders) These were issued when they were acquired by the previous shell company.
Anonymous insiders hold 22,500,000 shares which they purchased for $50,000. Although it gets murky digging into this. In this form 4 ownership filing, they bought 5,000,000 for .01/share from the shell owner. Then in this periodic report, the company completed a 4 share to 1 share dividend essentially creating a 5-to-1 split just before acquiring the current Echo Automotive; however, it says only 4,750,000 shares were outstanding. That would have been 23,750,000 after the split. No matter the number, these shares today are worth more than $70,000,000!
Further investigation found ECAU has authorized 650,000,000 shares to potentially be issued. With only near 75,000,000 outstanding that leaves quite the room to issue more shares to debt holders and fulfill the agreement with Hartford Equity Group. Hartford has a deal to purchase up to $2,000,000 worth of shares at fifty cents per share. According to the latest financial statement, ECAU claims it is a subscription receivable:
In May 2012, the Company entered into a financing agreement to raise up to $2,000,000 through the sale of shares of its common stock at $0.50 per share and warrants to purchase one share of common stock of the Company with an exercise price of $0.75 per share and a term of 18 months. Prior to the closing of the Exchange Agreement, $903,000 had been received for the issuance of common stock. The cash received was advanced to Echo Automotive, LLC to provide working capital to continue its operations. Subsequent to the closing of the Exchange Agreement, the $903,000 of advances was eliminated in consolidation. The remaining $1,097,000 was treated as a subscription receivable as of September 30, 2012.
ECAU has a $200,000 convertible debt note outstanding and several notes payable which have conversion and/or warrant clauses. (see page 11 of latest financial statement linked to above for details)
Clearly those holding these instruments are motivated to profit from this promotion; as $3,000,000 is a small price to pay the advertisers in order to help inflate the share price. The only question remains is how long before a large pullback, such as the one shown below will take place.
The group responsible for this promotion also helped promote:
STVF (promo landing page - similar to ECAU's landing page) in Spring of 2012 and the chart looked liked this: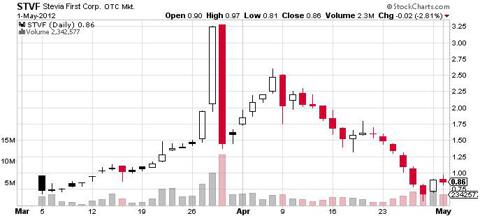 Notice how STVF fell more than 50% after two big green days. Is ECAU about to follow suit after its own four day surge of large price increases?
Disclosure: I have no positions in any stocks mentioned, but may initiate a short position in OTCPK:ECAU over the next 72 hours. I wrote this article myself, and it expresses my own opinions. I am not receiving compensation for it (other than from Seeking Alpha). I have no business relationship with any company whose stock is mentioned in this article.