Investors watching semiconductors (NYSEARCA:SMH) this month have noticed a shift from pessimism to optimism.
I covered the reasons to keep semiconductors on your radar in December here, but investors interested in specific ideas may want to keep an eye on plays such as Teradyne (NYSE:TER), which provides semiconductor testing equipment and services.
The turn is in.
It's tempting to look at the Q4 revenue and earnings decline and quickly walk away from Teradyne. But, investors focusing too much on Teradyne's 16% and 59% year-over-year drop in revenue and earnings may be missing a much more important message inside Teradyne's earnings transcript.
Teradyne's biggest business is semiconductor test, where it holds a 40% market share. The business posted lackluster results last quarter, generating revenue of $184 million. The segment represents 75% of Teradyne's total sales and weakness contributed to an overall 16% drop in Teradyne's Q4 sales from the prior year.
However, Q4 is notoriously a poor quarter for semi test demand.
Instead, the unit tends to generate its peak sales in Q1 and Q2 as new OEM device designs ramp. One sign stability is returning to the segment is an improving book-to-bill ratio, which reached 1.0 in the quarter.
Another sign is Teradyne's expectation the semiconductor test market will improve on rising unit volume. Higher bookings and a more positive outlook for chip volumes suggest Q4 was once again a trough for segment sales.
As OEMs shift from 28 nanometer to 20 nanometer designs, system on a chip ("SoC") revenue should accelerate.
Teradyne's fast growing wireless test segment offers upside.
Unlike semi test, the wireless test segment has been growing as manufacturers launch more devices to compete in the smart phone and tablet space. Teradyne's ability to capture testing business in this fast growing market is being driven by LitePoint, a wireless test company Teradyne acquired in October 2011.
In Q4, the wireless test segment's book-to-bill came in at 1.1 on $24 million in sales and $26 million in bookings. Importantly, Q4 results brought LitePoint sales to $286 million in 2012, up from $130 million in 2011, far outpacing Teradyne's prior $160 million projections.
Demand for LitePoint calibration and testing ramped manufacturing four-fold at the company from the prior year peak, thanks to a dizzying array of complexity in the latest smart phones and tablets.
LitePoint's early success in 802.11ac testing has given it a beach-head for capitalizing on additional product ramps. Additionally, LitePoint's Qualcomm license allows the company to provide factory test solutions across LTE. As a result, Teradyne is guiding $260-$360 million in LitePoint sales this year, up from $86 million in 2010.
This guidance suggests LitePoint will produce $550-$650 million in sales during its first two years as part of Teradyne. That's significantly above Teradyne's projections when it acquired the company. Originally, Teradyne estimated 2 years of 20% CAGR beginning 2012, for a total of $350 million in the first 2 years.
Additionally, Teradyne wants to expand its wireless test solutions across cellular. Despite lower margins, the cellular test market would significantly expand the company's addressable market.
And, much like semi test, the wireless test market is also highly seasonal. Demand for the unit typically peaks in the second and third quarter - not the first or fourth quarter.
As we move into the seasonally stronger sales period, investors should feel good about the company's ability to generate free cash. A focus on controlling expenses and growing share in emerging, higher margin markets produced free cash flow of $285 million on $1.65 billion in sales last year.
Teradyne investors should also feel comfortable knowing shares aren't richly priced. Analysts expect Teradyne will generate earnings per share of $1.83 in 2014, giving Teradyne a forward PE ratio of 8.9.
Additionally, short sellers also seem too critical ahead of the seasonally improving period. Currently, sellers are sitting on nearly 8 days of average trading volume short.
Finally, in a nod to the seasonal nature of the semi booking season, Teradyne has a strong history of rewarding investors who have bought in Q4. Over the past 10 years, Teradyne shares have moved higher 7 times in Q1, generating an average 6.44% return. Shares have headed higher in each of the past 5 Q1's too.
Given Teradyne has beat the Street estimates in each of the past 4 quarters, any positive news this year could help propel shares higher. If so, it could make Teradyne an intriguing alternative to the more well known semiconductor stocks, such as Intel (NASDAQ:INTC) and Applied Materials (NASDAQ:AMAT).
Source: Seasonal Investor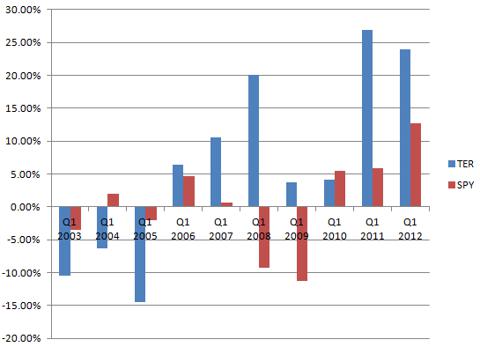 Disclosure: I have no positions in any stocks mentioned, but may initiate a long position in TER over the next 72 hours. I wrote this article myself, and it expresses my own opinions. I am not receiving compensation for it (other than from Seeking Alpha). I have no business relationship with any company whose stock is mentioned in this article.