By: John J. Critchley, Jr.
Amazon (NASDAQ:AMZN) is on a roll and has been rewarding investors handsomely over the last few months. AMZN closed at $276.04 last night, which is a 22.6% rise in just over the past two months since a multi-month low of $222.95 hit in mid-November.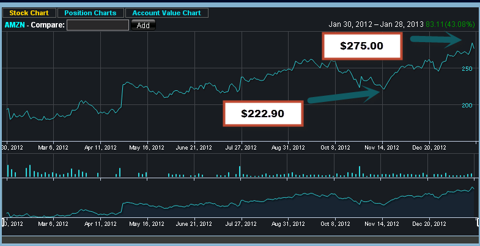 Source: sogotrade.com
Will this euphoria last after AMZN reports its first-quarter earnings on Tuesday, January 29th, after the close?
The earnings will be watched closely by the marketplace to see if a recently imposed 10% California sales tax has dented AMZN's bottom line and if the online retailing giant has been able to reign in escalating expenses. The results of the world's largest online retailer will also provide some insight into the spending of the almighty U.S. consumer. Analysts surveyed by FactSet estimate that Amazon will report a profit of 27 cents a share on $22.26 billion in sales for the quarter ended in December. During the year-ago period, Amazon earned 38 cents a share on revenue of $17.43 billion (source here).
There are two areas to pay particular attention to in this earnings report. It is not always the actual numbers that are the main driver of the shares prices post-earnings, but what the company says looking forward. According to Jon Fortt and CNBC, "Analysts' expectations for the March quarter are pretty bullish by historical standards, at $16.84 billion - so if Amazon guides to a midpoint below that, we'll see how the stock responds.' (source here)
The second set of numbers to look at are Kindle sales. In a counterintuitive twist, robust Kindle sales are actually bad for AMZN. Since AMZN sells these tablets at cost, strong sales will hurt operating income and margins. The estimate from analysts is that AMZN shipped over 5 million tablets last quarter. Watch this number.
Currently, 41 analysts have a rating on AMZN with 9 maintaining buy ratings, 21 outperform, 11 holds and no sell recommendation. It is interesting to note that there are no analysts with a sell rating on the underlying despite an astronomically high P/E that is 10X that of the S&P 500. The contrarian in this author says this is a bearish sign and the recent precipitous selloff in Apple (NASDAQ:AAPL), also with no sell recommendations pre-selloff ought to make give the most strident AMZN bull some pause.
The performance of Apple (-10%) after a disappointing earnings release has left many investors in a less forgiving move. There was once a leeway that companies like Apple and AMZN received from the investing public when a "miss" was reported in some part of an earnings release
Case in point: If we look at the graphic below we see that in two of the last four earnings release, AMZN missed the estimate numbers.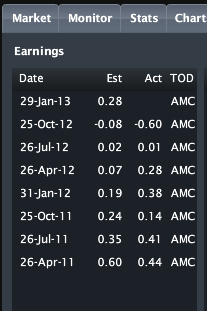 Source: Livevol(NYSE:R) Pro (livevol.com)
However, AMZN reacted positively in both cases where earnings came in less than expected. The shares have gone higher the following day in three of the past four earnings releases. The underlying moving (non-directionally) is an average of around 9.3925%.

There was a proclivity for investors to overlook these hiccups and to look for the silver lining. This may no longer be the case.
According to Marek Fuchs, "Revenue will have to beat the projected $22.28 billion - already a nearly 28% increase over the year-earlier total of $17.43 billion - by quite a length in order for traders to overlook an earnings shortfall with the usual shrug (source here).
Options Play
We present an option play for those inclined to believe that AMZN will have an outsized move and want to make a trade that has a slight bearish tint.
With AMZN trading over 50% off its 52-week lows, the implied volatility of the options is quite depressed. The 30 day implied volatility is trading around 44.79%, significantly less from the 52 week implied volatility high of 80.47 % hit in January of last year.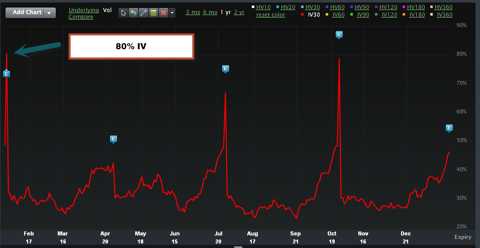 Source: Livevol Pro (livevol.com)
These depressed implied volatilities make initiating a long out-of-the-money straddle position (buying the 280 calls and puts) a possibly enticing proposition.
Let's take advantage of these reasonable implied volatilities to initiate a position that takes advantage of any post-earnings move in the underlying. If you believe this scenario may play out, let's buy a straddle.
This is not a specific trade recommendation, but a trade analysis.
The play:
a) Buy Feb 1 2013 weekly 280 straddle for $ 24.25. The implied volatility of this straddle is seemingly quite high at approximately 106.75% IV (Implied Volatility). This IV reading is, however misleading because the most important determinant of an options real value as it gets closer to expiration is the premium only, not the actual IV% reading. The premium over parity ((POP)) number of $24.25 is what is really paramount.
Net debit: $24.25.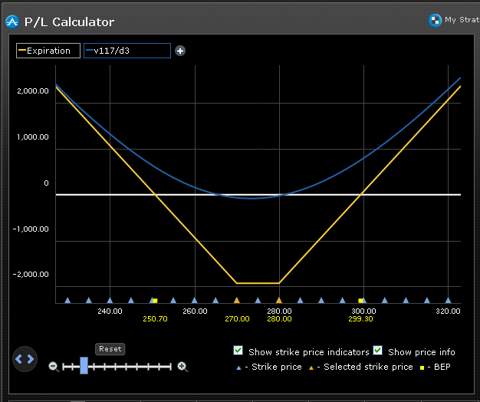 Source: sogotrade.com
Why the 280 line? The answer is two-fold:
1) The Out of -the-Money (ATM) February 1 2013 280 straddle is trading for $24.40 and the breakevens for this straddle in the underlying are $255.75 and $304.25 respectively. These breakeven points represent a 6% downside move and 11.5% move in the underlying. This percentage presents a downside discount than the average post earnings move in AMZN mentioned earlier in the article.
2) This straddle has a downside bias. Why? AMZN has climbed 50% from its lows of last year and there may be more downside potential than upside potential. The majority of the upside may be already baked in, but if there is a downside earnings surprise, we could see the bulls running for the exits. Let's lean to the short side.
Risk: The earnings report does not cause the expected movement in the underlying. Be forewarned. You may lose the entire premium. This play is for speculative monies only.

Note: The prices are quoted at time of submission and do not reflect current market prices.
Disclaimer
We are not liable for any trading decisions made by any reader. NO advice is given or implied. The information offered in this article is for demonstration purposes ONLY and should not to be either construed as an offer or considered to be a recommendation to buy or sell any options.
Your use of this information is entirely at your own risk. It is your sole responsibility to evaluate the accuracy, completeness and usefulness of the information. You must assess the risk of any trade with a professional broker, or financial planner, and make your own independent decisions regarding any trades mentioned herein. This is not a solicitation to buy or sell any options, or to purchase or sell any credit spreads. Trading options only carries a high degree of risk, is not suitable for all traders/investors, and you may lose all of your premium money invested in the options. If you have never traded options before, we strongly recommend that you read a little background information made available by the government. Only you can determine what level of risk is appropriate for you. Also, prior to buying or selling an option, a person must receive a copy of Characteristics and Risks of Standardized Options.
Past performances DO NOT guarantee future results. Please consult with your own independent tax, business and financial advisors with respect to any trade. We will NOT be responsible for the consequences of anyone acting on this purely demonstration material.
Important Note: Options involve risk and are not suitable for all investors. For more information, please read the Characteristics and Risks of Standardized Options.
Disclosure: I have no positions in any stocks mentioned, and no plans to initiate any positions within the next 72 hours. I wrote this article myself, and it expresses my own opinions. I am not receiving compensation for it (other than from Seeking Alpha). I have no business relationship with any company whose stock is mentioned in this article.