The broad polarity between shareholder true-believers and people looking on from the outside, thinking "how is that even possible?" is nowhere more readily apparent in modern U.S. equities than in Amazon Inc. In this article I am going to make the case that so many have tried to make over the last couple of years - Amazon (NASDAQ:AMZN) is peaking and there are tears in store for long shareholders. Why now, and not when any other scathing rebukes of this gargantuan multi-mash of business models were published? I'll cover that ahead.
Ridiculous Valuations, While A Familiar Story, Are At Close-to-Peak Ridiculousness
The outsiders are thinking that anybody buying this stock right now has to be insane, right? Amazon shareholders that are long at these prices are paying a 2500% premium on the tangible net worth of the assets their shares represent. Sure, there are worse examples out there, but none are even close in size and scope. At least Netflix, for all its over-blown-ness, has only sucked $10 billion worth of investor money into its stock. Amazon is sitting at over $120 billion market cap. For those who might recall how Amazon rolled over and died to the tune of 66% the last time it was at these elevated net valuations, consider it a warning shot across the bow.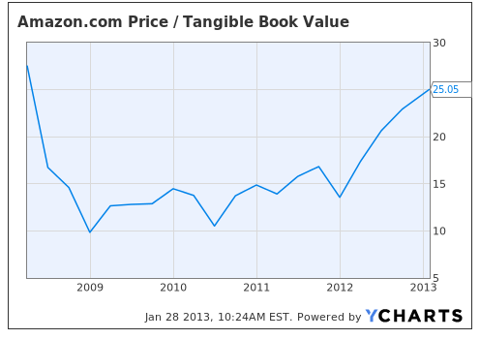 Long investors claim that Amazon can continue to just grow and grow, and P/E ratios, book value measurements, and all that lame, dusty traditional valuation stuff be damned. Who cares that, as a shareholder, I am paying $278.00 for $.075 of trailing earnings. And it doesn't matter that Q1E and Q2E for 2013 are coming in at an impressive (relative to the last two quarters, just to give you an idea of how sad this is) 30 and 32 cents per share. As an outsider looking in, it doesn't matter so much that its earnings levels are abysmal. What is most pertinent is just how much money shareholders are willing to shovel into it to get such a miniscule return. It's a growth story, right?
Except here's the thing. As we have so recently discovered with the infallible bull trap known as Apple (NASDAQ:AAPL) [which it turns out is not only operating the world's largest hedge fund, but also the world's highest turnover hedge fund that has traded over $600 billion in dollar volume over the past 3 years. At least this solves the "mystery" of why every bank with a trading arm, and 83% of professional, licensed analysts, were pumping this stock as if the iPhone were the second coming - billions in risk-free commissions are a sweet incentive], the greater fool theory only plays out so far, and so long. The number of human beings willing and capable to invest money into equities is finite. If AAPL can take such a beating, when it has the most enviable balance sheet and legal tax evasion scheme running on the planet, how much more does Amazon stand to lose when there are no lemmings left?
And as we've also discovered with Apple, it doesn't take much to set off that trigger. Apple's little maps debacle was the canary in the coal mine that snuffed out what power the bulls had left - and that was a pretty cheap mistake, in the grand scheme of things. Shareholders are now acknowledging that - as with all business models that make oodles of money off the hop with first-to-market advantage - margins decline, competing entrepreneurs are drawn to the abnormally high profits like sharks to blood in the water, and net growth levels drop off.
Amazon's revenue growth was astounding - this cannot be disputed. But, we measure the success of a business by its ability to generate profit - this is the metric that reveals whether the sum of all individual actors within a society are placing individual value in the resources being allocated, along with their means of allocation. Now, don't get me wrong; the concept of foregoing current lesser profits right now, in favor of larger profits in the future, is not lost on me. It is a cornerstone of what creates a successful business. It is one of the things for which entrepreneurs should be most admired.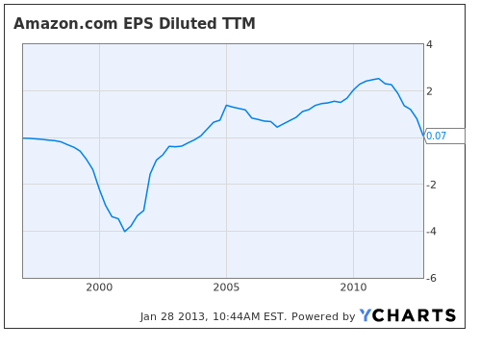 But Amazon has been around for well over a decade, and they have never been able to get their EPS over $3.00 for a full year, even with revenue per share as high as $124.00. Meaning they have never been able to even get EBITDA to crack that $2.5 billion threshold - or 2% of their company's current shareholder-determined value. Ouch.
Is The Growth Story Actually A Growth Story?
While Amazon is pulling a higher top-line every single year, top-line is only half the battle in terms of growth. While we are seeing revenue that keeps growing every year, the rate of growth has continued to bleed down by 50% off of its 2011 peak, in complete contrast to the stock price, which has skyrocketed to new highs.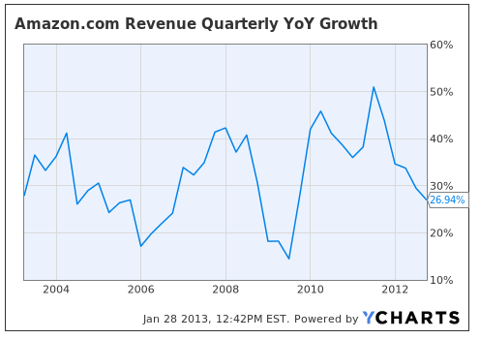 Correlating the earnings of Amazon with its share price over the past 5 years gets us an interesting picture - You don't get to see divergences like this every day.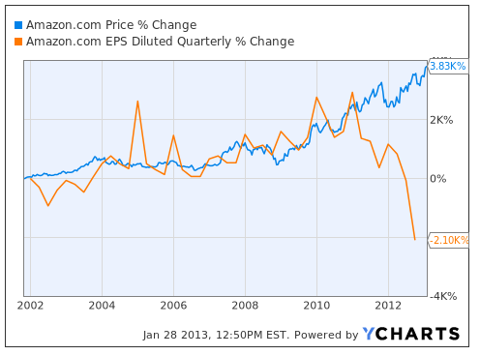 Management Effectiveness
If you looked at this chart without knowing which company's management team was generating the most close-to-negative and constantly declining returns on assets and equity, a sane and rational investor would be thinking they were looking at a dying business like camera film or typewriters. Surprise! You are looking at one of the most lauded businesses on the planet, in one of the fastest growing segments of world commerce in modern history. Maybe this is proof of just how zany the world is in our modern age, because this is absolutely horrible. Any other business who had management consistently grinding returns down into the dirt like this would experience a shareholder revolt and demands for a gutting and restructuring of the business model - or, in Amazon's case, its spider's web of every-business-model-ever.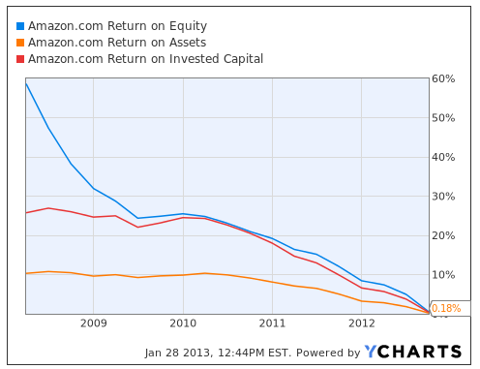 How Long Can Crazy Stay Crazy
This is the tough one. Investors reading articles on Amazon's impossible-to-justify prices six months ago who decided to sell are kicking themselves. Investors who continued to write insurance puts have knee-capped their gains for months while the stock has run higher. Investors who have tried to short upon reading a very convincing, very rational case for why sanity must soon return to the perception of Amazon have found themselves sitting on huge losses and margin-calls, or continuously getting stopped out and eroding their investment capital.
But there is a tipping point for this stock. A lot of people even know it, they are just wholeheartedly embracing the "greater fool" theory. Up to now, there has been no shortage of "greater fools" i.e. momentum.
I think a top for Amazon is very close. Days, weeks, a few months at most. I am betting on the much shorter time-frame on that prediction. And here's why:
Just When You Thought Bullish Couldn't Get Any More Bullish
Amazon is covered by 31 professional analysts. Of those 31 analysts, 22 still have Amazon rated as a "strong" buy. One analyst has Amazon rated as a "buy", and seven have it as a "hold." There is only one brave soul recommending a "sell" on Amazon.
The median consensus price target is $300 per share. A 10% or so increase from today's current prices, and a 3000% premium on net tangible value of Amazon's assets.
Amazon currently has only 2% of the float sold short, with its short ratio a mere 2.4 days to cover. There is nobody short this stock right now - the consensus has spoken (with their monetary actions, which are the ones that matter) and the consensus has determined that Amazon is a bull's stock.
General interest has spiked dramatically, too. Google trends indicates that the term "Amazon Stock" just had its all time search volume about a week or two ago. (for sheer comedic value, note that the previous peak in search volume occurred in late 2007).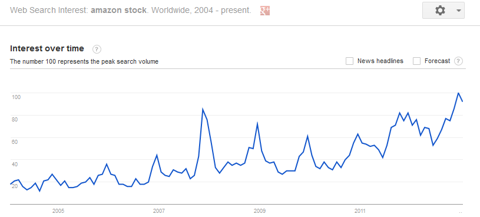 Why The Top Is Near Now, And Not Before
This is where things get a little bit technical. Amazon's business model has been flogged to death by the small vocal minority of nay-sayers (who are probably vocal because they missed a rally of monumental proportions that would have made them look like geniuses). My reason goes back to my introduction article to SA readers where I describe my investing methods, it uses the same principals (although inverse) for why we have a beautiful opportunity in gold that has yielded a healthy 22.5% return in less than 2 months with far more potential upside, or a graphite play that has yielded 35% in one month and worked its way over some big hurdles while nobody was looking.
As far as Amazon is concerned, right now, everyone is looking. The trade is entirely one-sided, and internals are bleeding down while the rally pushes onward and upward. This is a situation that never lasts, without exception.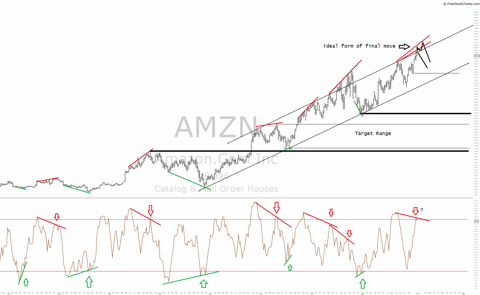 One of the main indicators that I use to compliment the actual form of a price movement is internal money flow measures. Generally the highest "commitment" rate is between the 1/2-2/3 mark of a trend, where you then see a correction and a final move whose internal strength is waning. The late majority has arrived to cap off the trade and buy high, to end up selling low.
Amazon is showing internal divergence. As you can see, it's a pretty reliable indicator of some kind of trend change. Given that the weekly is showing divergence and will likely continue to bleed sideways down if we get another final thrust up, we are looking at a very nice short-sell setup playing out its final pattern. Downside potential is quite large, with the ideal major support ranges falling between $176 and $105/share, a decline of 36% to 62%, which falls perfectly within the bear market norms of 38.2% - 61.8% fib retracements.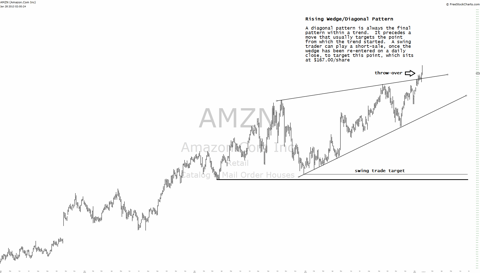 The other pattern to pay attention to is the one that has played out over the past 13 months. Amazon's entire 2012 and kick-off to 2013 has been a class rising wedge pattern. This is the final kicker to a trend, the ending diagonal pattern. It indicates a struggle to continue to new highs and a compression in the struggle between bears and bulls.
Amazon's price has also just spiked over the upper threshold to this wedge pattern. This is known as a "throw-over". The last little burst of energy that pushes it out of technical constraints before collapsing back in and reversing trend. To add to this probability, we have the above discussed internal divergence, which demonstrates the bulls are getting weaker and weaker and the bears are about to take control.
Why A Rockin' Bear Market in Amazon's Stock is Actually Good For Shareholders Who Care About The Company
Let's face it. The laws of economics deem that Amazon's current business model is unsustainable and will continue to generate less and less marginal growth, to the point where we actually end up seeing negative returns produced by management. This is horrible for long-term shareholders. At some point, the share price will reflect this. I have made the case above that we are about to see that reality start to trickle through.
Bear markets put the screws to companies. They snap shareholders out of the lull that bull markets hypnotize them into (see: Apple, Netflix, Enron, etc. etc.) and start making them ask the hard questions, and demand answers. Amazon will have to fess up to shareholders and make some systemic changes to get its trajectory back on course. By that time, we will see uncertainty at a peak, the proverbial "blood in the streets", analysts dropping their price targets and touting their sell recommendations once most of the selling is out of the way. The whole works. And it will be a great time to buy.
Amazon will be leaner, meaner, they will have either sold off assets that don't actually work with the company's core profit-generating business models, shut down non-productive assets, or ramped up and slimmed down divisions that are generating the highest returns - hopefully, all of the above and more. A current shake-up is necessary to the future of Amazon, and ever-increasing share prices will never produce one.
Conclusion
Amazon is a crummy business wrapped tightly around an excellent business, right now. They do some things better than any other company on the planet, bar none. And some things worse than most. A bear market that riles up shareholders and forces deep internal changes the necessary prescription to get Amazon back on a serious and sustainable growth trajectory. This will reward shareholders in the long run. In the meantime, instead of finding yourself among the throngs of angry Amazon owners, there are some far healthier areas that an investor can put their money into than the current business-that-is-every-business and growth-that-is-not-growth that has attracted so very many dollars chasing a very mature trend.
Disclosure: I have no positions in any stocks mentioned, but may initiate a short position in AMZN over the next 72 hours. I wrote this article myself, and it expresses my own opinions. I am not receiving compensation for it (other than from Seeking Alpha). I have no business relationship with any company whose stock is mentioned in this article.
Additional disclosure: Upon a close below the upper trend-line of the rising wedge pattern, I will initiate a short position in AMZN with an initial target of $175/share