We're always looking for that magical sector that can weather a crisis and keep our capital intact during stormy market times. Though there is no official index for it, what I call the "pick-me-up food sector" is the place to be. Pick-me-up stocks include small, relatively inexpensive things that people can't give up when they're down, like coffee, treats like a quick donut, even a comforting can of soup. A survey of selected big names in this "sector" shows that many of them do quite well financially during times of market turmoil. These companies' stocks, however, go down with the rest of the ship, which is what happened in 2008. The dissonance between their stable balance sheets and tanking stocks created severely oversold conditions, even more so than the general stock market. They have since led the market out of that bottom. Depending on their size, many of them still have room to fly.
Krispy Kreme and the bull trap
Let's start out with an anchor to use as a comparison. Since the 08 lows, the S&P ETF SPY has gone up 116%. Compare that to our first pick-me-up stock, Krispy Kreme (KKD). Since its trough in Q1 09, KKD has gone up an astonishing 1013%. While the financial world was panicking and the sky was teetering, Krispy Kreme's revenues were only down 10%, incurring a large but temporary loss of $67M on paper due to impairment charges from loss of goodwill on its balance sheet, and a $15M litigation settlement. (Maybe someone choked on a donut?) Those who saw the ephemeral nature of these losses mostly due to accounting principles rather than real loss of business, were smart enough to buy Krispy Kreme then and there. People didn't stop buying the donuts, so why the stock?
And where are we now? Since last year, the company has seen a 300% increase in annual income (excluding an accounting trick which I'll get to below). Long term debt has shrunk dramatically since 2010, causing interest expense to go down a whopping 85% since 2010. The stock is the highest it's been since 2004. Analysts are coming out with strong buy recommendations. This looks like a bull trap to me, at least in the short term. Why?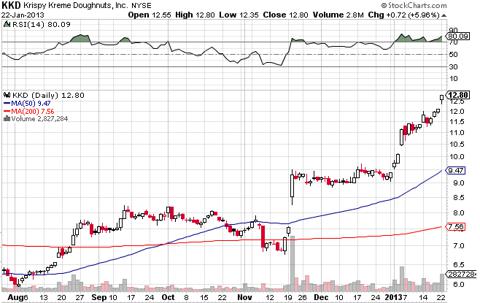 Sentiment is way too extreme. The 14-day RSI is over 80 and is way overbought, and KKD has a curious anomaly to it. That is its $139M tax "credit" that it put on its income statement in an accounting gimmick that recalculates its income taxes in the future in its favor and places the entire sum into one quarter. This will negatively affect future income statements going forward, which is warned about in its 10-Q. This also puts its P/E ratio, at least as listed by major financial websites like Google and Yahoo finance, totally out of whack and will probably mislead novice investors looking for something too good to be true. This probably means a lot of dumb money with itchy trigger figures is holding KKD right now.
All in all, Krispy Kreme is still growing nicely and has a ways to go, but I would stay away until the RSI approaches normal levels. For the more adventurous, consider near the money August puts, and close position when the recent parabola breaks and the stock finds support after what I would guess to be a 10-15% correction. Then buy.
Dunkin as the new donut opportunity
Dunkin Donuts is the new kid in the pick-me-up sector. We can't say what the stock was doing in 08 since it was still a private company, but since its IPO on July 27, 2011, DNKN has gone up 25% and started immediately paying a dividend, which is a very good sign for a newly public company.
On the positive side, 2012 income from the first three quarters is already outpacing all of 2011 by 114%, and interest expense on its debt should clock in around $65M or so this year if recent quarters are indicative, a sizeable reduction from the $105M the company paid last year. If it stays on track with its debt financing, net income will grow.
But be tempered with the 27% increase in long term debt since last quarter, probably from its attempts to expand into the southern California market of late. Long term debt is now at 48% of market cap. At low interest rates it is affordable. The foreboding part is that Dunkin is exposed to interest rate increases (page 11 at link), so trouble lurks ahead.
Coffee is the star wildcard here
Coffee excites me. Not because of the caffeine, but rather because unlike most other commodities, coffee futures have plummeted since 2011. This means that profit margins for coffee companies go up.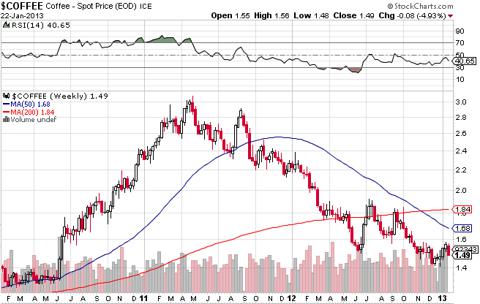 The other thing about coffee is that even more than donuts, that morning cup'a'joe is the last thing people want to give up especially when they're down. That can be proven with two companies in particular, Starbucks (SBUX) and Caribou (NASDAQ:CBOU).
Looking at Starbucks' long term chart, one can get nervous. The stock has gone nowhere but up since 08, to the tune of 602%, in a very obvious diagonal trendline. But I wouldn't call it overbought in the same sense the Krispy Kreme is.
Starbucks showed remarkable durability during the great recession. In the thick of the crisis, from September 08 to 09, revenues were only down 7%. But what's even more impressive is that earnings actually went up 24% in that same time period. When SBUX sold off along with pretty much everything else back then, the reaction was totally irrational for a company that essentially was not hurt by the recession. The result was the train ride back up to where we are now, plus dividends. People want their morning coffee, and there's little the economy can do about it. SBUX may be a little overbought and due for a correction along with the rest of the Nasdaq, but it's safe for any economic conditions for someone who wants to park their money somewhere and earn some income.
Caribou is an even more impressive example of the strength of coffee during economic turmoil. In fact, so much so that you can't even trade it anymore as of January 24. The firm was acquired by Joh. A. Benickster group for $16.00 a share. Since the 08 bottom until all shares were bought out, CBOU has had gargantuan gains of 1112%. In fact, believe it or not the CEO and other board members are being sued by investors for undervaluing the stock in the merger. Caribou beat Starbucks in capital growth mainly because back 4 years ago, Caribou was a struggling microcap. It had its most impressive growth during the great recession itself, considering the conditions. From FY 07 to 08, it trimmed its losses from $30.7M almost in half to $16.3M. After the storm was over, it pulled a $5.1M profit.
The safety (and excitement) of soup
What can I say about Campbell (CPB)? It is the only company among the ones mentioned here that has not rocketed out of its 08 bottom, and has even underperformed SPY since then. Then again CPB wasn't affected as much during the crash as other food stocks were. This either means the stock has room to move, or that it's boring, like its income sheet. Maybe a little of both. Revenues and income did not move substantially since then or during. CPB is the proverbial safe stock in the pick-me-up sector, with consistent dividends since 1987. And yes, it may be a stretch to call canned soup a pick-me-up, but it is also among the last goods to go among its customers during tough times.
If you're looking for a much more risky soup pick-me-up, think back to the Seinfeld Soup Nazi. Yes, the character is based on a real person with soup that people say is the best you can get, especially the popular crab bisque. The company is The Original Soupman (SOUP.OB) and investment in it is not for the fainthearted. Meaning, it's certainly no Campbell. Soupman is a struggling microcap with a product that has already infected American culture through the one of the most popular sitcoms of all time. It has not broken through to consumers yet in a big way. But if it does, a 1000% gain will bring SOUP up to a paltry $125M small cap.
Starbucks reached the tipping point by being out of the ordinary when it somehow convinced Americans that buying expensive coffee was cool. From IPO in July 1992 to now, it has gone up 266,662%. Cool coffee had its turn. Is now the time for cool soup?
Conclusion
My general belief is that, as the market approaches its all-time highs, investment is much safer in the pick-me-up sector: long established pick-me-up companies that pay out. In a market panic, they'll go down with all the rest, but my hunch based on last recession is that they won't suffer as much financially as other companies. Those with dividends will continue to pay out, and when the turmoil is over, you'll get your capital investment back. My favorite right now is DNKN, as the company has been long established, though new on the trading scene and has the most room for capital growth, and it is known for both its coffee and its donuts, the best of both worlds. The only thing that worries me about them is rising interest rates. Dunkin needs to stop expanding for now and pay down its debt first. If and when it does that, its stock will reach much higher plateaus.
Disclosure: I have no positions in any stocks mentioned, and no plans to initiate any positions within the next 72 hours. I wrote this article myself, and it expresses my own opinions. I am not receiving compensation for it. I have no business relationship with any company whose stock is mentioned in this article.