I looked at my homebuilder stock board this morning and saw that D.R. Horton (NYSE:DHI) was lighting up the board with an 11% price gain on the day. Checking the news, I saw that DHI released its earnings for its first quarter fiscal year 2013 today. DHI reported a 139% gain in net income over the same fiscal quarter last year. New orders were up 39%, and the value of those orders increased 60% -- both metrics were also vs. the same quarter last FY.
When I see numbers like this, I like to go back and review the latest 10-K and rummage around the line item details to see if this is a sustainable trend and the stock price is justified, or if there are some hidden accounting events going on that might spell trouble in future quarters.
The first red flag just for this latest quarter is that the cancellation rate for FY Q1 was 22%. While lower than last year's cancellation rate of 26%, this means that of the contracts signed on, a little more than 1 of every 5 homes was cancelled during the quarter. This is often because the buyer fails to get financing.
Even more disturbing was the $685 million decline in DHI's cash balances (cash + marketable securities) from just the previously reported quarter. As the company explains, this cash was ploughed into inventories: finished homes, homes under construction and building lots.
Does this sound familiar? Back in 2005/2006, before the housing market collapsed, homebuilders were running low on cash after having built up massive inventories of finished homes, lots under development and raw land.
With this in mind, I pulled up the latest 10-K, which because of DHI's fiscal calendar, was filed on November 16, 2012. In other words, the numbers are fairly recent and therefore, relevant.
I found some disturbing items on the financial statements.
First, if you scroll down to the income statement, you'll note that DHI recognized an accounting (GAAP) income tax benefit of $713 million. This is a one-time, non-cash income accrual that was derived from recognizing a gain from a deferred tax benefit. To keep things simple, DHI had recorded asset impairment charges over the last few years from bad inventory, which created a rather large GAAP tax asset. Most businesses typically amortize this asset against GAAP income over time, as income is generated.
Rather than amortizing the benefit over time against income, DHI determined that it will generate more than enough future income to justify taking the GAAP benefit all at once. Make no mistake about it, this source of income is non-cash and has no contribution to the financial health of the company. It was used to boost DHI's FY2012 net income by $713 million, to $956 million. DHI's FY 2012 net income otherwise would have been only $243 million.
If you scroll down to DHI's statement of cash flows (10-K link above), you'll see that $709 million of the $713 million is reversed out of cash provided by operations (presumably, the company actually benefited that year from $4 million of the deferred tax asset).
More troubling, in a year in which DHI reported $956 million of GAAP income, it actually had to raise $765 million from the sale of bonds in order to finance its massive inventory build in the latest quarter, plus pay down maturing debt. If DHI's operations were truly generating the kind of cash that is implied by its GAAP-reported net income, the company should have been able to finance its operations from free cash flow. One has to wonder what else DHI is hiding beneath the surface of its publicly-reported financial statements.
Now, having raised those red flags, it is possible that DHI will continue selling homes at the rate at which it sold homes over the last year. If that's the case, then the large investment in inventory will be justified. But judging from the recent trend in monthly new home sales, I would say that the bullish view is more faith than justifiable calculated risk: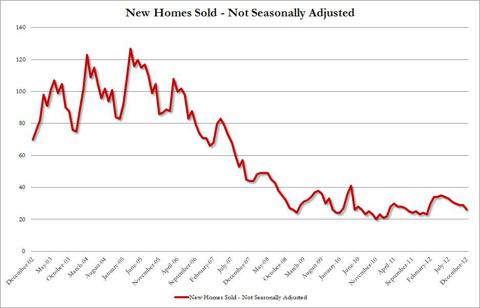 I just can't see the justification for DHI investing over $600 million in new housing inventory and raw land when the actual new home sales data is showing a declining trend. Therefore, I believe that the 250% gain in DHI's stock since August 2011 is unjustified. At the very least, if my view of the housing market unfolds over the next 12 months, DHI's stock price will decline as quickly as it rose over the last 18 months.
This presents a significant opportunity to put on bearish bets on DHI. The short interest in DHI is nearly 12% of the float. As I have outlined above with my analysis, you can understand why. I would not recommend shorting the stock outright because of the potential for a short squeeze. But if you believe, like I do, the housing market is rolling over again and that DHI has once again created a massive backlog of bad inventory assets, I would recommend making a bearish play with put options on DHI stock. Right now, I like, and am long, the February 23 strike puts, and will likely look at longer-dated, near-money puts later this week.
Disclosure: I am long DHI Feb 23 strike puts. I wrote this article myself, and it expresses my own opinions. I am not receiving compensation for it (other than from Seeking Alpha). I have no business relationship with any company whose stock is mentioned in this article.