AFLAC (NYSE:AFL) has strongly developed its business in Japan. Policy liabilities shown below have grown faster and are a much larger segment of AFLAC's insurance business than its U.S. base. In fact, AFLAC only does business in Japan and the U.S., and is the number one insurance company in Japan by number of individual policies. Ninety percent of AFLAC's business comes from Japan, thus, its heavy exposure to the yen and currency fluctuations could adversely impact the company's earnings going forward.
AFLAC's policy growth through 2011 in Japan vs the US.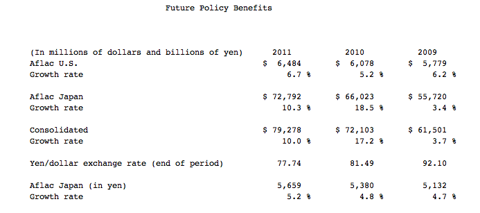 This data is from AFLAC's annual report made to shareholders in February 2012. The purpose of showing this report is not to study AFLAC's successful efforts to grow its business in Japan, but to show the outsized effect that strong currency fluctuations will have on AFLAC's earnings.
According to the most recent quarterly report in November 2012, AFL has grown the income (not policy benefits shown above) from its Japanese segment by about 11% this year. So the Japanese growth has continued. See below: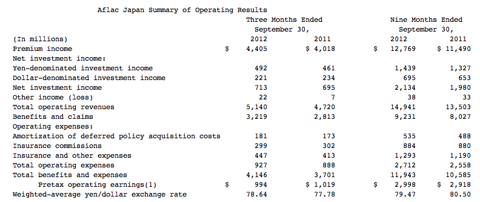 AFLAC has benefited from a sideways and down trend in the yen/dollar exchange rate for most of 2012. This stable and slightly down trend in the currency was good for business. Wall Street loves stability, and the price of AFL stock is up more than 25% in the last 12 months.
As of the most recent elections in Japan, the inflationists are firmly in control and have strongly signaled their willingness to weaken the yen in efforts to drive the stagnant economy in Japan. These most recent political campaigns and elections culminated on December 16, 2012.
Please note the yen exchange rate over 2012, and the strong election season move: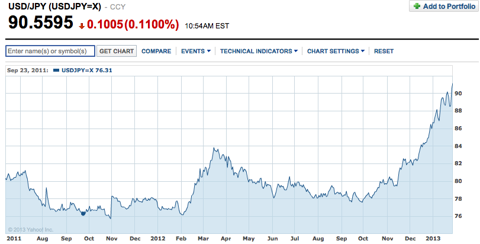 As of AFLAC's most recent quarterly report, the yen was still trading in the 80:1 range. AFLAC is a well-run company and understands these currency effects. In its most recent 10-Q, it included this very interesting currency impact chart. See below:

This chart may needs to add an exchange number of 85 to take in the final 2012 exchange rate. On December 31, the rate was 85.96 and has moved up strongly since then. Japan has an export economy, so even higher exchange rates are wanted by many, and historically, they have been much higher than even this spike.
If the 85 were included on this chart, according to AFLAC, the year-over-year growth rate is actually going to swing from a nice 3.0-6.1% range to a very negative -1.0% to -4.0%. Furthermore, that should have an EPS reporting effect of -0.50 per share against stated estimates. Read the Q-10 here.
I expect very bad news from the February Annual report from AFLAC. I further expect that the yen will weaken throughout much of 2013. I'm not being an alarmist, but the outsized segment of AFLAC's Japanese business will have a major negative impact on reporting this year. AFLAC's growth in the U.S. has not been bad, but it will never make up for these type of moves in the yen.
One more point: This market hates bad news. Avoidance of all risk and media risk is impossible, but with many solid and very currency-diverse opportunities in which to put money to work, there is no need to expose wealth to this situation in Japan.
Disclosure: I have no positions in any stocks mentioned, and no plans to initiate any positions within the next 72 hours. I wrote this article myself, and it expresses my own opinions. I am not receiving compensation for it (other than from Seeking Alpha). I have no business relationship with any company whose stock is mentioned in this article.