Zynga (NASDAQ:ZNGA) is a leading provider of social game services with 240M average monthly active users over 175 countries. In late November, 2012, Zynga and Facebook loosened terms of longstanding alliance. Zynga no longer has the preferential treatment on Facebook, but Zynga is now able to market its games to the world outside of Facebook, opening up more revenue opportunities and venturing into higher margin markets. ZNGA closed at $2.84 with 14.06% gain on January 28, 2013. The volume of 56.17M was 3.35x of 30 day average volume of 16.76M. ZNGA had been trading in the range of $2.09-$15.91 in the past 52 weeks.
Bullish Factors
Increasing earnings forecast and share buyback. In October, 2012, Zynga raised the lower end of its 2012 earnings forecast and also announced a $200 million share buyback plan
Real-money gambling. 2013 is going to be a big year on the mobile gambling front as several U.S. states are close to offering legal online poker and casino games to their residents. A new partnership with British company bwin.party to offer online real-money gambling was announced in late October, 2012. Last month, Zynga started a preliminary application to run real-money gambling games in Nevada.
Kabam, a social game developer, posted more than $180M in gross revenue in 2012, a 70 percent increase from the previous year, as reported on January 28, 2013. Kabam said only about 30 percent of its revenue in 2012 came from Facebook, the rest coming from partner websites and mobile devices. This news cheered Zynga investors and offered a good revenue model for Zynga to review and work on after its new partnership change with Facebook. Glu Mobile Inc. (NASDAQ:GLUU), which designs, markets and sells mobile games, also jumped 15.22% on January 28, 2013 after the positive news release from Kabam.
Cost cutting. Zynga laid off 5 percent of its full-time workforce and shut its Boston office in 2012 while considering to close its Japanese and British game studios.
Shutting down underperforming games. Zynga carried out 11 of the planned shutdowns of 13 underperforming game titles, including "Petville" and "FishVille."
Risks/Concerns
While investors are still concerned about the new partnership change with Facebook and Zynga's declining revenue on Facebook, some analysts support the partnership change and Wedbush analyst Michael Pachter indicated that Zynga now has a dedicated base of gamers and thus might not need Facebook's infrastructure as much.
J.P. Morgan, one of Zynga's underwriters, reduced stake to almost zero, according to a document filed with the SEC on January 11, 2013. A big reduction by an institutional investor, like J.P. Morgan, implies that it doesn't have a lot of confidence that the company can turn things around in the coming months.
Fundamentally, despite the total cash of $1.32B on hand (vs. $100.00M with total debt), ZNGA only had 3.20% quarterly revenue growth (year-over-year). ZNGA has negative profit margin of -46.51% and operating margin of -47.90%. On the earnings side, analysts are expecting an EPS of -0.03 with revenue of $212.11M. Analysts, on average, are estimating an EPS of $0.03 with revenue of $1.10B for fiscal 2012. For 2013, analysts are projecting a zero EPS with revenue of $1.03B, which is 5.90% less than 2012. ZNGA is expected to release its Q4, 2012 earnings on February 5, 2013 after the market close.
Technically, ZNGA is bullish as the MACD (12, 26, 9) turned to show a bullish trend on Monday and the momentum indicator, RSI (14), indicated a strong buying momentum at 67.96. ZNGA was trading above its 50-day MA of $2.44, as seen from the chart below.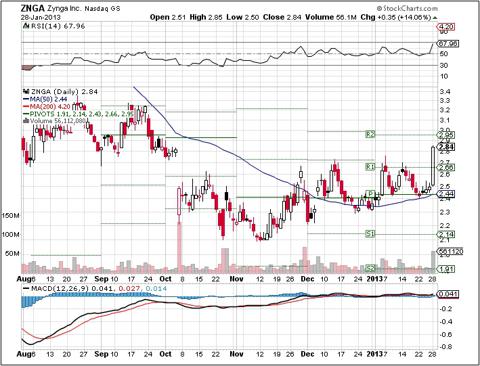 Source: StockCharts.com
Reviewing Options
The most active in-the-money call on Monday was Feb. 15, 2013 call at the strike price of $2.50 with a volume of 16,152 and an open interest of 22,489. The implied volatility is 93.0, and the chance of break-even is 39.70. The most out-of-money call was Feb. 15, 2013 call at the strike price of $3.00 with a volume of 10,980 and an open interest of 13,039. The implied volatility is 97.1, and the chance of breakeven is 26.49. The historical volatility for ZNGA is 44.08 for 1 month, 52.80 for 3 months, and 80.71 for year.
For long-term investors, it may be safer to establish the long-term position after the earnings. If there is any upside surprise, it should be mainly from the cost side. A credit put spread of April 20, 2013, $2.00/$2.50 can be reviewed for investors who would like to gain some upside potentials while having the plan to acquire the stock at a price below $2.50.
Note: All prices are quoted from the closing of January 28, 2013 and all calculations are before fees and expenses. Investors and traders are recommended to do their own due diligence and research before making any trading/investing decisions.
Disclosure: I have no positions in any stocks mentioned, and no plans to initiate any positions within the next 72 hours. I wrote this article myself, and it expresses my own opinions. I am not receiving compensation for it (other than from Seeking Alpha). I have no business relationship with any company whose stock is mentioned in this article.