Fair Value Price: $253
Recommendation: Buy
Thesis
With 10 years of >10% earnings growth, 16 consecutive years of dividend growth, Beta of .64, and a five-year DCF valuation upside of at least 20% (see below), I believe IBM provides a strong, low-risk investment opportunity for long-haul investors.
IBM is very likely to deliver on its goals of $20 EPS in 2015 as a result of consistent margin expansion and revenue growth in developing markets (especially BRIC and LATAM markets), which will provide significant upside for long-term stockholders. After beating Q4 2012 earnings estimates, the stock has risen above its 200-day moving average; however, for the long-term investor, this should not be a concern. There is still significant upside to capture in the one-five year time horizon.
Growth, Value and Improved Efficiency
IBM is currently well on track to accomplishing the goals set forth in its 2015 Road Maps. The following table outlines five key goals set forth in the plan: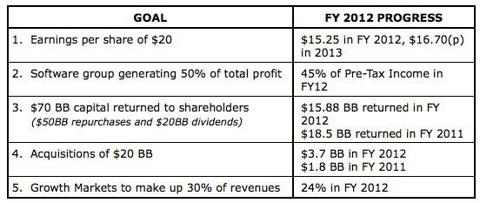 IBM's strategy for achieving these goals is three-fold. First, management hopes to drive revenue growth by focusing on faster growing businesses like Cloud Computing and Smarter Planet, which saw 80% and 25% year-over-year growth as of 4Q12, respectively. In addition, management plans to continue and grow strategic M&A activity.
Furthermore, management continues to focus on higher-margin businesses and higher-growth geographic markets. As a result, the software group has come to represent 45% of total pre-tax income (FY 2012) and is expected to make up 50% of total PTI in 2015. This is drastically different from 2000, when the software group only generated 27% of IBM's PTI. With a gross profit margin of 88.7%, far higher than the other four business groups, I believe growth in the software segment will drive significant revenue increases for the company as a whole.
Growth markets, which currently make up 21% of total geographic revenue, are expected to grow to 30% of total revenue in 2015. I have no doubt that IBM will reach this goal in the next three years, considering that LATAM revenue grew 18% in constant currency YoY in 4Q12 and BRIC revenue grew 12% YoY in the same period.
Target Price Calculation:
My fair value price of $253/share was calculated using a simple five-year DCF projection model. The following inputs were used for key variables in the analysis:
Five-Year YoY Revenue Growth Rate Projection: 2.50%
Long-term (terminal state) growth rate: 2.50%
Implied Equity Risk Premium: 6.00%
Risk-Free Rate (30-Year Treasury): 3.14%
Beta: 0.64
I compared TTM data and five-year averages of key cash flow components (as a % of total revenue) to create forward projections for each component of the free cash flow calculation. You can see these estimates in the included "Cash Flow Projections" table.
All future cash flows were discounted at a calculated WACC of 6.98% (based on the aforementioned values and the formula WACC = Beta*Risk Premium + Risk-Free Rate). It is worth noting that certain values in this projection are conservative, suggesting a possibly higher valuation. Specifically, profit margins continue to expand across the major business groups (except Systems & Technology), with more than 75% of earnings growth in FY12 resulting from margin expansion. Despite consistently declining values for Cost of Revenue from 2007-2012, I held Cost of Revenue (as a % of total revenue) constant at 53.0%, suggesting constant profit margins rather than a continuation of the long-term trend of margin expansion.
Given the most recent reports of cash and interest-bearing debt (Q4 2012 report), this DCF analysis provides a stock price estimate of $252.72 per share, a notable 23% premium to the current asking price.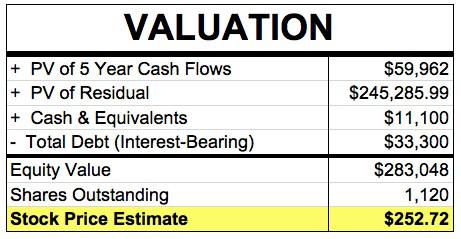 Conclusion
Given the evidence that management will likely accomplish the goals set forth in its 2015 Road Maps, I see significant long-term value and tangible growth potential for IBM. Consistent margin expansion, a strong presence in fast-growing geographic markets, and a growing software business group will create significant cash flows for stockholders in the one- to five-year time horizon, driving stock prices up at least 20% in the same time period.
Disclosure: I have no positions in any stocks mentioned, and no plans to initiate any positions within the next 72 hours. I wrote this article myself, and it expresses my own opinions. I am not receiving compensation for it (other than from Seeking Alpha). I have no business relationship with any company whose stock is mentioned in this article.