Amicus Theraputics (NASDAQ:FOLD) is a biopharmaceutical company focused on developing therapies for rare and orphan diseases. The company's vision is to deliver the highest quality therapies for persons afflicted with genetic diseases in order to support the disease communities and their families.
It's a noble company with an inspiring vision. It's also a speculative stock. A very speculative stock... that once lost 47% in one day. I know my wife and I vowed for richer or poorer at our wedding day (I pulled the tape to prove it), but you certainly learn a lot when the poorer day comes... more about that later.
The Story Begins In July '12
Amicus popped up on my radar screen in July, when I read a local article about GlaxoSmithKline (NYSE:GSK) expanding its partnership with Amicus for drug development. GSK has a headquarters here in Philadelphia, and an expansion of a partnership with a N.J.- based firm was definitely newsworthy in the area. At the time, Amicus was executing a Phase III FDA study for oral migalastat HCl monotherapy, which was targeted for patients with Fabry disease. The Phase II results looked very positive, and the additional investment from GSK was definitely a confidence boost to their approach and technology.
Since I was ahead of the market, and had some additional funds built up to invest, I decided to add this stock to my radar screen. I'd never put money on a spec play, and since most advisors claim that my age bracket could tolerate a higher risk asset allocation, I thought now might be a time to step out of my comfort zone.
On July 17, Amicus and GSK gave this presentation as an update on their partnership and progress. The technology looked very promising, and Amicus definitely had enough cash flow, expertise and a transition partner to see it through. I married a chemical engineer, and after she and I discussed some pieces of the presentation beyond my expertise, it seemed like a strong choice to make.
I did more fundamentals research (within reason for a 100-person company) and noticed Institutional ownership was at 95%, which indicated to me there would be a resistance around the $5 price point, which is typically the minimum threshold for their investment. So on August 23, when the stock slipped to $4.90, I threw my normal, analysis-driven caution to the wind and placed an order.
Choosing The Right Pronoun
In the near term, the investment did well. In only a month, it was up 15%... Fast forward to the second month, and it was up over 30%. I mentioned in passing to my wife how well it was doing, and her immediate response was "Sell! Sell Now!" No, I explained, most analysts are saying the stock will rise to $10 when Phase III is shown positive. I bought it with that goal in mind, and I want to see it through. Let's hang in there, I said, and double our money.
Then came December 19th. Amicus issued a press release that contained the following statement regarding Study 011 (migalastat HCl vs. Placebo) in its Phase III progress:
"This difference did not achieve statistical significance (p=0.3) according to the pre-specified primary endpoint analysis."
Translated: "Phase III was not successful in demonstrating a significant advancement from placebo."
Uh-oh. This was not part of the plan.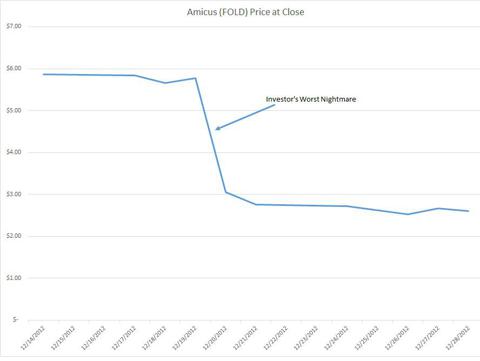 December 20th came, and FOLD closed 47% lower than the day before. And I had to explain it to my wife. She could tell that something was amiss, and I started by saying, "Amicus didn't have a good Phase III report, and it appears to have lost 47%." Incredulously, she asked "Lost 47% of what?" Now clearly, she knew the answer, but as married men can verify, the test is in getting the pronoun correct. My investment? Your investment? Our investment? In the moment, I decided on "our" as the pronoun of choice. Wrong choice. It clearly became "my" investment when I decided to hold out and see Phase III through. This was made clear over the next few minutes of our conversation.
In hindsight, as most of you are probably realizing, my mistake was choosing a pronoun at all. Clearly, I should have had said, "'The' investment." Lesson learned: Use an article with a loss, not a pronoun! Please, make a mental note of this if this situation should ever happen to you... unless you happen to own a comfortable couch.
Why I Haven't Sold, And Can See A Bullish 2013
Strong Cash Position
Most of the initial assessments I made to invest still hold true. Amicus remains a financially solid company, with a promising set of research. At the close of 2012, it had $99M in operating funds, while only expecting expenses of $58M. Its management team clearly does an excellent job of making sure the company remains positioned well to continue research operations with no solvency concerns through 1Q 2014. In the R&D domain, this is a very strong position.
In fact, Amicus has been able to increase its cash position by over 25% in the past 3 years, which demonstrates its ability to fuel research: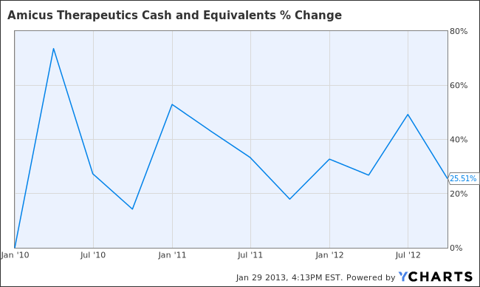 In addition, its current ratio is now the strongest it has been in the past 5 years: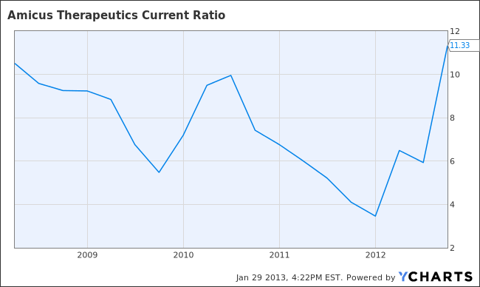 $600M Fabry Market
Amicus and GSK are still committed to developing Migalastat HCl for Fabry disease. Additional 6-month Study 011 Data (Migalastat HCl vs. placebo) will be presented at an upcoming conference February 12-15. The secondary study puts a focus on urine-GL3 and renal function for those being treated for Fabry. If the secondary study endpoints prove positive, the FDA has indicated they would discuss the U.S. approval process in 2013. Study 012 (Migalastat HCl vs. current therapies) will also be conducted over the next 18 months, with results expected in the second half 2014. There is still a good possibility that Migalastat HCl will be transitioned into a marketable entity, despite initial Study 011 reports.
The current market for Fabry Disease treatments is estimated at over $600M. In the current partnership, Amicus retains all U.S. rights for Fabry medication, while GSK retains rights internationally. Amicus' current market cap is $197M, so it is well positioned to more than double its cap this year, pending FDA approval. In addition, last year, there was a shortage of available Fabry medication, which led to patients being asked to ration their supplies for treatment. This type of serious issue also presents a prime opportunity for a new supplier to ramp up fabrication.
$500M Pompe Market
Amicus also recently reported positive results from a Phase 2 Chaperone-Enzyme Replacement Therapy study, geared to help people with Pompe Disease. Pompe disease is a lysosomal storage disease characterized by progressive skeletal muscle weakness and respiratory insufficiency. It is caused by a deficiency in GAA activity, and the study is focused on co-administering a chaperone drug called AT2220 to help alleviate the muscle condition. The positive Phase 2 results will be further explored with a repeat-dose study this year. The study is planned to begin in the 3Q of this year, with a target of a Phase III transition as well.
Amicus owns full rights to its AT2220 development, and the current Pompe treatment market is around $500M. It's also been noted that this market is particularly underserved, and limited in the treatment options available. A breakthrough by Amicus could significantly change the landscape for treatment, and provide an even larger opportunity than estimated. Although longer term positive results and transition of this technology could be more valuable to the firm, as it can market it globally.
Summary
The company's pipeline is still full for the near term, with a lot of potential upside for growth. This slide from its recent presentation sums it up best: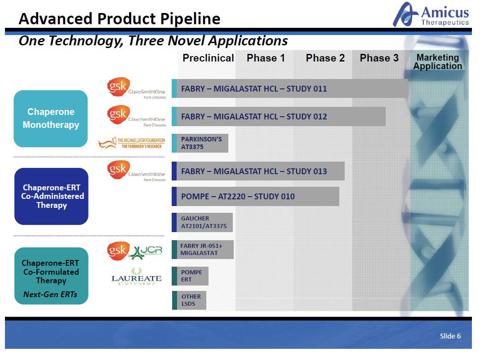 Amicus still has a bright, while speculative, future. With Migalastat HCl continuing to move through Phase 3 studies with a transition possibility for 2013, and AT2220 demonstrating positive Phase 2 results, the first quarter could show very positive signs.
In the very near term, the February 12-15 report, part of the Lysosomal Disease Network (LDN) World Forum, is the main catalyst for potential growth. This report could turn the corner for Amicus stock in 2013. Between its Fabry and Pompe treatment research, I definitely see a bull case for Amicus, although it could be a longer-term play than I originally planned.
Disclosure: I am long FOLD. I wrote this article myself, and it expresses my own opinions. I am not receiving compensation for it (other than from Seeking Alpha). I have no business relationship with any company whose stock is mentioned in this article.