By Brendan Gilmartin
Qualcomm (NASDAQ:QCOM) is slated to report Q1 2013 earnings after the close on Wednesday, Jan. 30. The results are expected to come through at 4:00 p.m. ET, with a conference call slated to follow at 4:30.
Sympathy Plays: Nokia (NYSE:NOK), Broadcom (BRCM), and Texas Instruments (NYSE:TXN).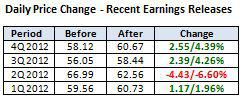 Outliers and Strategy
Key Measures:
Non-GAAP EPS -- For the Q1 2013 period, Qualcomm previously indicated it expects non-GAAP EPS of $1.08 to $1.16. Guidance tends to be conservative and actual results often come in at the high end of forecasts. The current consensus is toward the high end of this range at $1.13.
Revenues -- Qualcomm said in October it expects Q4 revenue of $5.60 billion to $6.10 billion, an increase of 20% to 30% year over year.
Adjusted EPS Guidance and Revenue Guidance (Q2 2013) -- Guidance for the next quarter will be watched closely given that results for the Q1 2013 period are largely priced into the shares. The estimates are for adjusted EPS of $1.10 on revenue of $5.90 billion (source: Yahoo Finance).
At just 13.2 times forward earnings, Qualcomm is trading at a discount to historical multiples. With an expected five-year earnings growth rate of nearly 15%, the forward PEG ratio is just about 1.0.
Over the past several quarters, Qualcomm has benefited from its relationship with Apple (NASDAQ:AAPL), supplying chips for the popular iPhone device. In addition, the majority of Android devices run on Qualcomm chipsets.
Note that rival Broadcom reported slightly better-than-expected Q4 2012 earnings, but softened its outlook for the upcoming Q1 2013 period, sending its shares slightly lower in after-hours trading.
Recent News
Jan. 28: JPMorgan Chase reiterated an Overweight rating and a $69 price target on Qualcomm according to a post on StreetInsider.com. The firm noted that iPhone shipments from Apple were in line with expectations and do not pose a risk.
Jan. 7: According to a report in Barron's, Citigroup was pout with a positive note on Qualcomm, suggesting the mobile chipmaker could benefit from the rapid growth in smartphone usage in china in 2013. Qualcomm is poised to benefit most from this trend, given its more sophisticated chipsets, particularly in higher-end phones.
Dec. 17: Despite concerns over sluggish growth of Apple's iPhone, several firms were out with positive notes on Qualcomm, according to a post on Barron's. MKM Partners reiterated a Buy rating and $71 price target on Qualcomm, based on its broader position in smartphones. Similarly, Susquehanna Financial Group reiterated a Positive rating on the shares, given the company's broad exposure to products beyond the smartphone.
Technical Review
Qualcomm shares recently stalled out near the mid-September highs near $65.00/$65.50, resulting in a bearish "double-top" formation. The recent momentum loss comes on the heels of a concerning earnings release from Apple and speculation that the iPhone was seeing slower growth. Should earnings surprise to the upside, look for resistance at the aforementioned highs, with longer-term upside to the April 2012 peak near $67.50. Conversely support is at $62.50, followed by $61.50, and the 200-day SMA near $60.50.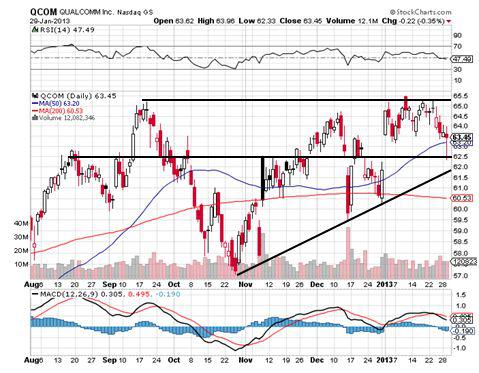 Summary
Qualcomm has been slipping in advance of the Q1 2013 earnings release amid concerns that slower iPhone sales from Apple may crimp demand for its chipsets and other components in the popular device. But sell-side analysts are quick to point out that the drop-off in Qualcomm shares has been less severe given its broad market position. With a forward PEG ratio of just 1.0 and in-line results from rival Broadcom, Qualcomm could be due for a reversal.
Disclosure: I have no positions in any stocks mentioned, and no plans to initiate any positions within the next 72 hours. I wrote this article myself, and it expresses my own opinions. I am not receiving compensation for it (other than from Seeking Alpha). I have no business relationship with any company whose stock is mentioned in this article.
Disclaimer: By using this report, you acknowledge that Selerity, Inc. is in no way liable for losses or gains arising out of commentary, analysis, and or data in this report. Your investment decisions and recommendations are made entirely at your discretion. Selerity does not own securities in companies that they write about, is not an investment adviser, and the content contained herein is not an endorsement to buy or sell any securities. No content published as part of this report constitutes a recommendation that any particular investment, security, portfolio of securities, transaction or investment strategy is suitable for any specific person.