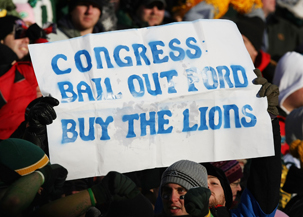 Much of the hype surrounding the Detroit Auto Show will be muted this year. Sales figures are miserable, the industry is coming to grips with the serious challenges it faces, and the Bush administration recently approved $17.4-billion in emergency loans to General Motors Corp. (NYSE:GM) and Chrysler LLC.
So the first show in the Post Bailout Era will likely be scaled-back and expensive stunts limited. Many companies have decided to pull out altogether, including Nissan (OTCPK:NSANY) and Infiniti, Porsche (OTCPK:POAHF), Land Rover, Rolls-Royce (OTCPK:RYCEY), Suzuki (OTCPK:SZKMF), Ferrari and Mitsubishi (OTCPK:MMTOF). Parts makers Lear Corp. (NYSE:LEA), Visteon Corp. (NYSE:VC) and Tenneco Inc. (NYSE:TEN) won't be there either.
Management of the auto companies will probably say nothing materially new in Detroit this year (the show opens on Jan. 11 and presentations begin on the 13th). As a result, there is no need to have any particular short or long bias to the group in general or any specific stocks going into the show, according to KeyBanc Capital Markets analyst Brett Hoselton.
He noted that some are declining one-on-one meetings with investors and expects those that will present will provide only general commentary on business conditions. However, Mr. Hoselton told clients that this should come as no surprise to the market since there were multiple pre-announcements in December where auto companies either reduced or withdrew 2008 or 2009 earnings guidance.
Nonetheless, the deterioration in the global vehicle production outlook has prompted the analyst to reduce his earnings estimates. He now expects North American light and commercial vehicle production to fall 20% and 15%, respectively. For Europe, he sees declines of 15% and 40%, while light vehicle production is forecast to dip 10% in the rest of the world.
Mr. Hoselton said:
Despite the deterioration in the outlook for global light vehicle sales and production, auto stocks have performed well since November, rising 25-150% driven primarily by investor optimism that auto sales may have bottomed.
He considers auto supplier stocks attractive from a valuation standpoint and remains cautiously bullish longer term on select names, acknowledging that the global auto sales and production outlook may deteriorate further. He also recognized that GM and/or Chrysler may file for bankruptcy this spring if they fail to meet the terms of government loans.
So for conservative investors, he recommends safety systems supplier Autoliv Inc. (NYSE:ALV), for less risk-adverse investors ArvinMeritor Inc. (ARM), and for speculators comfortable with a high degree of financial risk, Tenneco.

Photo: Fans hold a sign during a game between the Green Bay Packers and the Detroit Lions on December 28, 2008 at Lambeau Field in Green Bay, Wisconsin. The Packers defeated the Lions 31-21, who went on to finish the season 0-16. (Photo by Jonathan Daniel/Getty Images)