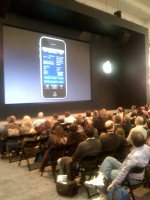 Considering how bad the economy is and in spite of the absence of Steve Jobs, the 2009 Macworld Conference and Expo, held at Moscone Center in San Francisco, California was very successful. This is also in spite of the fact that Apple (NASDAQ:AAPL) announced that it wouldn't be back next year. But that isn't the only disappearing act.

There were a couple other major companies that were conspicuous by their absence, such as Adobe (NASDAQ:ADBE). Adobe used to be one of the anchor exhibitors at the Expo, and one of the noteworthy producers of Macintosh software. Another MIA was Sony (NYSE:SNE). Does anyone remember the old Sony beige 3.5 inch floppy disks?

So who was there in place of the biggies? There were approximately 400 exhibitors and most of them were small or private or unknown businesses, more small business exhibitors than I've ever seen at any of the previous Expos. It is amazing how many companies and employees exist because of the Macintosh, the iPod, and the iPhone.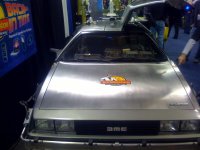 For example, one local San Francisco Bay Area computer repair shop, called techrestore.com, had a DeLorean time machine automobile on display to attract visitors. And speaking of cars, Honda Motor Company (NYSE:HMC) had an Acura on display, along with a very old working Mac Plus on display. Remember those? Actually, it was a Mac Plus case that had been gutted with a more up-to-date computer installed. Honda has a P/E ratio of 14 and a yield of 3.6%.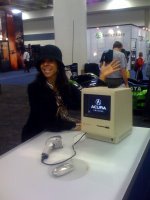 One of the surprise exhibitors was Google (NASDAQ:GOOG), which had displays showing Google Maps and YouTube. Google has a P/E of 19.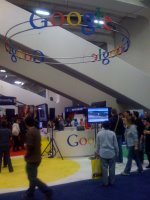 Other publicly traded companies that attracted a lot of people to their exhibits include Nikon (OTCPK:NINOY) and NEC Electronics (OTC:NELTY), both of which trade on the Pink Sheets, and Canon Inc. (NYSE:CAJ) with a P/E of 9, and Hewlett-Packard Company (NYSE:HPQ) with a P/E of 12 and a yield of 0.9%, both of which trade on the New York Stock Exchange.

Of course, Microsoft (NASDAQ:MSFT) was there, promoting Office 2008 for the Mac. The stock has a P/E of 10 and a yield of 2.7%.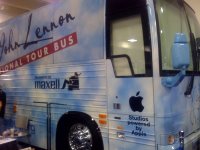 The show also had the John Lennon Educational Tour Bus again this year, which is a non-profit mobile recording studio that travels to schools across the company. Overall, the show and the exhibits were well received. Let's hope the Macworld Expo is repeated in the future, and let's hope Apple continues to be successful, since many people and many small companies rely on its success.

By the way, if you had followed the MacWorld Expo Apple Stock Correlation, it would have worked. I wrote about this back on October 28, and each year prior to that for several years. You would have made a profit of 2.7% in less than two months, buying Apple at 88.14 on November 17 and selling on January 9 at 90.58.

Disclosure: Author owns AAPL and MSFT.