We continue to be amazed with the performance of Gale Klappa and his management team since they took over the executive leadership of Wisconsin Energy (NYSE:WEC) from Richard Abdoo and his team. We even had the pleasure of interviewing Gale Klappa and the new CFO Pat Keyes in October with regards to the factors that have led to Wisconsin Energy's resurgence since 2003. Our interview has reinforced our position in Wisconsin Energy.
Although we are drastically underweight with regards to traditional utilities relative to the benchmark, we maintain our 1% position in WEC because of the culture of reliability that has been fostered with Klappa and his team. We also see a potential resurgence in the Wisconsin economy now that the controversy over the Wisconsin Budget Repair Bill has subsided and that there is political stability and a unified government in the state's legislative chambers.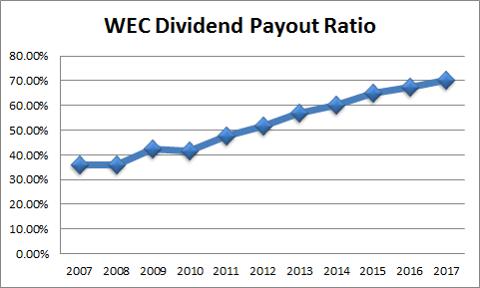 Click to enlarge
Source: Milwaukee's Business Journal
We believe that WEC will continue its recent record of reliably delivering power dividend growth to investors' portfolios due to its industry leading reliability achievement, enabling it to steadily increase its payout ratio from 36% in 2007 to 60% in 2014 and 65-70% in 2015-2017. We were surprised that Barclays picked Northeast Utilities (NU) as its top regulated utility but not surprised that Wisconsin Energy was one of its top six utilities for income-oriented investors. In our interview with Klappa, he confirmed our thesis that Wisconsin is seeing a steady influx of residents from the Chicagoland/Northern Illinois suburbs due to the higher quality of life and low costs of living in the Milwaukee suburbs and exurbs versus Chicagoland. This has helped WEC pick up 3,300 new electric customers and 5,200 new gas customers on a year-over-year basis.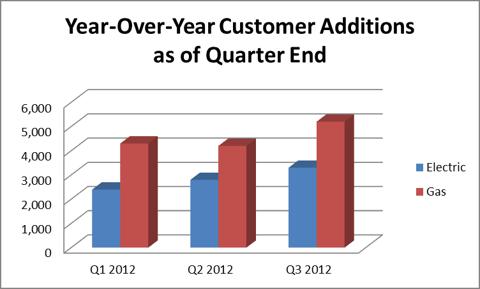 Click to enlarge
Source: Wisconsin Energy's last three earnings releases
So far in 2012, we can see Wisconsin Energy continuing its strong absolute and relative performance. WEC generated 2.8% growth in year-over-year EPS growth in Q1 2012 versus Q1 2011, despite facing the warmest winter in over 122 years. In Q2 2012, WEC followed that up by growing its EPS by nearly 11% on a reported basis and 25% on a continuing operating basis. WEC's Q2 EPS of $0.51 exceeded the $0.44 estimate by the analyst community for Q2 2012 and WEC's Q3 2012 EPS was $0.67 versus the $0.57 analyst consensus estimates. Revenue declines for the quarters and the first 9 months of 2012 were offset by lower operating costs, interest expense and a 1.5% reduction in average outstanding shares. Operating costs were sharply lower due to reduced fuel and gas costs, as well as operations and maintenance expense savings.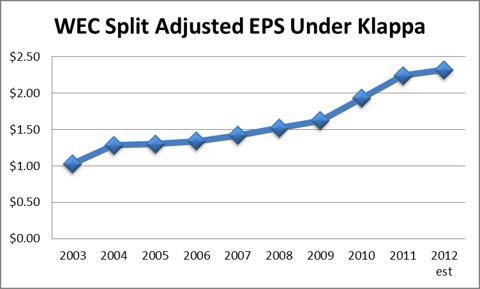 Click to enlarge
Source: Wisconsin Energy 2003-2011 Annual Reports and Saibus Research estimates
Wisconsin's Unemployment rate was 7.3% in September, and although this was well below the national average, it has increased from 6.8% in March. Residential revenues declined by 1.2%. Energy Sales to WEC's largest commercial and industrial users, excluding the volatile iron mining sector, declined by 1.8% versus the prior-year period because two of WEC's largest customers began using their own self-generated electricity. Sectors showing strength in the quarter included chemicals, metal fabrication and heavy equipment manufacturing.
Natural gas prices have bounced off the historical lows achieved in April 2012. Spot prices closed at $3.28 per MMBTU on January 29th, up from April's low of $1.89. The extended low price environment for natural gas has hurt WEC competitor to the south Exelon, which generates the majority of its revenues and operating income from the wholesale power market. WEC's Power the Future Program called for the company to reduce its 70%+ reliance on coal to an expected 50% in 2012. The new capacity that WEC added was almost equally balanced between natural gas and coal. WEC will reduce its coal burn by about 16% in 2012 and increase its natural gas burn by 108%. WEC's Port Washington natural gas units increased its capacity factor utilization from 20% last year to 59% this year.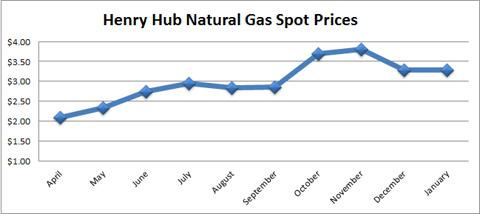 Click to enlarge
Source: Bloomberg LP
Wisconsin Energy's board authorized a $300M share repurchase program last year. Some $100M worth was repurchased last year and $60M in Q3 2012 as WEC took advantage of a pullback in WEC's share price during the months of August and September. Wisconsin Energy's share price has seen strong performance this year partly because of its strong operating performance and because of the demand for dividend paying securities as income-bearing alternatives to the poor interest rates on fixed income securities. As we previously noted, Wisconsin Energy adopted a dividend policy that seeks to reach a 60% payout ratio in the year 2014 and 65-70% in 2015-17. This will enable double-digit dividend growth over the next few years and enable its dividend yield to catch up with its regulated utility distribution peers.
Wisconsin Energy's capital investment budget for 2012-2016 is expected to remain at $3.5B, which is less than the $4.8B spent during the previous five years. This reduction is due to the fact that capital investment needs have declined due to the conclusion of the Power the Future Program. We reiterate that WEC is in a good position to take former Exelon ComEd customers and make them into We Energies customers. WEC reported that new services installed for electric customers were up 9.8% in the first nine months of 2012 as compared to the first nine months of 2011. Connections of new natural gas customers rose by nearly 14% in the first nine months of 2012 compared with the same period in 2011.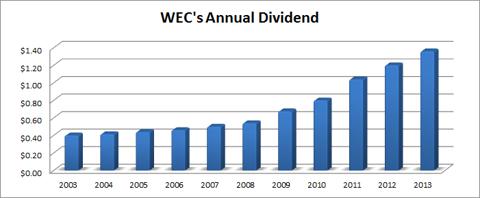 Click to enlarge
Source: Wisconsin Energy IR Dividend History Section
Other notable events include the following:
WEC's former CFO and EVP Frederick Kuester has retired from the company in early January. We remember that Kuester played an integral part in WEC's Power the Future power generation construction program.

WEC's SVP and Chief Administrative Officer Kristine Rappé will be concluding her employment with WEC at the end of February in conjunction with an organizational restructuring.

WEC added Henry Knueppel to its board beginning in February. Knueppel was the Retired Chairman and CEO of Regal Beloit and effectively serves to replace Frederick Stratton, who had to retire last year due to WEC's mandatory retirement rules for non-employee directors.

After eliminating Wisconsin's structural budget deficit in 2011, Scott Walker has doubled down on his fiscal reforms by proposing an income tax reduction for Wisconsin taxpayers.

We compare Wisconsin's plans to cut taxes with Illinois raising taxes in 2011. It appears that Illinois's record tax hikes in 2011 have failed to deal with Illinois's poor fiscal decisions and prospects.
In conclusion, we are pleased with the performance of Wisconsin Energy. We expect continued EPS and dividend growth from the company. We believe utilities are fairly valued but Wisconsin Energy is our utility of choice. We can see why its performance has significantly exceeded the SPDR S&P 500 Utilities Index ETF (NYSEARCA:XLU) since the XLU's inception in 1998. While we expect WEC to outperform the utility sector overall due to the favorable macroeconomic environment created by Scott Walker, we believe that investors should not expect WEC to repeat its 240% outperformance against the XLU that it achieved from December 1998 to August 2012. Still, Wisconsin Energy is our top choice in the utility sector because it has been widely recognized for reliability amongst Midwestern utilities and we believe that the Midwest will see an improved economic environment. We also believe that Pat Keyes will be a capable successor as EVP and CFO to the retiring Rick Kuester.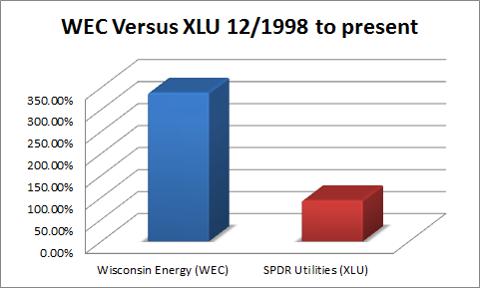 Click to enlarge
Source: Morningstar Direct
Disclosure: I am long WEC. I wrote this article myself, and it expresses my own opinions. I am not receiving compensation for it (other than from Seeking Alpha). I have no business relationship with any company whose stock is mentioned in this article.
Additional disclosure: This article was written by an analyst at Saibus Research. Saibus Research has not received compensation directly or indirectly for expressing the recommendation in this article. We have no commercial or pecuniary relationship with any company whose stock is mentioned in this article. Under no circumstances must this report be considered an offer to buy, sell, subscribe for or trade securities or other instruments.