Recent news surrounding Sprint (NYSE:S) concerns its offer for the remaining shares of Clearwire (CLWR). Sprint has offered to buy the remaining shares of Clearwire that it does not already own, almost 50% of Clearwire, for $2.97 a share. This is obviously a very big move for Sprint and could represent another sign of the company's turnaround that began with last fall's announcement by Japan's Softbank (OTCPK:SFTBY) to purchase a 70% share of Sprint for $20 billion. Gaining complete control of this spectrum would be a significant step toward Sprint's recovery, but this come with risks. Below, I will address the benefits and risks for Sprint and provide my recommendation to investors.
Spectrum, Spectrum, Spectrum....
A strong motivation in Softbank's decision on Sprint was Sprint's investment in Clearwire. The latter controls a broad band of spectrum that is fast becoming a scarce commodity for wireless providers. Furthermore, Clearwire's spectrum is the same 2.5 Ghz which Softbank offers in Japan, spectrum that is much faster than anything offered by U.S. carriers, including Verizon (NYSE:VZ) and At&T (NYSE:T) the two members of the U.S. wireless duopoly. With the deal, Sprint would own more spectrum than any wireless carrier. In a study conducted in 2010, Clearwire licensed 133 MHz of spectrum while Sprint licensed 51 MHz. Combined, this would give Sprint more than twice the spectrum of either Verizon's 83 MHz or AT&T's 77MHz.
There is a problem with Clearwire's spectrum, however. It does not travel long distances very well, and it has problems penetrating walls and other structures. There are also very few devices that use the spectrum. But that appears to be changing. China Mobile (NYSE:CHL) has decided to build 20,000 cell towers as a test of 2.5 Ghz while Qualcomm has announced it will include 2.5 Ghz on its multi-band chipsets. All good news for companies, like Clearwire, owning the 2.5 spectrum. In addition, wireless providers are moving towards "mini-towers" to provide better coverage and ease traffic congestion on the large cell towers. These small cell towers can sit on the side of buildings or elsewhere in urban environments and connect more people than the large cell towers have been connecting. The 2.5 Ghz spectrum works very well with these small towers since the band can carry more data and are prone to far less interference.
As stated earlier, acquiring total control over this spectrum coverage would propel Sprint into a leadership position in the domestic wireless market over the coming years. The future growth of the company would be tremendous. There are pitfalls, however, that investors should be aware.
Lack of 2.5 Ghz Devices
The first big problem is that there are very few devices that use the 2.5 Ghz frequency. As pointed out earlier, that may begin to change as manufacturers begin making devices that can use various bands of spectrum including 2.5, but currently the spectrum does not have much use. Nonetheless there are reasons to believe that will change. Softbank owns the 2.5 spectrum in Japan and the spectrum covers China and India. As the move towards mini-towers increase it seems likely that 2.5 will become the preferred spectrum, and with China's 20,000 2.5 Ghz tower build up it is likely that Asian markets will be the first to offer a market for 2.5 devices. As this happens, it stands to reason that device manufacturers will work on manufacturing devices that use the spectrum. Once this happens the spectrum becomes tremendously valuable. The economics of a switch to 2.5, or at least the switch to devices that can use multiple bands of spectrum, makes economic sense.
Potential Lawsuits
The most immediate concern for Sprint shareholders is the possibility of its Clearwire buyout being held up by lawsuits. Crest Financial, which owns roughly 6% of Clearwire, has filed a lawsuit seeking to stop Sprint's attempts to buy all of Clearwire. The basis of the lawsuit being that the offer to buy Clearwire is a gross undervaluation of the company. It is true that in one sense the spectrum owned by Clearwire is more valuable than the $2.97 per share that Sprint is offering. But currently the spectrum is rather useless. Furthermore, Clearwire's previous 52 week high was just under $2.70 a share and that was in October immediately after Softbank's announcement that it was buying a 70% stake in Sprint. Prior to that Clearwire's yearly high was under $2.5 a share in March.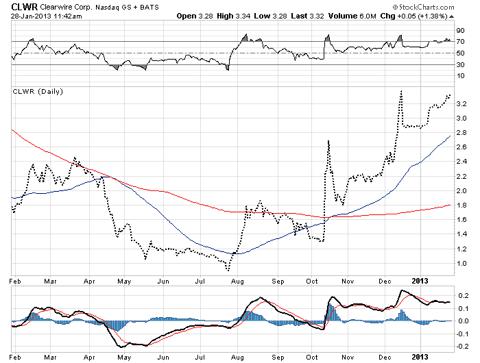 Given the stock price of Clearwire on Monday, January 28, there appears to be an argument that Sprint is offering a fair value for the company. The lawsuit is going to be a very important one for the future of Sprint. Being able to acquire the spectrum Clearwire currently owns would instantly propel Sprint into a major player in the wireless world.
Disclosure: I have no positions in any stocks mentioned, and no plans to initiate any positions within the next 72 hours. I wrote this article myself, and it expresses my own opinions. I am not receiving compensation for it (other than from Seeking Alpha). I have no business relationship with any company whose stock is mentioned in this article.