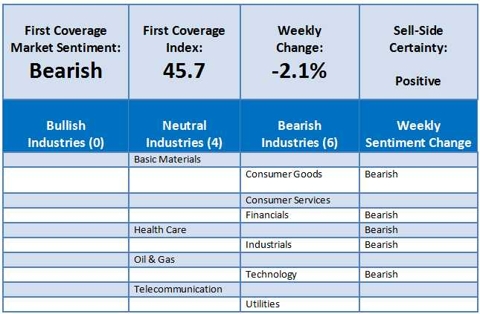 And, so it starts.
It's said that every journey begins with one step. Every building begins with one brick. And every sentiment shift begins with one small move.
While last week's 2.1% decline in the First Coverage Sell-Side Sentiment indicator isn't something to make us think the sky is falling, we have been watching this indicator long enough to know when something feels just a little bit off.
Last week, we talked all about how the sell-side was comatose; while the world rotated off its axis over the last quarter of 2008, they got seriously bearish very early in the year and then passed the last three months in the equivalent of a staring contest with themselves…no blinking, no movement. There were times when we wanted to hold a mirror up to the mouth of the collective sell-side to ensure we still were getting a pulse.
But now…while we don't see the start of a trend, we do see the start of something. Unfortunately, it's probably not the start of what we're all hoping for.
Heading into this week, while the market heaved and buckled, giving up the start of a new year rally, the sell-side wasn't shy about finally taking a stand and telling their buy-side clients that this one might be for real. Like the tremors felt recently at Yellowstone National Park, causing concern amongst a few (Google (NASDAQ:GOOG) it if you haven't heard…scary stuff!), the sell-side has awoken to the fact, and is relaying to their clients, that this market remains a live volcano that still has the capability and power to erupt even though it hasn't burnt us in a few weeks.
We're experiencing an overall market decline in sentiment by more than 2%, with no bullish industries by sentiment and 50% of industries suffering a meaningful short-term spike in bearish sentiment. If that's not enough, safe havens like Wal-Mart caved in to the reality that even those who shop for bargains eventually stop shopping when they run out of money.
The current sentiment of the sell-side shows a lot of similarities already with the story we are all too familiar with from last year. For example, the graph below depicts the top 100 and bottom 100 stocks by sentiment broken out by industry.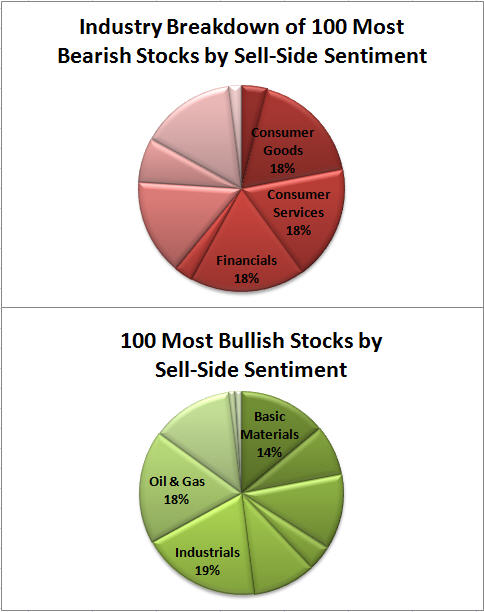 Bears still are living off the avails (or lack thereof) of the Consumer Goods, Consumer Services and Financial stocks, which currently make up almost 55% of the bottom 100 stocks. At the same time, the bulls, wherever they may be, are suggesting if you have to allocate capital that you do so in tangibles like Oil & Gas, Industrials and Basic Materials.
So, is the sell-side beginning 2009 by already predicting a year that seems unfortunately familiar to 2008? It's too early to tell based simply on this small move. At the very least, they seem to be telling the buy-side bulls, who were getting ready to declare a bottom and a rally after the first few days of the new year, to hold back on the victory dance.