Biogen Idec (NASDAQ:BIIB) is a biotechnology company that develops, manufactures and markets therapies for the treatment of neurodegenerative diseases, hemophilia and autoimmune disorders. Biogen developed an array of products, among the most well known are Avonex, Tysabri and Rituxan. The company's shares trade on the NASDAQ with a market capitalization of $35.49B and 236.6M shares outstanding.
Biogen delivered its fourth quarter and 2012 full-year results on January 28 and those were strong. Fourth quarter revenues grew 7 percent to $1.4B over the same period last year, while earnings per share decreased somewhat in the quarter primarily due to a retroactive tax adjustment amounting to about $0.12 per share. More importantly, fiscal 2012 revenues continued to show strong rates of growth increasing 9.3 percent over 2011 revenues and amounting to over $5.5B. Management expects the strong growth to persist going into 2013, expecting revenues to grow by 10 percent as new product launches are expected later in the year.
Annual Revenues in Millions and Annual Revenue Growth Rate: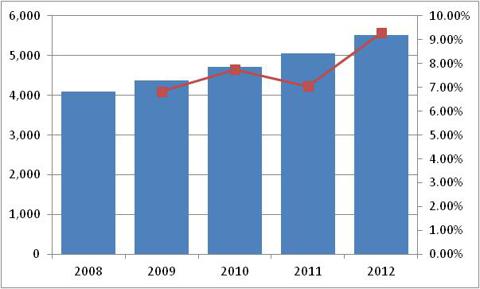 The company's Avonex treatment, which is approved by the FDA to treat relapsing forms of multiple sclerosis (MS), generated about $2.9B, increasing 8 percent over 2011 and is the company's top revenue generator. Tysabri, which is also used in the treatment of MS, generated the company revenues amounting to about $1.6B and increasing 8 percent over 2011. Finally Rituxan, part of a joint business arrangement, saw full-year 2012 revenues of $1.1B with a strong growth rate of 14 percent over 2011.
2012 Revenue Composition in Billions: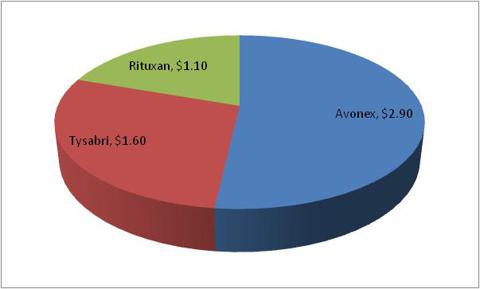 More importantly to shareholders who essentially enjoy the fruits of the bottom line, earnings per share came in at $5.76, an increase of 14.3 percent over 2011 earnings per share of $5.04. Like revenues, earnings are expected to continue the strong growth trajectory into 2013 with management estimating 2013 earnings per share to be between $6.45 and $6.55. Using the lower end of the range, shareholder will enjoy a 12 percent growth in earnings if expectations are realized.
Annual Earnings Per Share & Growth Rate: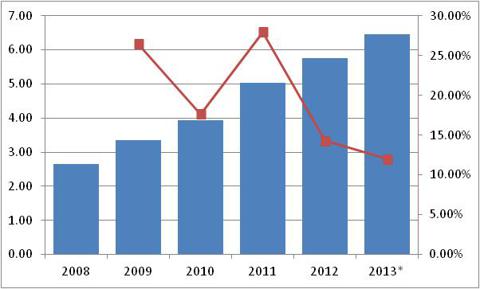 *Company low end estimate
The strong performance and healthy guidance figures illustrate the investment case for Biogen Idec. Prudent investors, however, may be cautious as the company is currently trading at 26.5 times 2012 earnings. Nevertheless, this multiple is justified given the projected growth and the cash currently held by the company. For instance, when using 2013 estimated earnings per share, the company's shares trade at a 23.8 earnings multiple on the low end of the range and a 23.5 multiple on the high end of the range mentioned earlier.
Since cash and marketable securities can be stripped when calculating the company's earnings multiple, one can adjust the multiple by striping the $3.743B in cash and marketable securities held by Biogen to arrive at an earnings multiple of 21.4. Furthermore, assuming the company's cash and marketable securities will grow by the same rate of 20 percent in 2013, as it did in 2012, the multiple shrinks further to 18.5 times 2013 earnings.
In conclusion, prudent investors who dig deeper into the company's financials and factor the growth in the company's cash will discover that the company is not as expensive as it appear to be. Furthermore, the strong performance illustrated by Biogen in 2012 and the healthy guidance given by management further shows that the company can sustain double digit earnings and revenue growth for the near-term future. Given these elements, Biogen presents an interesting investment, particularly if the company's share price corrects somewhat in the near-term.
Disclosure: I have no positions in any stocks mentioned, and no plans to initiate any positions within the next 72 hours. I wrote this article myself, and it expresses my own opinions. I am not receiving compensation for it (other than from Seeking Alpha). I have no business relationship with any company whose stock is mentioned in this article.