We are seeing more and more news to make us bullish, but we are trying to focus upon those issues which could catch many market participants off guard in their moments of irrational exuberance (which does affect us all from time to time). There is a lot to like in the current economy, but there is also a lot which one should fear such as the debt ceiling battle which will heat up in Washington soon enough and the issue of jobs. Regarding Washington, there is little we can do about that situation. It seems one must simply let that virus which is politics burn out and simply run its course while hoping that the actions taken do not result in a maimed or dead patient. Looking at the jobs numbers we will get a look today at how that segment of the economy is doing today and tomorrow, but our view is that we can have a strong jobs market with jobs created but the true unemployment rate shall remain high as there is an unrecorded number of people out there seeking work.
Chart of the Day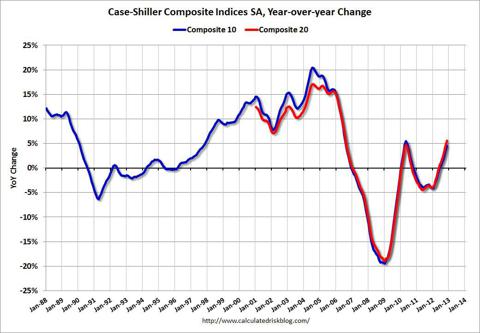 Click to enlarge
Chart courtesy of the calculatedriskblog.com
We have economic news due out today, and it is as follows (these are the consensus estimates):
MBA Mortgage Index (7:00 AM EST): N/A
ADP Employment Change (8:15 AM EST): 175k
GDP - Adv. (8:30 AM EST): 1.0%
Chain Deflator - Adv. (8:30 AM EST): 1.6%
Crude Inventories (10:30 AM EST): N/A
FOMC Rate Decision (2:15 PM EST): 0.25%
Asian markets finished higher today:
All Ordinaries - up 0.17%
Shanghai Composite - up 1.00%
Nikkei 225 - up 2.28%
NZSE 50 - up 1.13%
Seoul Composite - up 0.43%
In Europe markets are mixed this morning:
CAC 40 - down 0.00%
DAX - up 0.01%
FTSE 100 - up 0.22%
OSE - down 0.03%
Technology
Amazon (NASDAQ:AMZN) reported earnings last night and although their EPS of $0.21 was well off of analysts' expected $0.28 EPS number the shares still rallied. Making this all the more impressive is the fact that the company guided Q1 Revenues to be in the $15-16.6 billion range which was short of the expected $16.8 billion analysts had previously predicted for the upcoming quarter. Revenues for the 4th Quarter were up by 22% and margins continued to improve with the gross operating margin beating the number analysts were expecting by two whole percentage points. Regardless of the margin expansion one simply has to shake their head at this story as investors continue to pump up shares due to revenue growth, entry to new fields and razor thin margins improving. Eventually a reality check will occur and shares will correct or we will see the shares grow into their valuation where the price becomes relatively stagnant or falls modestly as profits catch up to justify the current price. One thing is apparent to us right now and that is something has to give. Shares finished up 9% in after hours trading yesterday following the company's quarterly results.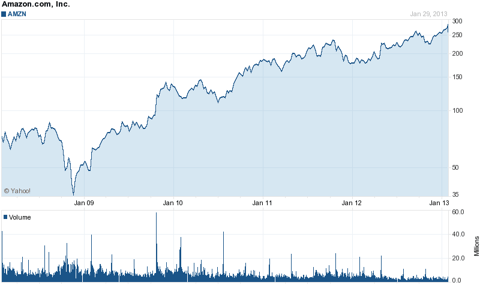 Click to enlarge
Chart courtesy of Yahoo Finance.
We are starting to see more and more stories (see this Bloomberg article here) regarding the possibility of Sprint having to raise their offer to Clearwire (CLWR) shareholders due to the DISH offer. In our view the Sprint offer is superior as it offers Clearwire shareholders an absolute deal not contingent on financing or tied to any of the other parameters which DISH seems to have laid out. It would seem silly to us to sell part of the company's assets to enable another competitor into the industry while at the same time spiting your majority shareholder who wants to buy the whole company. It does seem however that Sprint will probably need to sweeten the bid just a bit more in order to seal the deal.
We would note however that those who think like Crest Financial are living in some alternate reality if the thinking is that, "…Clearwire simply has too much spectrum, of too high a value, to be acquired altogether by Sprint or, for that matter, AT&T, or Verizon." (Quote from this article here, which was taken from the firm's petition filed with the FCC.)
Retail
Shares in JC Penney's (NYSE:JCP) rose $1.79 (9.31%) yesterday to close at $21.01/share after the retailer announced that they would in fact be bringing back sales events in a limited capacity. The sales, as currently planned, will number fewer than 100 events over the year and be focused around holidays. This is simply another instance where the company has back-tracked on its stance of sales and at this point the consumer has to be pretty darned confused. Usually when one thinks of a retailer they know exactly what they are going to be getting when they go to the store, here one has to wonder if it is everyday low prices or a sales event. For readers wondering about the strength of the rally on this seemingly pointless news, well its not really, especially when one considers how badly sales have fallen over the past few quarters. With that said, the move was a little exaggerated due in part to the large short interest which had built up to around a quarter of the shares outstanding. It was a crowded trade which we bet after yesterday got a bit less crowded. In the current market there are not a lot of opportunities for bears so although they were chased off yesterday a bit we would expect them to reenter positions due to a lack of compelling stories out there.
Biotechnology
Keryx Biopharmaceuticals (NASDAQ:KERX) saw shares rise $2.3025 (38.01%) to close at $8.36/share on volume of 60.1 million shares yesterday. That was after the huge rise the shares had on Monday after their Phase III Trial results were released. The company's shares received multiple price target increases yesterday with both MLV & Company and Ludenburg Thalmann raising their price targets to $15/share from their previously stated $5/share price targets. After the bell the company did announce plans to raise $55 million by means of a secondary with underwriters having the option to purchase 15% of the total shares sold in the form of an overallotment within 30 days of the close of the deal. This money should be plenty to bridge the gap from here to whenever the company can sign commercialization deals with larger companies to distribute its drug in the US, EU and maybe even Japan. We still think that a pullback is in order, and this might be the news to do it.
Homebuilders
Readers know our opinion on the housing market and the bullish outlook we have for nearly all things related to housing. With the recent news that home sales were down not due to a lack of interest in purchasing housing but simply due to a lack of supply and inventory coupled with the news yesterday that housing prices continue to rise in the 20 cities in the Case-Shiller 20-City Index doubters have to buy into the bull story here and recognize that we are under built. It took a while to clear out the massive inventory we had built up and get market forces to correct to bring more buyers into the market which also has helped to drive down ratios such as the months of inventory ratios, but now we are in that proverbial sweet spot for homebuilders where there have not been enough homes built in the past few years to keep up with the natural rate of growth which is now rushing to the market to buy. This is why we are seeing such strong numbers at homebuilders and DR Horton (NYSE:DHI) is a direct beneficiary of this.
The company reported earnings which more than doubled with orders up almost 40%. Even more bullish is the fact that the company's contract backlog now sits at $1.76 billion after rising 80%. The company is the largest homebuilder in the US by volume and is a great proxy for how the entire market is doing as they have the exposure to the entry level which helps us see how these new entrants to the market view the economy. Remember, for the rest of the housing market to do well it is required that a strong first time or entry level market exist to allow others to sell their homes in order to upgrade.
Disclosure: I have no positions in any stocks mentioned, and no plans to initiate any positions within the next 72 hours. I wrote this article myself, and it expresses my own opinions. I am not receiving compensation for it (other than from Seeking Alpha). I have no business relationship with any company whose stock is mentioned in this article.