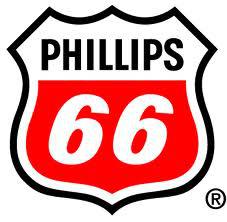 Phillips 66 (NYSE:PSX) announced a terrific Q4 and full year 2012 earnings this morning. The EPS results continued a trend that has caused the stock to double since its spin-off from ConocoPhillips (NYSE:COP) last spring.
Adjusted earnings came in at $2.06/share. This compares to an average street estimate of $1.61/share for Q4. S&P's earnings estimate was $1.51/share.
The earnings included a $564 million impairment charge related to the Melaka Refinery investment. Including the impairment, earnings were $1.11/share.
The stock is currently up $2.12 in pre-market trading, to $62.
PSX's earnings announcement came a day after Valero's (NYSE:VLO) superb earnings which juiced the entire refining sector on Tuesday: VLO was up +$12.8%, Holly Frontier (NYSE:HFC) up +5.32%, and Phillips 66 up +4.9%.
PSX data by YCharts
The domestic refiners have proven the best way to play the emerging shale plays in the mid-continent over the past 12 months. Bakken producers appear to be victims of their own success. High production growth, outstripping pipeline takeaway infrastructure has led to low price realizations. The spread between Brent and WTI has been manna from heaven for the refiners and they have not wasted the opportunity. PSX was one of the first companies to recognize the advantage of railroad transport of advantaged feedstock like Bakken crude. Warren Buffett took notice, plunked down a sizeable investment, and PSX hasn't looked back since. As I reported in a previous article, Bakken Crude: The Refiner's Top Choice, Bakken crude is not only cheap, but it is of such high quality it results in higher refined output per barrel. Phillip's strategy is to increase the use of advantaged feedstock, including low priced Canadian heavy.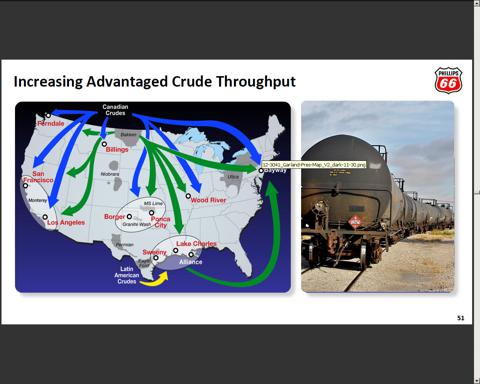 Click to enlarge
(Click to enlarge)
Rail transport is a big part of that strategy. I kept seeing so many trains in PSX's slide shows, it led me to write the article: Why Buffett Should Buy Phillips 66. That said, using rail to increase advantaged feedstock throughput aren't the only way to improve refining results. The company is also focused on increasing total throughput and growing its refined product export capacity.
PSX is not a one-trick pony. Many forget COP decided to include the midstream and chemical units in the PSX spin-off. In the Midstream business, the company announced its intentions to form a Master Limited Partnership ("MLP"). The IPO is expected in the 2nd half of 2013.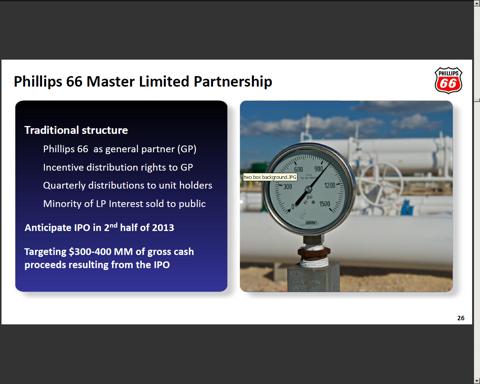 Click to enlarge
(Click to enlarge)
The chemical business, Chevron Phillips Chemical Company, or "CPChem", is a 50-50 joint venture between Chevron (NYSE:CVX) and Phillips 66. It is the #1 performer, measured by the EBITDA/average assets metric, in its entire peer group. The unit is benefiting from very low domestic natural gas prices which puts the company at a distinct advantage with its foreign competitors.
Could Phillips 66 actually see its stock trade to the auspicious $66 dollar mark and overtake its parent company COP's stock price ($61.66)? It could happen this week. That said, COP's earnings are due out after the close and I am expecting a good quarter from them as well. It will be fun to see which stock ends the week higher. No doubt there is some good natured competition between the managements of the mothership, COP, and what some called the red-headed step child, PSX. Looking at PSX's stock chart above, it's clear PSX has been nothing but green for investors.
I am expecting more dividend increases in 2013. The company raised the dividend twice in 2012, in October and again in December. It also expanded its share repurchase program by $1 billion in December, for a total of $2 billion. Until the spread between Brent and WTI narrows, this is a stock you want to own.
The company's earnings conference call is today at 11am EST. You can register for the event here.
Disclosure: I am long COP, PSX, CVX. I wrote this article myself, and it expresses my own opinions. I am not receiving compensation for it (other than from Seeking Alpha). I have no business relationship with any company whose stock is mentioned in this article. I am an engineer, not a CFA. Please do your own research and contact your investment adviser. I am not responsible for investment decisions you make. Thanks for reading and good luck!