By Brendan Gilmartin
Facebook (NASDAQ:FB) is scheduled to report Q4 2012 earnings after the close of trading on Wednesday, Jan. 30. The actual results are expected to come through at approximately 4:05 p.m. ET, with a conference call to follow at 5:00. This is Facebook's third earnings release since its IPO last May and could have a direct impact on LinkedIn (NYSE:LNKD) and online game maker Zynga (NASDAQ:ZNGA).

Outliers and Strategy
Facebook is expected to report non-GAAP EPS of $0.15 per share for the Q4 2012 period. Estimates range from $0.12 to $0.19 (source: Yahoo Finance).
Revenues for the Q4 2012 period are forecast to come in at $1.53 billion, the midpoint of analyst estimates of between $1.41 billion and $1.70 billion.
Last quarter, Facebook shares advanced after non-GAAP EPS of $0.12 was slightly above consensus, while revenues of $1.262 billion were nearly 3% above consensus.
Recent News
Jan. 28: Raymond James upgraded Facebook from Market Perform to Outperform, with a price target of $38, according to a post on Barron's Online. The firm sees Facebook posting non-GAAP EPS of $0.18 on revenue of $1.57 billion, comfortably ahead of consensus views, based on steps to monetize mobile use, a strong pickup in ad spending, and growth in international markets with Japan, Brazil, and Europe showing promise. The firm also raised estimates for FY 2013.
Jan. 22: Following a positive report on comScore.com, Oppenheimer reiterated an Outperform rating and $34 price target on Facebook, according to Barron's Online. The positive view is based on the positive trends in mobile. Similarly, Cantor Fitzgerald reiterated a Buy rating and a $33 price target, as the company widened its lead in the mobile space.
Jan. 22: According to a blog post on comScore.com, Facebook finished ahead of Google Maps as the No. 1 U.S. mobile app in 2012. The same report showed Facebook had 23% of the overall mobile apps by share of U.S. time spent, implying the company's mobile strategy is bearing fruit.
Jan. 15: Facebook unveiled its "Graph Search," allowing users to establish new connections through dynamic search features on content that's been shared through the platform.
Jan. 4: Goldman Sachs reiterated a Buy rating and $35 price target on Facebook, citing monetization opportunities, according to a report on Barron's Online. In particular, the firm cited Facebook's new "Gifts" feature.
Technical Review
Facebook is up a staggering 60% from the mid-November lows. After bumping up against the overbought 70-level, the Relative Strength Index receded ahead of earnings, while the MACD is also signaling a pause in the momentum. Should earnings disappoint, look for support near the 20-day SMA at $30.00, with downside risk to the 50-day SMA near $28.00. Conversely, the recent highs near $32.50 are the first point of resistance, with room to run toward $35.00 and beyond if the earnings significantly top consensus views.
Click to enlarge image.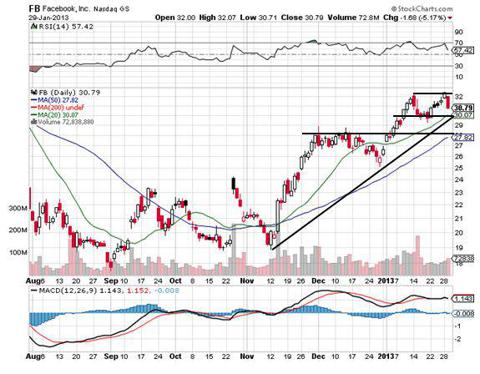 Summary
It's been a wild quarter for Facebook, with the shares climbing back toward the IPO price from last May amid renewed optimism over the company's mobile strategy, its position as one of the most widely used smartphone apps, increased efforts to monetize the platform, and increased investment in areas such as the "Graph Search." An improving macroeconomic backdrop is also fueling growth in Facebook, with increased ad spending in North America, positive adoption of the "Gifts" feature, and international expansion. Against this favorable backdrop, look for Facebook to deliver results at the upper end of the Street guidance for investors to continue to "like" the shares.
Disclosure: I have no positions in any stocks mentioned, and no plans to initiate any positions within the next 72 hours. I wrote this article myself, and it expresses my own opinions. I am not receiving compensation for it (other than from Seeking Alpha). I have no business relationship with any company whose stock is mentioned in this article.
Disclaimer: By using this report, you acknowledge that Selerity, Inc. is in no way liable for losses or gains arising out of commentary, analysis, and or data in this report. Your investment decisions and recommendations are made entirely at your discretion. Selerity does not own securities in companies that they write about, is not an investment adviser, and the content contained herein is not an endorsement to buy or sell any securities. No content published as part of this report constitutes a recommendation that any particular investment, security, portfolio of securities, transaction or investment strategy is suitable for any specific person.