Marathon Petroleum Corp. (NYSE:MPC) reported $2.26 or 7.6% more in adjusted Q4 EPS versus $2.10 average analyst estimate this morning, on revenues of $20.7 billion versus an average estimate of $19.07 billion or 8.5% more.
The stock is at $73.55 up $1.58 or 2.2% in light premarket trading.
Phillips 66 (NYSE:PSX) also reported, with adjusted Q4 at $2.06 versus an estimate of $1.68, a beat of 22.6% (they had to write-off a refinery so headline EPS was $1.11). That stock is up $2.12 or 3.5% in premarket.
Valero (NYSE:VLO), which I wrote about yesterday, is up 48 cents to $44.25 after being up almost 13% yesterday.
HollyFrontier (NYSE:HFC) is up $1.10 or 2.2% at $51.60.
Northern Tier Energy (NYSE:NTI) is up 29 cents at $25.39 or 1.2%.
At this point, these stocks, which I recommended on Jan 9, are up 18%, 21.8% and 1.2%, respectively.
I think these stocks are due for a breather, as is the whole market, with the weaker than expected (0.1%) U.S. Q4 GDP number announced this morning.
More timely is that the WTI and Brent oil prices have been rising straight up since December 10 last year, and I think these higher benchmark oil prices have to be compressing crack spreads in some cases.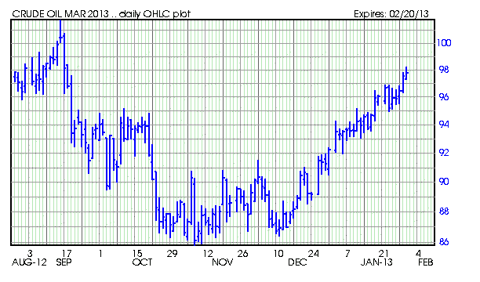 I also note that WCS Canadian heavy oil has rallied to $64.88 CAD/bbl versus $51-52 earlier in the month.
There is some oversupply in the mid-Continent gasoline market. Group 3 conventional gasoline is trading 17 cents under NY Harbor futures.
Group 3 ultra low sulfur diesel is 13 cents under the near-term futures contract.
Therefore, I think you should take some (maybe not all) profits on MPC and HFC at some point today, my guess would be sooner.
There has been some debate in the notes to my previous Seeking Alpha articles about the possible size of the NTI Q4 cash distribution. I am being conservative and believe it will be less than $2 per unit, but more than $1. The units have broken out of the trading range below the recent unit issue price of $24.46.
I think these units could see some headwinds but ultimately go higher as the distribution date (February 11) approaches.
Hold if you are in it for income and don't mind the volatility. Northern Tier Energy is taking down its only refinery for a major once every six years turnaround in April. That would impact the Q1 or Q2 distributions depending on how the board decides to reserve for the estimated 50 cents per unit cost.
I will be listening to the Marathon and Phillips 66 earnings conference calls at 10am and 11am respectively today, to glean more information.
I'm a little disappointed in Marathon's single digit refining and marketing margin of $9.17/bbl versus $13.12 in Q3. However, the latter was boosted by a gain from the realization of $183 million in gains from the Minnesota refinery sale in 2010 (to Northern Tier).
I would like to correct my comment in yesterday's article on the refiners - Marathon's Detroit heavy oil upgrade project was at full capacity in mid-December, not mid-November, so little of that operation's results would have been in the Q4 since it went down for the hook-up since September. Next (Q1) should include good crack margins and cash flow from Detroit. Sometimes I rush the article in the morning, so you get in on a stock at the opening.
In this case, it was wise to be out with material on the refiners at the opening, as opposed to the afternoon or the close like some others, when the stocks had already moved up multi-point.
Nevertheless, company-wide refinery throughput was impressive at Marathon, at 1.448 million bbls/day and refined product sales of 1.686 million bbls/day.
The Speedway retail gasoline and convenience store operation had a nice 14.24 cent margin per gallon, and delivered $77 million in operating income, versus $76 million in the previous quarter.
The pipeline division including Marathon's interest in MPLX delivered $72 million in operating income, versus $52 million in the previous quarter.
Marathon banked cash during the quarter, and ended it with $4.9 billion versus $3.4 billion on September 30. They added $2.0 billion to their $650 million remaining share buyback program, which now totals $2.65 billion and expires February 2014.
I still believe the BP Texas City refinery acquisition should drive MPC higher, now estimated by Marathon to close on 1, possibly to $90-100 US by year end. But it has had a good run in January.
Time to take some profits.
Disclosure: I am long MPC. I wrote this article myself, and it expresses my own opinions. I am not receiving compensation for it (other than from Seeking Alpha). I have no business relationship with any company whose stock is mentioned in this article.