Best Buy (NYSE:BBY) chairman Richard Schulze was forced to step down from the company he founded last May. At the time, CEO Brian Dunn was found to be having an inappropriate relationship with a female employee. An audit committee found Richard was aware of the situation, and failed to report it to the board. For this sin, he was banished.
He did not go quietly into the night. Only one month later, rumors started surfacing that he was pursuing a buyout that would take Best Buy private. Confirmation arrived in August with a public announcement.
The initial bid had some strong points. Richard still owned 20% of the company and was willing to bring at least $1 billion of his own money to the table. The rest of the funds would have to come from private-equity firms. The board approved his pursuit of the company, and allowed for the release of confidential financial information to interested parties.
Private-equity turned out to be an unwilling dance partner. At the time, a buyout price range of $24 to $26 dollars per share was suggested by Richard himself. This would have made the deal total $9.5 billion on the high side. The estimated breakdown for the higher total was $7 billion in debt and $3 billion in equity. Debt at these levels means decreased returns for any potential investors.
Even the company's existing debt load is becoming a challenge. Earnings per share has dropped by 36% over the last year. Moody's has even downgraded the existing debt to Baa2. It is a credit rating near junk status. These are dark times indeed, but there is no need to despair.
Two developments in December and January have breathed new life into the deal. In December, Richard was given additional time to raise financing. The new deadline is between February 1st and February 28th. The 28th is a magical date when Q4 earnings are announced. January's good news is that current CEO Hurbet Joly may have started a company turnaround over the holiday shopping season.
The holiday strategy was to match online retailers price for price on every item. This was to combat online retailers' price advantage and overcome the show-rooming trend. (Show-rooming is when a customer visits a brick-and-mortar store to view the product, and then buys it online for the cheapest price.) The holiday sales figures released in January looks to have justified the strategy. It has been announced that Best Buy will continue the policy post holiday season in an attempt to capitalize on its success.
However, this alone is not enough to save the company from irrelevance. Old fashioned brick and mortar electronic retail stores like Best Buy should be looking at the segment's leader: Conn's (NASDAQ:CONN). Conn has reduced emphasis on electronics, and shifted focus to furniture, appliance, and mattress sales. It is a strategy that has benefited Conn's bottom line and stock price over the past year.
Why these items would be more popular to buy in person, is a complete mystery to me. I personally know people who have bought these things online. A likely explanation is that Conn extends financing to customers to help them afford these purchases. It's a spoonful of sugar to help the purchase go down.
Overall, betting on a successful buyout bid by Richard is pretty risky at this point. The stock fell to a low of $11.20 in intra-day trading in December. It was 10 days after the extension of the deadline had been announced. Since then, it has crept up around $16 as shown in the chart below.
Price and Volume chart provided by Yahoo Finance.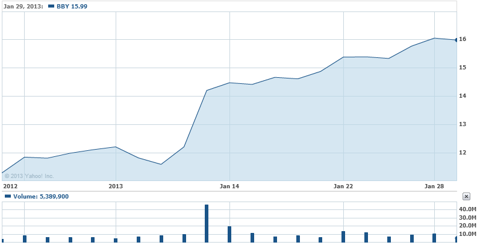 The upward momentum was primarily generated by the better-than-expected holiday sales announcement. The day of the announcement can be seen in the chart. It is the day trading volume spiked over 40 million shares. Clearly, some think the odds of getting financing have increased with the good holiday sales news.
It appears to me the long-term outlook for Best Buy is poor. Those who wish to take a short term, speculative long stock or options position could be well rewarded if Richard can deliver on his $24 to $26 dollar per-share price range in the month of February.
Disclosure: I am long BBY. I wrote this article myself, and it expresses my own opinions. I am not receiving compensation for it (other than from Seeking Alpha). I have no business relationship with any company whose stock is mentioned in this article.
Additional disclosure: I hold a hedging position with PUT options that expire in March.