Ever since the CFPB mortgage lending rules were announced (I wrote this article), I have been keeping an eye on the mortgage activity as well as the yield curve. If indeed the yield curve has once again begun to widen, the rules outlined by the CFPB (read the entire report here) could stabilize the mortgage market just enough for investors to consider owning shares of Annaly Capital (NYSE:NLY) once again.
I suggested in the article noted above;
"The new rules could actually cause an increase in mortgage rates.

Given the law of supply and demand. More folks want them, less are written, rates could slowly pick up, in spite of the Fed actions. The new CFPB rules could actually help Annaly Capital (NLY) regain its footing."
The Key Rules And How They Could Help Annaly Capital
The key takeaways from this framework are:
The debt-to-income ratio cannot exceed 43% to qualify for an FHA mortgage.
Qualified mortgages would not have interest-only features, nor balloon payment "trip-ups."
There would be a 3.5% cap on loan origination fees.
Banks that conform to these standards will be shielded from future litigation.
I offered my opinions as to how I see the rulings, and the change in "climate," as it pertains to NLY shares (as well as many banks) becoming good investments once again:
"Once the banks begin embracing the new guidelines, they will seek to offer more mortgage loans via the FHA requirements.
Annaly is a very conservative agency mREIT with a track record of lower leverage, having opted for tighter spreads with less inherent risk, rather than wider ones. If there is stability, there is profitability.
If the banks approve mortgages with these higher standards, the risk of pre-payments could drop significantly going forward.
As the demand for these "premium" mortgages increase, and the mortgage rates stabilize and rise, with less pre payment or default risks, the profit stability should then come back to the sector, especially Annaly. They employ a lower risk approach and they would clearly be helped by this."
Taking a look at the following chart could offer investors a clue as to how this is now turning out:
The trend seems clear to me. As the spread tightened and both interest rates fell, the share price of NLY dropped and the dividends were cut.
If you take a look at the latest numbers, the spread has widened to 1.70%, while the 10-year Treasury has also risen to 1.98%. A 50 basis point difference, give or take a few points, might help the conservative approach of NLY in the agency mREIT sector. Even the share price has stopped it's rather steep decline and stabilized for now.
Should Annaly Stock Be Purchased Now?
My crystal ball is just as good as anyone else's, which of course means I have no idea. To be sure, I still believe that there could be another round (or two) of dividend cuts just ahead.
We also still face the Fed actions of buying MBS at the rate of $40 billion per month, as well as longer term Treasuries at the rate of $45 billion per month. While I have repeatedly stated that as long as the Fed is in the game, I would not play, I cannot deny the facts that have presented themselves:
Higher mortgage rates.
Less pre-payment activity as of now.
A widening yield curve spread.
A consistent housing recovery.
Less foreclosure inventory.
A seemingly more stable interest rate environment, with ZIRP still in place.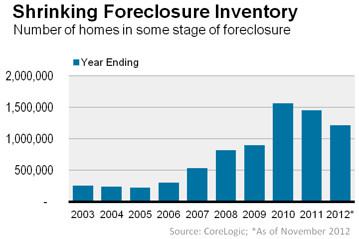 2012 saw a significant drop of foreclosure inventory, which of course means that there are less homes being foreclosed and fewer pre-payments from those foreclosures, as well as fewer REO sales as outlined by CoreLogic:
"According to CoreLogic, the REO share fell from 19.6% to 11.5% between January and November of 2012. To wit: banks are selling fewer repossessed homes, which means less competition for sellers who are not in foreclosure, and eventually, rising prices."
Less inventory+less sales+less pre-payments=An improved profit environment for Annaly Capital.
From Haver Analytics, this chart shows a stabilizing mortgage application rate for re-fi's and a slight uptick in mortgage applications for new purchases:
Here we have a report from CNBC as of today (1/30/2013) announcing the drop in refinance demand:
"The Mortgage Bankers Association said its seasonally adjusted index of mortgage application activity, which includes both refinancing and home purchase demand, fell 8.1 percent in the week ended Jan 25."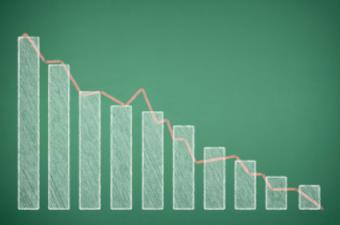 The complete report from the MBA can be reviewed here. Affirming the decline in mortgage applications to refinance, it states:
"The Market Composite Index, a measure of mortgage loan application volume, decreased 8.1 percent on a seasonally adjusted basis from one week earlier. On an unadjusted basis, the Index decreased 17 percent compared with the previous week. The Refinance Index decreased 10 percent from the previous week. The seasonally adjusted Purchase Index decreased 2 percent from one week earlier. The unadjusted Purchase Index decreased 6 percent compared with the previous week and was 2 percent higher than the same week one year ago."
I realize that each of these recent statistics simply offer investors a clue as to what the future might bring for the profit potential of NLY, and of course a more stable dividend payout for investors. There is nothing definitive here and I would suggest that in this sector, nothing EVER seems to be definitive.
Taking what the market gives, even in the face of the Fed running interference, I would suggest that the total return between share price and dividends received, should allow investors to once again own a small allocation of Annaly Capital shares at its current share price.
This is still a risk investment, with a fair dividend opportunity, and I would not allocate more than 2-3% of investable funds in this stock, within a well-balanced portfolio.
Disclaimer: Please do your own research and do not make any investment decisions based on the opinions expressed in this article. Each investor should determine their own unique risk tolerance and financial goals prior to making any investment.
Disclosure: I have no positions in any stocks mentioned, but may initiate a long position in NLY over the next 72 hours. I wrote this article myself, and it expresses my own opinions. I am not receiving compensation for it (other than from Seeking Alpha). I have no business relationship with any company whose stock is mentioned in this article.