As I write this, Amazon.com (NASDAQ:AMZN) is all happy in pre-market -- climbing 8.7% from yesterday's artificially depressed close, because once again analysts managed to ignore earnings. The novelty this time is that analysts also managed to ignore revenues. Or, put another way, in Amazon.com's growth story, growth no longer matters.
But it should matter, because Amazon.com's growth is shutting down. I mean going away, entirely. I will show in this article that in the states where Amazon.com started collecting taxes, its growth has probably plunged all the way down to Wal-Mart (NYSE:WMT) levels, and significantly below Costco (NASDAQ:COST) levels.
First, an overview of where growth rates stand
The following charts illustrate what happened to the growth rates in Amazon.com's 1P revenues and every retail segment Amazon discloses (North America media, North America EGM, International media, International EGM).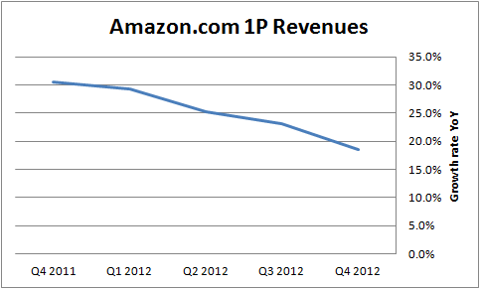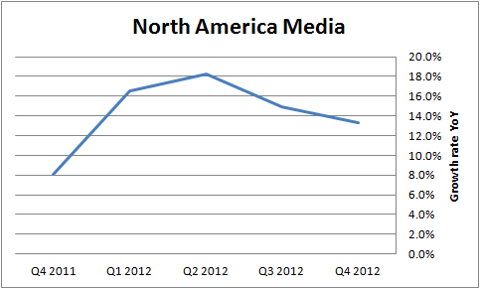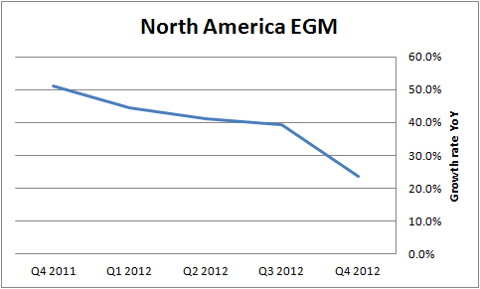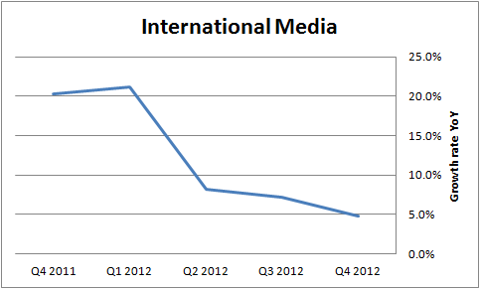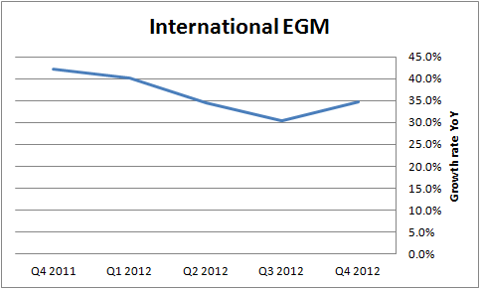 As we can see, except for International EGM, the growth contraction was omnipresent and accelerating. International EGM probably benefited from the international introduction of the Kindle in several markets.
Also importantly, Amazon.com's 1P revenues are already growing at just 18.5% year-on-year, hardly the stuff of a stock trading at an infinite number of last year's earnings.
Now for the kicker
The numbers above, however, fail to tell the whole story. Amazon.com was expected to have revenues of $22.28 billion in the quarter, for a growth rate of 27.82% over the same quarter the year before. It ended up having $21.27 billion, a cool $1 billion less than expected, for a growth rate of 22.2% over the same quarter a year before.
This is where it gets interesting. Amazon.com started collecting sales tax, for all effects, in California, Texas and Pennsylvania in the quarter. These 3 states make up approximately 24.5% of the U.S. population.
Now, what would happen if 75.5% of Amazon.com's Q4 2011 revenues grew as expected, at 27.82%, and 24.5% of Amazon.com's Q4 2011 revenues grew about the same as Wal-Mart, or 4%? We'd have $4270 million growing at 4%, and $13160 million growing at 27.82%, the grand total would come up to … $21.263 billion, or about the same as Amazon.com reported!
In short, the revenue miss by Amazon.com was consistent with Amazon.com losing all growth in the States that started collecting sales tax. This for a company trading at $130 billion in market capitalization, on the promise that it will continue growing strongly and will, somewhere down the road, become profitable. Not going to happen.
Obviously Amazon.com does not disclose State data and we'll never know for sure, but the magnitude of the revenue slowdown shows that Amazon.com's growth is clearly shutting down to the level of the other stodgy retailers which trade at 15 times earnings and 0.5 times sales.
Conclusion
Amazon.com's huge revenue warning both for Q4 2012 and Q1 2013 has severe implications for its growth story. Revenues slowed down so much that they were actually consistent with Amazon.com completely shutting down growth in the States where it started collecting sales tax. At some point, the analysts will have to recognize this, though it would seem at this point that the set of rules which they apply to every other stock, does not apply to Amazon.com.
Amazon.com no longer has any earnings to its name (2012 was actually a loss). While it's possible for people to say that earnings temporarily don't matter, and surely Amazon.com will have some earnings at some point, right now it's the very blood of Amazon.com's story - its growth - that is going away quickly.
I remain convinced that Amazon.com will end up falling 50%-80%.
Disclosure: I am short AMZN. I wrote this article myself, and it expresses my own opinions. I am not receiving compensation for it (other than from Seeking Alpha). I have no business relationship with any company whose stock is mentioned in this article.