Lumber Liquidators (NYSE:LL) - $10.11 on NYSE on January 9, 2009
52 week price range: $18.14 – 5.68
Diluted shares: 27.3 million
Market cap: $276 million
Net debt: $(25 million) – The company is debt free with surplus cash.
Enterprise value: $251 million

The company has a December 31 fiscal year end.


Click to enlarge
My estimate of fair value based on a DCF model: $15.00 per share

Lumber Liquidators is the largest specialty retailer of hardwood flooring in the U.S. The company was started in 1994 and by 2002 was generating $65 million in annual sales and had 25 stores at the end of 2002. Since then annual sales have grown to $405 million in 2007, and there were 116 stores at the end of 2007. Net income has grown from a little under $5 million in 2002 to a little over $11 million or $.48 per share in 2007.

At the end of the third quarter of 2008, the company had 143 stores located in 43 states. Estimated sales for 2008 are $482 million, and net income is estimated at a little over $20 million or $.74 per share.

The company has been very successful primarily based on offering consumers a broader assortment of high-quality hardwood flooring at lower prices than is available elsewhere. Stores have a very plain appearance and tend to be located in low rent locations, which is an important element in being able to offer low prices and still generate good profitability.

The economics of the business at the store level are phenomenal. New stores typically become profitable within three months of beginning operations and generally return the cash investment used to open a new store within seven months.

Lumber Liquidators currently has about a 7% share of the retail hardwood flooring market in the U.S., and it plans to open 30 to 40 stores during each of the next several years. This rapid future growth could result in annual sales of $771 million in 2011, and based on that level of sales net income could be about $42 million or $1.51 per share.

On November 9, 2007 Lumber Liquidators did an IPO at $11.00 per share. In this offering Tom Sullivan, the founder of the company, along with TA Associates, a private equity firm, sold 6.2 million shares, and the company sold 3.8 million shares. Following the IPO, Mr. Sullivan still owned about 37% of the company, although he has subsequently reduced this stake to about 34%, and TA Associates continues to own approximately 22%. The company used its proceeds to pay off debt with a significant amount of surplus cash remaining to fund future growth.

Since the IPO, investor sentiment connected with anything related to housing has been very negative, and this has undoubtedly affected Lumber Liquidators. The stock price declined significantly initially but has since recovered.

In fact, approximately 80% of Lumber Liquidators' sales are to homeowners engaged in remodeling with the remainder of sales to small independent contractors engaged in remodeling and new construction. Consequently, the company is not very dependent on new home construction.

A general slowdown in discretionary spending does negatively impact Lumber Liquidators. However, over the next several years the company should open enough new stores and increase market share so that sales and earnings increase significantly even in the face of overall slack consumer spending.

The stock is currently trading at 13.7 times estimated EPS for 2008. This is a low valuation multiple for a debt free company, that I believe can grow earnings at a compound annual rate of almost 27% for the next several years.
click to enlarge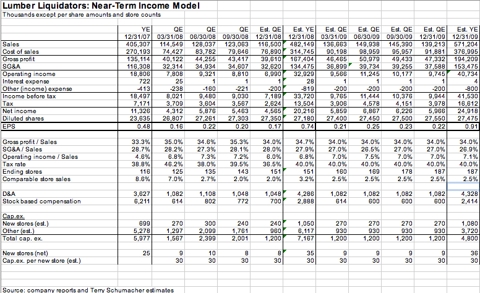 Click to enlarge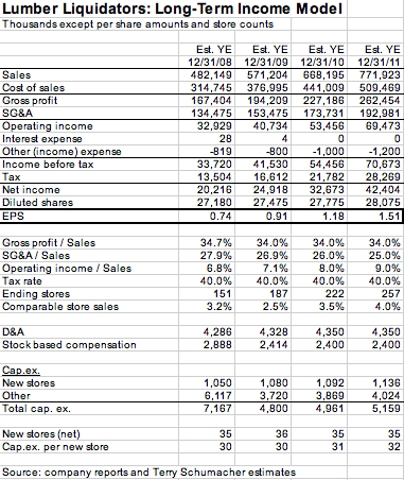 Click to enlarge