OpNext (NASDAQ:OPXT) is a producer of equipment used to transmit voice and data along fiber optic cable networks.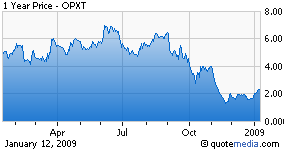 After the close of business January 9, it concluded the acquisition of StrataLight Communications for $30 million cash and 26.5 million shares of OPXT common. The announcement is here.
StrataLight was of particular interest to OpNext because of the former's strength in high capacity (i.e. 40G and 100G) fiber optic transmission systems. Cable systems have been a growing source of demand for such equipment as they seek to sell on-demand film and other broadband-using products to current customers.
After the acquisition, described here, the newly constituted firm will have $196 million in cash, and tangible equity of $314 million. Long term debt is nil, but there are some long term lease and other liabilities totaling $42 million.The market capitalization of 91.1 million shares at $2.35 is $214.1 million. Tangible book is $3.44 per share. Pro forma financials are on Page 85 here.
The combined firm appears to have paid for the cash portion of the acquisition in the first six months of the current year's operations. That is, although there was a pro-forma loss of $2.3 million. However, that was after amortization of purchased intangibles of $36.5 million.The list of shareholders coming on board via StrataLight includes Comcast International Capital; entities affiliated with Comventures V; Intel Capital Corporation; TL Capital; and US Venture Partners. The StrataLight shareholder list is on Page 82 here.
OpNext itself is not without a strategic partner. Once a division of Japan's Hitachi Corp. (HIT), it was taken public in a February, 2007, IPO, the source of its cash balances. Hitachi continues to own 28.3 million shares.
It is not completely without risk.
As the prospectus points out,
"On February 20, 2008, a putative class action captioned Bixler v. Opnext, Inc., et al. (D.N.J. Civil Action #3:08-cv-00920) was filed in the United States District Court for the District of New Jersey against Opnext and certain of its directors and officers, alleging, inter alia, that the registration statement and prospectus issued in connection with the Opnext initial public offering on February 14, 2007 (the "IPO") contained material misrepresentations in violation of federal securities laws."There is also a patent dispute in Japan which remains open.
Disclosure: Long