"Supreme excellence consists in breaking the enemy's resistance without fighting." - Sun Tzu
Airline stocks have done quite well over the past year despite fears of an impending collapse in the Eurozone and as business confidence has suffered due to government inertia. While it would make sense to be bullish on the sector on hopes for a global economic recovery, intermarket analysis is beginning to warn of a coming risk-off period. Our ATAC models used for managing our mutual fund and separate accounts have positioned defensively last week as deterioration picks up, at the same time Nouveaux Bulls pile in around the Dow (NYSEARCA:DIA) 14,000 level. As I have been noting, a correction is ever more likely given the disconnect between absolute and relative sentiment, and airlines in particular could go down meaningfully.
It may be oil which serves as the catalyst for a breakdown as I stated on a recent CNBC appearance (here). There has been an interesting divergence underway as crude nears the century mark, while other commodities and the behavior of emerging markets fail to confirm the cyclical trade. Take a look below at the price ratio of the Guggenheim Airline ETF (NYSEARCA:FAA) relative to the United States Oil Fund (NYSEARCA:USO). As a reminder, a rising price ratio means the numerator/FAA is outperforming (up more/down less) the denominator/USO.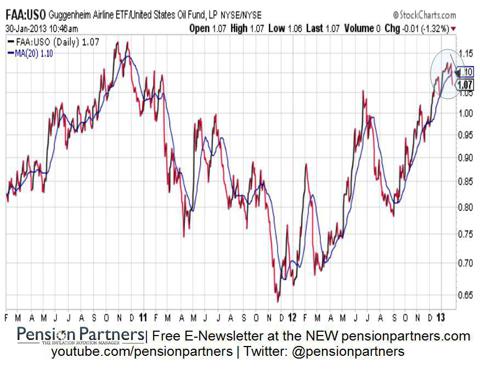 Note that the speed of airline stocks relative to oil appears to be rolling over, indicating that market participants are getting concerned that Oil prices could hamper continued leadership in those stocks. The ratio nearly reached Summer Crash of 2011 levels, and I suspect could be on the verge of a major break unless oil prices halt its own advance. Either way, the behavior of airline stocks relative to oil could be quite telling, as the market begins to price in the deflationary effects of quickly rising energy costs on the economy.
Disclosure: I have no positions in any stocks mentioned, and no plans to initiate any positions within the next 72 hours. I wrote this article myself, and it expresses my own opinions. I am not receiving compensation for it (other than from Seeking Alpha). I have no business relationship with any company whose stock is mentioned in this article.
Additional disclosure: This writing is for informational purposes only and does not constitute an offer to sell, a solicitation to buy, or a recommendation regarding any securities transaction, or as an offer to provide advisory or other services by Pension Partners, LLC in any jurisdiction in which such offer, solicitation, purchase or sale would be unlawful under the securities laws of such jurisdiction. The information contained in this writing should not be construed as financial or investment advice on any subject matter. Pension Partners, LLC expressly disclaims all liability in respect to actions taken based on any or all of the information on this writing.